In the heart of French town, Villa Shanti is a historical house that has been turned into a hotel and restaurant. With its European style and French and Indian dishes all visitors are made to feel welcome in this boutique getaway.
By Pallavi Gupta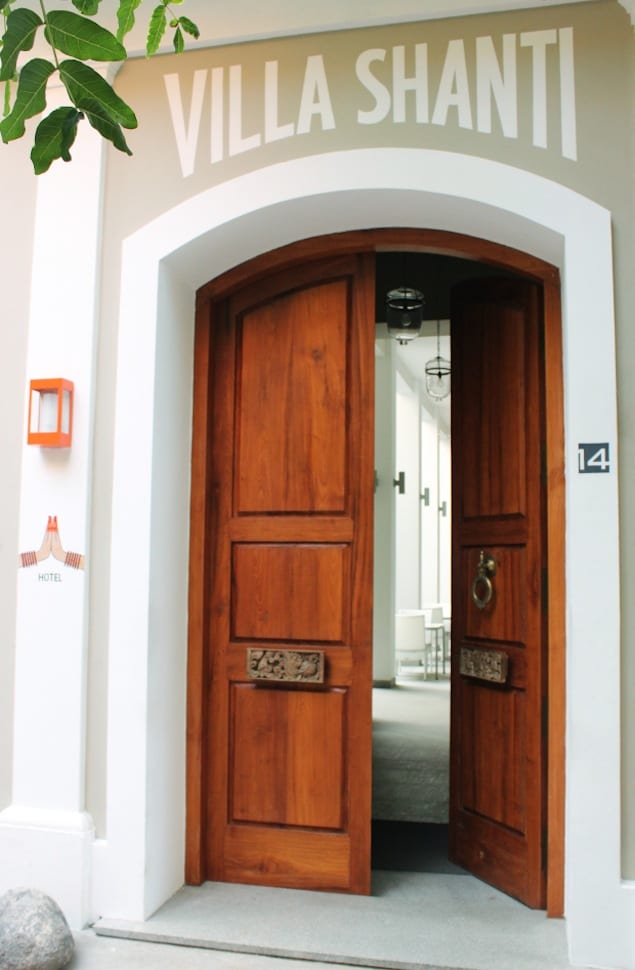 property of Hotel Villa Shanti.
This is my favorite restaurant in Pondicherry. Villa Shanti is located in the heart of French town on Rue Suffren. Its an old historical house that has been very tastefully turned into a hotel with a restaurant. The ambiance of their restaurant is very European with an open courtyard lit up by tea lights at night. During the day the restaurant looks lush with the green plants placed strategically in beautiful big planters. The whole area has a light, spacious and an airy feel to it with neutral colors on the walls.
I have been going there since it opened 3 years ago. They have revised their menu a few times since the beginning and now they have a good selection of various Italian, French and North Indian dishes. They have a bar that serves beer, wines and cocktails along with sodas and fresh juices – just ask your server for the fruits that are in season…my all time favorite is fresh watermelon juice. All diners are served with a basket of warm baguette slices with a fresh dip of the day.
Their menu consists of various vegetarian and non-vegetarian dishes. I usually order their green papaya salad and then ask them to make their masala fried vegetables (from the drinks menu). This dish has a choice of chicken & seafood but the servers are sweet enough to tailor make the dish with vegetables instead. I love the medley of the veggies they use for it – potatoes, mushroom and cauliflower. I like how flexible and willing they are to tweak their dishes to match your taste buds.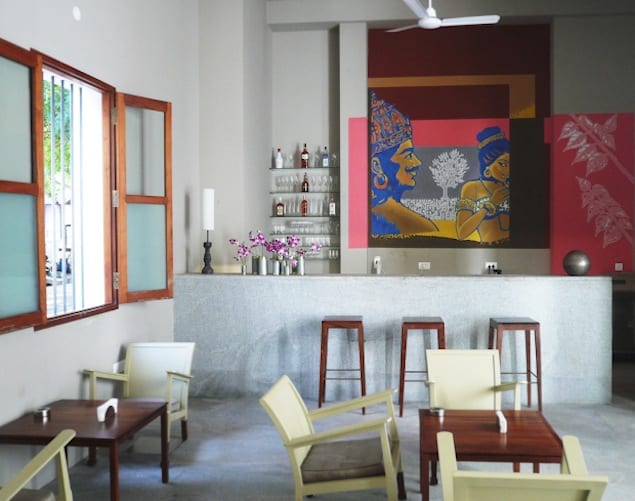 property of Hotel Villa Shanti.
If you crave for dal makhni and naan then Villa Shanti has the best in town. Their North Indian dishes are as close as it can get to the real stuff that you get in Delhi. Some of the other dishes from their North Indian section that I like are Aloo Bhindi (dry potato & Okra stew), Paneer Chatpata (cottage cheese marinated and grilled on skewers), mushroom and spinach and sometimes I ask them to make paneer makhni which is not in their menu but they use the sauce/curry of butter chicken and replace the chicken with cottage cheese.
When not eating Indian, I usually order their vegetarian pasta or the zucchini and mushroom crepe. Both these dishes are delicious and hearty. Sometimes, I just order the papaya salad with a tandoori roti for a light supper. I usually end with a dessert – the orange cake with chocolate mousse or the chocolate eclair served with vanilla bean ice cream. For those of you who have the taste for it, their orange yogurt ice cream (frozen yogurt) is also pretty delicious. Some people like it some don't – I happen to like it and sometimes order it especially when its too warm outside.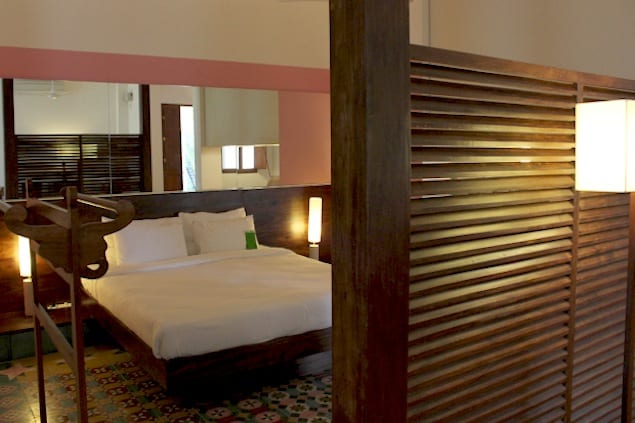 property of Hotel Villa Shanti.
It is a small boutique hotel and has about 15 beautiful rooms ranging from deluxe, super deluxe and suites. It is located in the heart of the city of Pondicherry and is within walking distance from the beach and the Market. You can visit their website at www.lavillashanti.com and find more information on the hotel and their contact information on it.
property of Hotel Villa Shanti.
Pallavi Gupta
Pallavi is a vegetarian globetrotter, who currently lives in the southern part of India. Past ten years of her life includes living in six cities in three different countries. It has added to her vast exposure of cuisines from different parts of the world which is now reflected in her cooking. She shares her knowledge of vegetarian and vegan recipe from around the world via her blog Veggie Zest. When not cooking or photographing, she does graphic design.