Pasta with broccoli is definitely a regular weeknight meal in Carrie King's house. It's got all the hallmarks of a perfect weeknight dinner – quick, easy, cheap and nutritious.
By Carrie King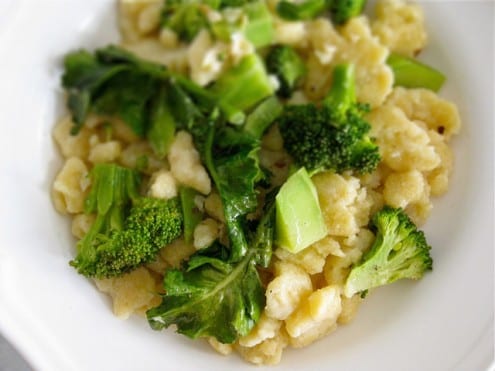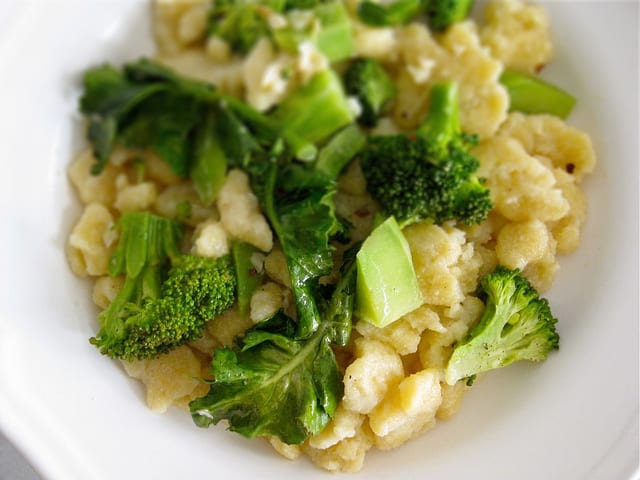 Frascatelli Pasta with Broccoli
Pasta with broccoli is definitely a regular weeknight meal in Carrie King's house. It's got all the hallmarks of a perfect weeknight dinner - quick, easy, cheap and nutritious.
Ingredients
1½ - 2 cups semolina flour
1 large head of broccoli or 4-5 mini ones, stalks trimmed and cut into individual florets
3-4 garlic cloves, minced
¼ cup olive oil, plus more
⅓ cup veggie stock or dry white wine or water
1 tsp red chili flakes, maybe more
Salt and black pepper
Instructions
For the pasta:
Get a large pot of well salted water on high heat.
As you wait for the water to boil, make your frascatelli.
Dump the semolina into a baking dish, shaking to create one even layer. Have one cup of water ready and waiting at the side of the dish.
Dip all five of your fingertips into the water and, lifting water with them, spray the water over the top of the semolina flour. Do this repeatedly until most of the surface is covered in splotches of water. Wait 30 seconds for the water to absorb into the flour. Then, using a slotted spoon, spatula or, really, even your fingers, gently turn the flour onto itself, forming dumplings.
Put the dumplings into a colander or sieve and shake out the excess semolina over the baking dish. Gently transfer the finished dumplings onto a baking sheet.
Return to the baking dish and repeat the same process until you have used all of the semolina and/or water. You may have a little water left at the end, which is fine. The bits of semolina that remain in the bottom of the baking dish can be pressed together to form dumplings.
In a 12' sauté pan, gently heat the olive oil, minced garlic and red pepper flakes over low heat. Once the garlic is fragrant add the trimmed broccoli.
Season generously with salt and black pepper and whichever liquid you are using - wine or veggie stock or water - to the bottom of the pan. Bring to a boil, stir the broccoli and place a lid on the pan - steaming the broccoli for a few minutes.
Remove the lid and turn the heat off.
Once the water boils, cook the frascatelli. Use a wooden spoon to make a vortex or whirlpool in the water - this helps to prevent the frascatelli from sticking to each other and the bottom of the pot. Cook the frascatelli for no more than 1 minute.
Drain the water and add the frascatelli directly to the broccoli. Stir well.
Taste and adjust seasoning.
To serve:
Top with freshly grated Pecorino cheese and a drizzle of olive oil.