This tart has a buttery crust filled with almond frangipane filling studded with plums.
By Carole Egbert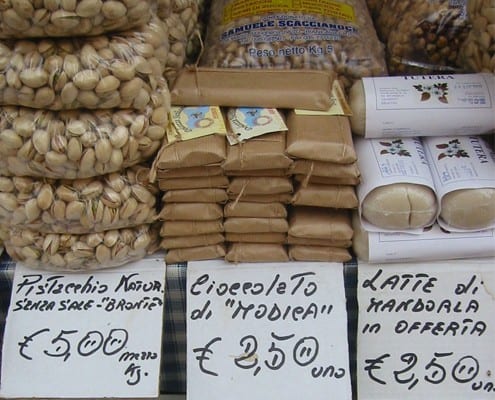 In less than two weeks, Charles and I will be on our way to Sicily. We'll be there for nearly seven weeks, missing the end of winter ice and snow and the muck of mud season in Vermont. Because of an unexpected bit of good luck, our house will be rented while we are away. With renters needs in mind, I have been making empty space in cupboards, cabinets and closets. As I sorted through the pantry, I discovered a rock hard block of almond paste from last years trip to Sicily.  (That's it on the right, next to local pistachios and chocolate from Modica, in the market in Ortigia.)
Rather than throw it away, I decided to use it to make a frangipane tart. Although I had eaten frangipane tarts, I had never made one. I adapted a recipe for frangipane filling that I found on the Internet and made a tart to share with friends at a cozy dinner party on Friday night. It had a buttery lemon crust and a frangipane filling studded with tiny French plums I had found at the market. Here's how I did it:
See Also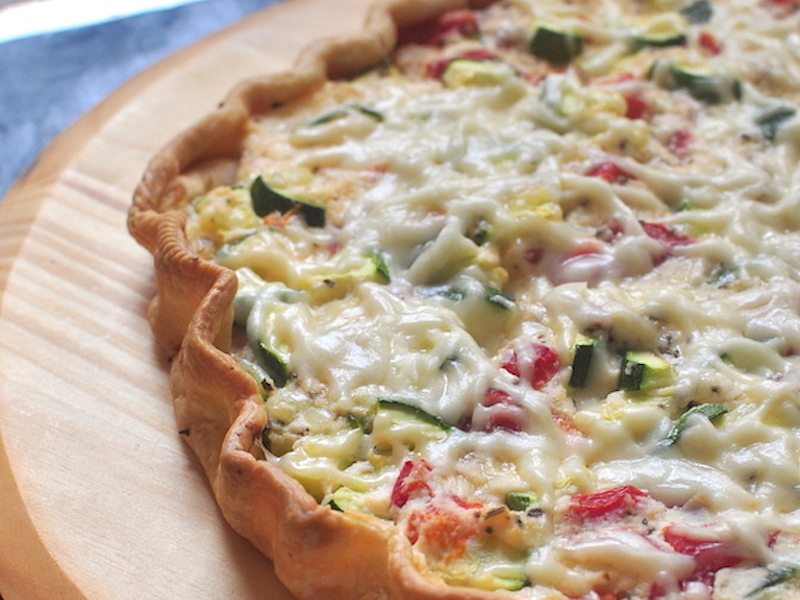 This tart has a buttery crust filled with almond frangipane filling studded with plums.
Ingredients
Crust
1 cup (120g) all-purpose flour
3 Tablespoons (35g) white sugar
½ teaspoon kosher salt
1 teaspoons lemon zest, finely grated
6 Tablespoons (90g) unsalted butter, cold
2 egg yolks
1 teaspoon vanilla extract
1 to 2 Tablespoons (30ml) ice water
Frangipani Filling
1¼ pounds (570g) firm-ripe plums
8 ounces (225g) almond paste, grated
4 Tablespoons (60g) unsalted butter, softened
3 Tablespoons (35g) white sugar
2 eggs
3 Tablespoons (23g) plain flour
¼ teaspoon kosher salt
Glaze
⅓ cup(110g) peach jam
2 Tablespoons (30ml) boiling water
1 Tablespoon (15ml) orange liqueur
Instructions
Preheat oven to 350ºF (176ºC) Make dough first because it has to chill before being baked and then cool completely before it is filled and baked again.
Combine flour, sugar, salt and lemon zest in a mixing bowl.
Use pastry blender to combine dry ingredients with butter until it resembles coarse crumbs with small lumps of butter.
Add egg yolks, vanilla and half of the water to form dough.
Turn dough out onto counter and knead it to distribute butter.
If dough is 'shaggy', add enough water to make the dough workable.
Form dough into a disc, use well-floured fingers to pat the dough into an even layer on bottom and one inch up the sides of 9 inch (23 cm) spring form pan.
Chill dough for 30 minutes, prick bottom of tart shell with a fork, cover dough with foil and fill with pie weights.
Bake 5 minutes, until edges are golden, remove pie weights and foil, bake crust 15 minutes more, until golden.
Cool the crust, in pan, while preparing plums and the frangipane filling.
Cut plums in half, discard seeds, and set aside.
Combine almond paste, butter and sugar using an electric mixer. Beat until light and fluffy.
Reduce speed to low, add eggs, one at a time, beat well after each addition.
Beat in the flour and salt.
Spread filling in tart shell and poke plum halves into the filling.
Bake tart 70 minutes or until frangipane is puffed and golden.
Top with glaze made by combining jam with water.
When jam has melted, stir in orange liquor.
Drizzle glaze on hot tart and cool it in pan on rack for 15 minutes before removing the side of the pan.
Cool the tart completely before serving.
Notes
Peaches, apricots, or berries can be substituted for plums. If you can't get to the market in Ortigia, almond paste can be found in the baking aisle at most markets. It is not the same as marzipan.
The French plums were quite small, if you use larger red plums or fresh Italian prunes you may want to cut them into wedges. Dried beans or uncooked rice can be used instead of pie weight.
I'm looking forward to making this tart with raspberries, blueberries, blackberries and peaches. But, I'll have to wait until we get back from Italy in May.
Carol Egbert
Carol Egbert is a writer, painter, graphic designer and cook. Her studio is on a country lane in rural Vermont. During mud season she escapes, for a couple of months, to a flat in Sicily overlooking the Ionia Sea. Her newspaper columns, magazine articles and blog are illustrated with her watercolor paintings – Honest Cooking means beautiful food.