Emiko Davies visits the Franciacorta Wine Festival in Lombary, Italy and finds an abundance of splendid sparkling wines.
By Emiko Davies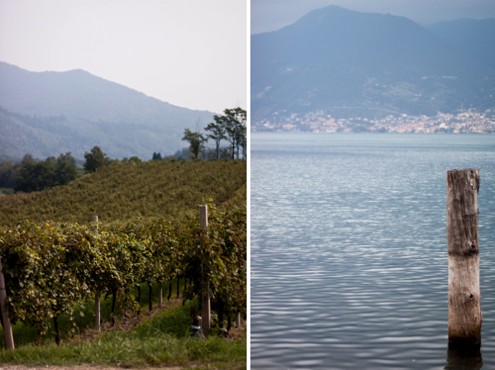 Staring at my sunset-pink glass of sparkling Rosé, mesmerised by the chain of tiny delicate bubbles heading to the top of my glass, I have never before so carefully drunk a glass of wine, aware that each sip is worth months and years of hard work, patience and absolute passion.
I'm at the Franciacorta Festival, one of several wine festivals held on the edges of Lombardy's Iseo Lake in Northern Italy. Franciacorta is a small wine region dedicated to making Champagne-style Italian wines such as Brut and sparkling Rosé, but also their own extremely classy Satèn, a wine made exclusively in Franciacorta with white grapes, whose name suggests it is as smooth as silk.
Franciacorta began to make a name for itself in the late sixties when there were only eleven producers in the area and it was awarded a DOC status for its wines, both still and sparkling, but by 1990 the rules and regulations for producing their elegant sparkling wines soon became the most rigid in the country – production strictly by metodo classico (re-fermentation of yeasts in the bottle), a first in Italy, and the ruling out of the use of pinot grigio, just for starters – and in 1995 they were awarded prestigious DOCG status.
Franciacorta sparkling wines are made strictly with Chardonnay and Pinot nero (noir) with some also using a small percentage of Pinot bianco. The patience comes when winemakers wait to taste the hard work of their harvest (strictly picked by hand). Yeasts are added to wine and bottled seven months after the harvest and then basic sparkling wines must have at least 18 months of fermentation in the bottle, but for Satèn and Rosé the timing is lengthened to a minimum of 24 months, with some going at least 30, such as the millesimati. Then there are the Reserves, which can only go on the market after 60 months of fermentation in the bottle. That is five long years and 7 months after the day the grapes are picked. These must be the most patient Italians on the peninsula.
For the festival, the wineries have opened their doors to visitors for tours through their cellars, vineyards and of course, tastings, while local restaurants have organised degustations for perfect food and wine pairings that exalt the best of the region's products. The big wineries are of course Berlucci, Bellavista and Ca' del Bosco, but we find some other shining contenders.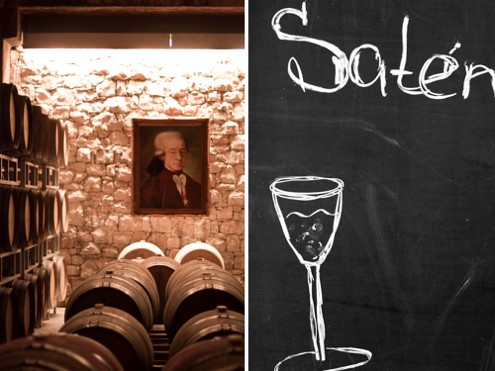 Barone Pizzini is an organic winery with a beautiful new eco-cellar made with local wood and stone. Wineries in these parts need to have particularly large cellars due to the fact that each year they need to find space to store bottles that are left to ferment for two-five years. At Barone Pizzini they have ingeniously taken some help from nature and have built their cellar 12 meters underground for natural, cool storage at the perfect humidity and temperature.
Not far, Solive has their wine cellar and tasting room set in a gracious villa created out of the remnants of the old family house. They have one of the oldest vineyards and properties in the area, dating back to 1898, yet they only released their first wines on the market just last year after 'practising' and perfecting their sparkling wines for the last fifteen years. That's not only an example of the dedication of the winemakers in this area but also the need to be perfectionists to stand out in the crowd of sparkling wines.
During our visit at Solive's cellar, we get to taste the grapes that were harvest just a month ago, right out of the steel tanks where the grapes are to naturally ferment on their own for seven months. It looks like cloudy apple juice and has just a hint of the flavour to come.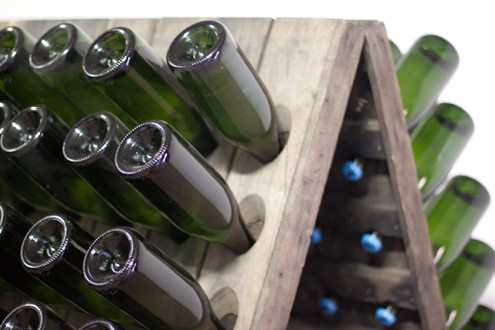 In their wine cellar we are shown the incredible process of how they remove the left over yeast in the bottle when it finally comes time to cork and label the bottles for consuming. A bottle is inserted, head down, into a sort of freezer to create a popsicle of the unwanted leftovers, then in the bottling machine it is ceremoniously opened, and with the pressure held inside the bottle, the 'popsicle' shoots out. This means that a bit of wine inevitably gets taken with it and at this point, winemakers can add a little something to the bottle to balance it out, even correct any eventual mistakes (some even add 'syrups' with cognac or brandy) before sealing with a cork.
In fact, the Brut and Extra Brut have small amounts of sugars added to the wines in strictly regulated dosages, while the Pas Dosé, also called Nature, the driest of the wines, remains 'natural', usually topped up with more of the same wine.
A few glasses later and I'm not sure if its the wine itself or the growing awareness of the amount of time and dedication that goes into it that has me mesmerised. Luckily there is also some incredible food in these parts to set me straight.
At Dispensa Pani e Vini, a modern wine bar and restaurant created by chef Vittorio Fusari, we find an aperitivo of Pas Dosé with its typical aromatics of the insides of a bakery pairs nicely with a delicate tartar of local beef and salad. The local salted fish with a sweet spinach puree on polenta is beautiful with a silky smooth Satèn, a sparkling wine with bubbles so fine you can barely feel them wrap around your tongue.
Later, for dinner we're at a very different place, La Madia, a restaurant from another time, perched on a mountain overlooking the lake. We sample the ricotta gnocchi with a pesto of celery and almonds, smoked pork belly and an intense local cheese plate with the creamiest fig sorbet. If there had been space, the mutton's tripe would have made it to the table too.
The visit is not complete without a walk through the pretty lakeside town of Iseo. Its cobblestoned piazza is the place to sit with the locals for an espresso – or perhaps another glass of Satèn.
Where to stay:
Solive Agriturismo
Via Calvarole 15,
25030 Nigoline di Corte Franca, (BS) Italy
Tel +39 030 9884201
info@solive.it
Where to eat:
Dispena Pani e Vini (closed Mondays)
Via Principe Umberto 23, Torbiato frazione di Adro, (BS) Italy
Tel +39 030 7450757
enoteca@dispensafranciacorta.com
Trattoria La Madia
Via Aquilini, 5, Brione (BS) Italy
Tel + 39 030 8940937
info@trattorialamadia.it
Where to drink:
Barone Pizzini
Via San Carlo 14
25050 Provaglio d'Iseo (Bs) Italia
Tel: +39 030 9848311
info@baronepizzini.it
Solive
Via Bellavista, Erbusco, (BS) Italy
Tel +39 030 7450138
cantina@solive.it
Emiko Davies
Emiko Davies is a food writer, photographer and illustrator who Amanda Hesser calls the "Renaissance Woman for the Internet Era". She lived in Florence, Italy, for seven years where she nurtured her love of regional Italian cuisine and now calls Australia's food capital, Melbourne, her home.