A young chef in Italy is letting foraged ingredeints drive his menu at La Madernassa Ristorante.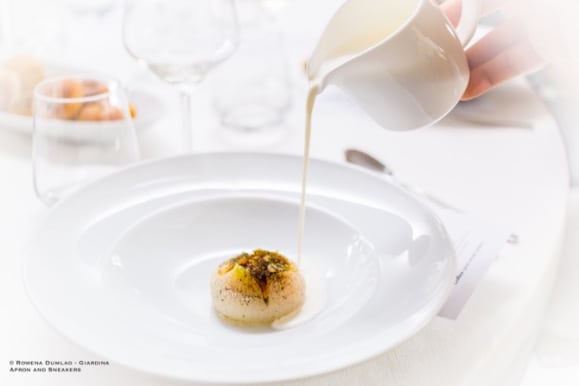 The madernassa pear, the fruit that found its home in the town of Guarene in Roero, gave way to the name La Madernassa Resort wherein the trees grow bountifully in the garden. The resort was opened in 2003 by Fabrizio Ventura as a wellness place with rooms, a restaurant and a picturesque view of the Langhe of the Guarene hills positioned in the heart of Roero and Langhe, the 50th Italian site in the UNESCO World heritage list.
At La Madernassa Restaurant, Chef Michelangelo Mammoliti, a native of Roero, creates dishes with outstanding mosaics combining nature, memories, thoughts and inventiveness in the kitchen. A young chef with a full luggage of experience in the kitchens of some of the most notable Michelin starred chefs in Italy and France, Gualtiero Marchesi, Stefano Baiocco, Alain Ducasse, Pierre Gagnaire, Yannick Alléno, and Marc Meneau. With the experience in France, Michelangelo was able to form the basis of his own kitchen which has strong leanings towards the French kitchen.
On 15 November 2016, things shifted at the restaurant of La Madernassa as Michelangelo Mammoliti received his first Michelin star. Michelangelo follows the path of a cuisine that's strongly attached with what nature provides.
He grows his own vegetables and herbs, and enjoys foraging for wild and almost-forgotten herbs and flowers. His creations depict life, in a 360-degree angle.
His own experiences in life pave the way to his expressions in his dishes. He believes that nature gives us life and as an artisan in the kitchen, he attempts to explain and recognize its beauty by offering it to everyone who believes in what he believes in.
Michelangelo's depiction of a veal tongue dish is a magnificent masterpiece of a mosaic of colors and textures which he named Omaggio a Kadinsky (Homage to Kadinsky) composed of veal tongue confit with red end, and traditional creamed bread. With the dish called S'8 Terra, he made a beautiful artistic composition of Bisalta potatoes mousseline, snails from Cherasco, and Icterina sage infusion.
His dishes not only play on a display of visual impact but most importantly, they pave the way to an unforgettable gustatory experience of aromas and flavors.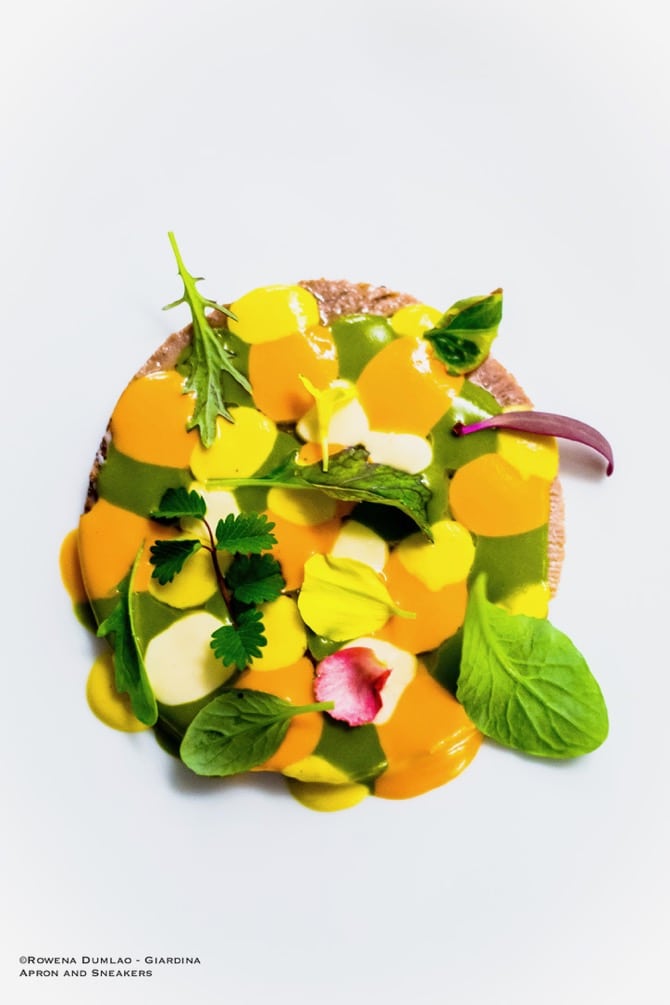 La Madernassa Ristorante
Località Lora, 2
12050 Guarene (CN), Italy
Tel: +39 0173 611716
Email: info@lamadernassa.it
Website: http://www.lamadernassa.it/
Facebook: https://www.facebook.com/la.madernassa/
Opening times:
Open for lunch (12:30 to 14:30) and dinner (19:30 to 21:30) daily
Closed on Mondays and Tuesday lunch
Rowena Dumlao Giardina
Rowena Dumlao - Giardina is the author and photographer of Apron and Sneakers and The Chosen Table. Besides her blog, she's also a recipe developer and a travel writer for other food and travel sites.