FOOD & WINE: Vote for the Best New Pastry Chef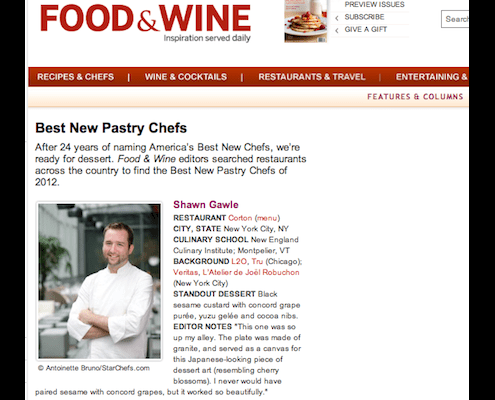 Vote for your favorite new pastry chef over at Food & Wine now.
By Marnely Rodriguez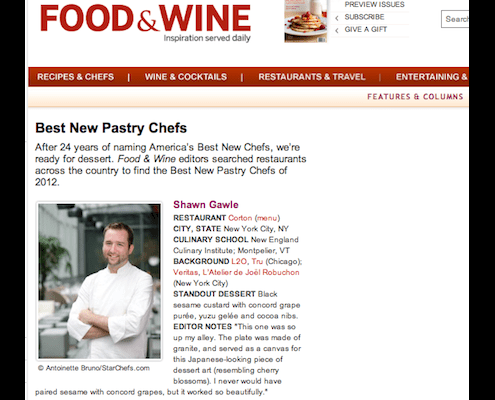 "There is so much innovation in the pastry world right now, and we are excited to have the chance to celebrate it," says FOOD & WINE Editor in Chief Dana Cowin. "Our new pastry awards allow us to spotlight cooking pros who don't generally get the same recognition as the executive chefs for whom they work."
The limelight is now on the pastry chefs of America and Food & Wine magazine has recently launched the search for the Best Pastry Chef in the United States. There are 50 nominees, all categorized by regions: East, West, and Central. Contenders include:
a previous contestant on Bravo's Top Chef: Just Desserts
a former biology major "fusing art and science in the kitchen"
a Thomas Keller protégé that focuses on seasonal fruit
You can vote until February 14th at midnight by visiting the Food & Wine contest page and sharing on Twitter with the hashtag #peoplespastry.
Winners will be announced on the Food & Wine site on February 15th, so you have just one day to get your votes in! The winner will be profiled in the "Hungry Crowd" column of the May issue of FOOD & WINE, on newsstands April 13, and will attend the 30th anniversary of the FOOD & WINE Classic in Aspen, June 15-17, 2012,
FOOD & WINE editors determined the 50 The People's Best New Pastry Chef nominees with help from their national network of journalists, chefs and other trusted sources. Only professionals who have run a restaurant pastry kitchen for five years or fewer are eligible. There will be one finalist from each of the three regions; the person with the most votes will be named The People's Best New Pastry Chef.
My Note: So get your votes in and if I can sway you any way, my vote goes to East Coaster Stella Parks of  Table 310 in Lexington, KY and food blogger over at Bravetart blog, a fantastically creative pastry chef that not only knows classical French techniques, but develops and recreates nostalgic recipes from our childhood like: Fauxreos, Animal Crackers, Fig Newtons, 3 Musketeers and more. 
Marnely Rodriguez-Murray
Marnely Rodriguez-Murray is the author of the food blog Cooking with Books. A graduate of The Culinary Institute of America, she has worked as an Overnight Bread Baker in Colorado, a Chocolate Maker in Virginia as well as a Pastry Cook on the whimsical island of Martha's Vineyard, just to name a few. She currently resides on Martha's Vineyard with her chef-husband, where they are both on an endless search for Caribbean flavors, new culinary trends and gastronomic inspiration.