Karla Diaz Cano goes on a mission to find the best food trucks in the city of New York.
By Karla Diaz Cano
We all know the food truck craze is taking over the United States – everywhere from LA to NYC to Miami, food trucks have increasingly invaded the streets with all kinds of food– Korean, sushi, cupcakes, tacos, grilled cheese sandwiches, waffles; organic, vegan, grass-fed, gourmet – you name it. Food trucks are changing the dining landscape – affordable, good quality food offered by street vendors and accepted by the general population was not common 5 -10 years ago in the US, in comparison to other countries, like Mexico, where most people eat on the street constantly and eat at their favorite taco stand often.
Some say food trucks are a fad and as fast as they came, they'll disappear, while others' opinion is food trucks are here to stay.  My opinion is – it's like any other business. The good ones – the ones that consistently deliver good food and good service at a reasonable price, will stick around – and the ones who can't compete will fade away.
Most of us eat at these "restaurants on wheels" because of their convenient location, most probably close to our office or home. There are people who actually follow their favorite food trucks around, tracking their locations through Facebook and Twitter.
When I told my friends about my upcoming column in Honest Cooking, a few of them said "you should go to the waffles one" and since I don't really have a favorite truck (up to now at least), I gave it a shot.
Wafels & Dinges (yes, not waffles, wafels), sells Belgian wafels with a variety of toppings. It sold its first wafel in 2007, grew rapidly popular, and has won awards, challenges, been featured on TV, loved by celebrities and rated the #1 food truck in NYC by Zagat in 2010. Today, they have 3 food trucks and 5 carts, and they cater to parties all over the city. And hey –there's a rumor that an actual Wafels & Dinges shop is coming soon (to the East Village, someone said, don't take my word for that).
So – you must be wondering, what the heck is a dinge? It means a lot of things, as you can see in the image below, but basically, for the purpose of this post, it means topping. At W&D you can find a variety of sweet & savory toppings for your wafel, which by the way is made of dough, not batter, like true a Belgian wafel.
I visited the Flatiron location first, where I had their special – pecans, whipped cream and bluberry coulis – followed by a mini wafelini topped with Nutella, strawberries and bananas.  I then sampled the one thing you MUST have if you visit this truck. The Spekuloos spread – made with gingerbread cookies, is like a hazelnut spread, or Nutella, only better – it is sweet & gooey perfection, and they sinfully sell it by the jar.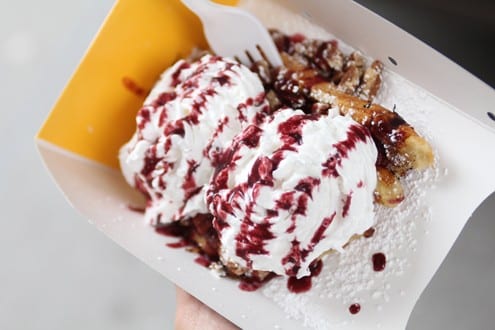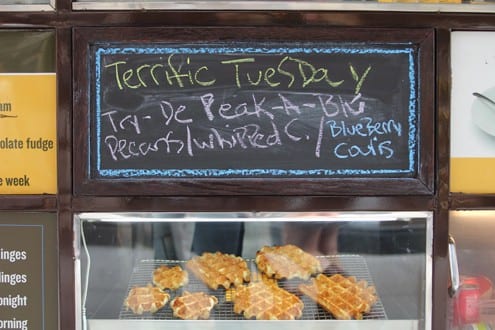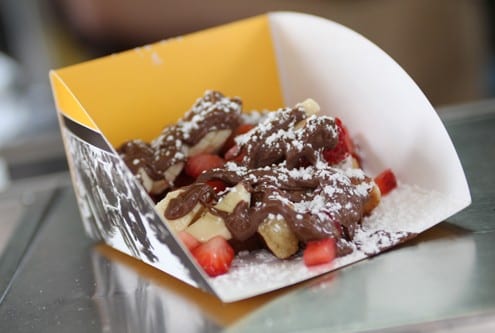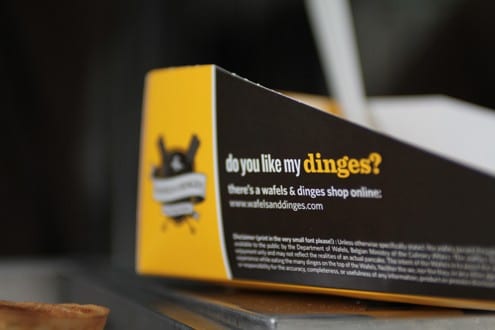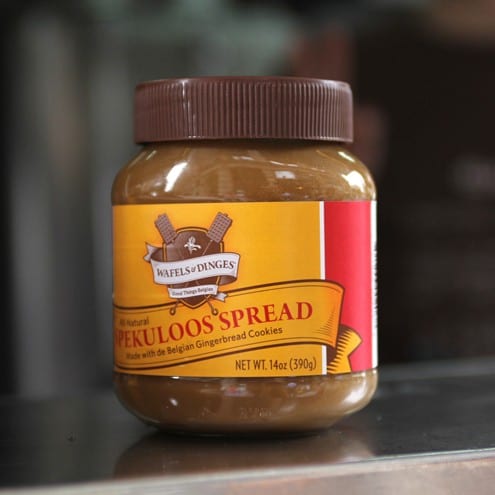 Since the Flatiron location had a cart and not a truck, I was forced to go to the Broadway and Canal location to see an actual truck for the purpose of this column (oh the sacrifices I have to make). Yes, I'd already had two wafels, but that did not stop me for going for the third, so I ordered the BBQ Pulled Pork wafel. Even though I am not a big pork eater, I have to say, it was totally worth the 4 extra yoga classes I am going to have to do to take care excess of calories. The contrast of the warm, sweet-slightly-spicy savory pork with the crunchy, cold coleslaw was mouthwatering. Of course I was full, but I just couldn't
stop eating it.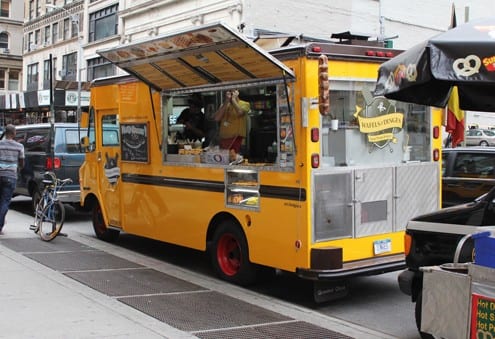 Visit the Wafels & Dinges site here
Follow them on Twitter
Like them on Facebook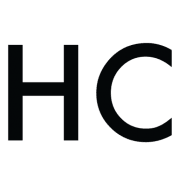 Karla Diaz Cano
Karla Diaz Cano is a freelance designer and photographer from Mexico. She shares her cooking, food styling and photography work on her blog, Sal & Azucar. She loves all sorts of markets and healthy food. Karla also runs an online photography shop, a small jewelry business, and is regular foodie contributor to Heartmade Blog and A Place for Twiggs.