There should be a few Honest Cooking readers heading to the Danish island of Bornholm this summer, for the annual food competition Sol over Gudhjem.
By Lars Hinnerskov Eriksen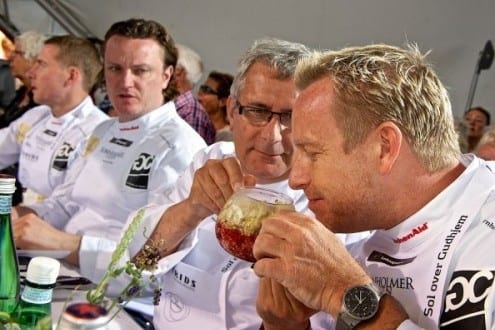 Why? Because we already told you a while ago that this Danish island in the Baltic Sea is fast shaping up to be one of the more interesting outposts in the new Nordic culinary landscape.
So much so that it now has its own annual cooking competition – Sol over Gudhjem – where some of Denmark's brightest young chefs take their talents to the sunshine island and battle it out on stage in the picturesque fishing village of Gudhjem (which translates as 'God home').
I traveled to Bornholm for last summer's competition knowing full well that there are plenty of reasons why I normally don't like cooking contests; they can be stuffy events which go on for ages and eventually turn into a big gut tease where you hardly get to see any of the dishes, let alone taste them.
At Sol over Gudhjem the competition dishes are indeed served for the judges (dressed in their chef whites sprinkled with advertising logos) but the party is for the people. Punters get full view of the action, and some of the local  ingredients the chefs are charged to work with are available in the stalls which suppliers pitch up along the waterfront. Sun, cold beer and the sweet aroma of freshly smoked fish are the ingredients for the all-day knees-up.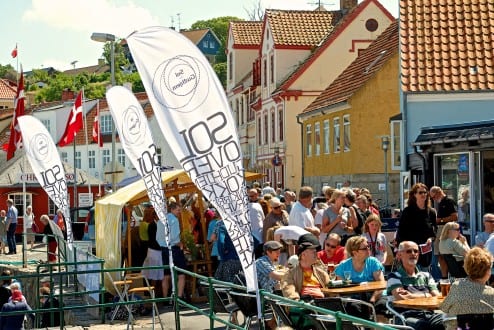 Nicolai Nørregaard from the Bornholm restaurant Kadeau is defending the title this year. Not that the local hero is in dire need of accolades after 12 months which saw him and his crew open a new outpost of their restaurant in Copenhagen and win a Michelin star before anyone had time to say 'pickled sea-buckthorn'.
Kadeau is essentially a gastronomic tribute to Bornholm and its wealth of produce. The food is presented crisp and clean in line with the aesthetics that encapsulate the new Nordic cuisine, but with a liberating unpretentiousness. In the summer they make sure to smoke and pickle enough of their harvest so they can bring part of Bornholm's nature to the capital when they move the show back to Copenhagen.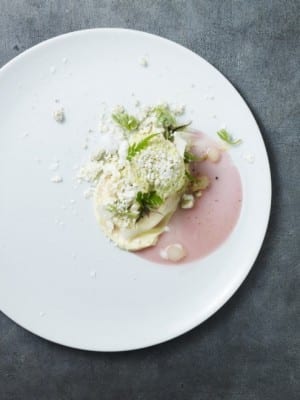 For the last year's main course Nørregaard elevated a humble piece of pork neck to the higher echelons of flavour. He dressed it with buds of wild herbs, rhubarb juice and flowers that almost added a touch of Yves Saint Laurent's Mondrian collection against the backdrop of the black plate. Although the judges voted this main course the dish of the day it was his desert – his Bornholm summer memories – which left me awestruck.
Pickled and raw white asparagus were accompanied by an ice cream made of freshly cut grass, while a fragrant and flowery tea of hip roses and elderflower were poured over at the last minute. As summer desert memories go, it sure as hell beats tinned peaches and Neapolitan ice cream.
I'm salivating at the prospect of what he might cook up this year when the competition includes Kenneth Hansen, a former Nordic chef of the year who will be representing Denmark at next year's Bocuse d'Or.
It all kicks off in Gudhjem on 22 June, and even if you won't be there it's worth logging on to the competition website in the weeks after to catch an inspirational glance at the winning dishes and the future stars of the Danish culinary scene.
After all, who knew that asparagus and freshly cut grass were a pudding match made in heaven.
Lars Hinnerskov Eriksen
Lars Hinnerskov Eriksen lives in Copenhagen where he writes about food and football for the Guardian newspaper. Prior to that he spent 10 years in London where he studied journalism, worked on the Guardian's newsdesk and enjoyed a passionate love affair with British food culture (stop sniggering at the back) and the pub.