No oven? No worries. This cake is served warm, without an over. It is layered with mascarpone and smothered with orange syrup and is not overly sweet.
By Tania Cusack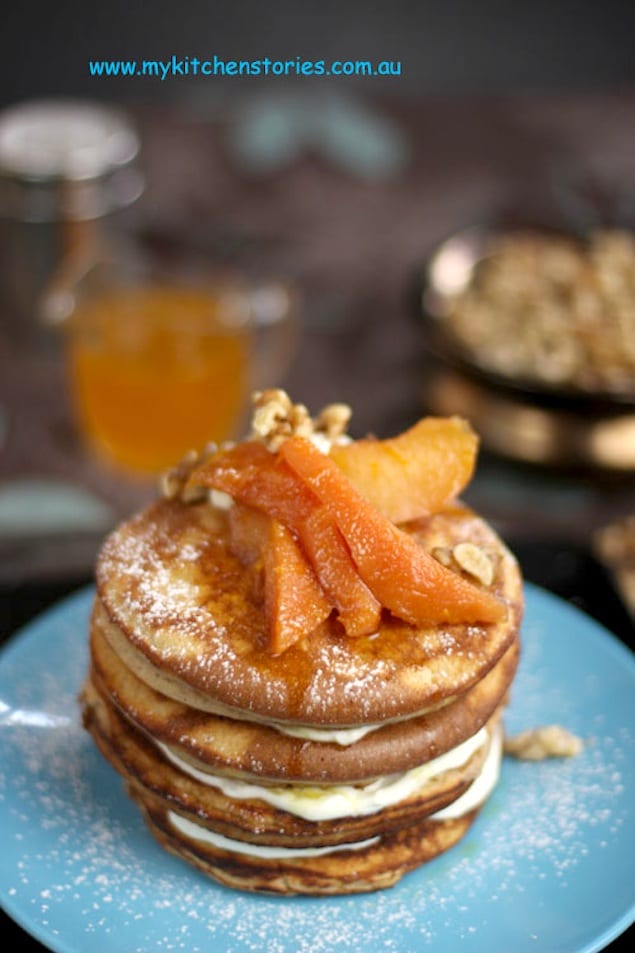 These fluffy spelt pancakes look just like a cake don't they? Imagine you didn't have an oven and you wanted to make a cake for afternoon tea. Here it is.
For one very long summer I lived in a tent near Staveley in The Lake District of northern England. Living in a tent is bad enough but I also had to cook in that tent as well. During my time surviving wind and rain and getting to the shops by bus, I was a tour chef for a travel company. Some nights the passengers camped and on others they stayed in more salubrious accommodation like small boutique hotels or even cabins. This was the camping stop and I was stationed here for 4 months
Fortunately I only had one bus arrival a night so that was a mere 52 passengers to accomodate. I had camping tables outdoors where my dinners sat each meal time. Inside the cooks tent there were two or three trestle tables some store cupboards and a large triple gas burner. Yes, really that is all. I had an ambitious menu because I love a challenge, even though most camping stops kept it extremely simple I always liked to do a bit more. Part of the service included desserts and always birthday cakes if there was a passenger lucky enough to be increasing in age on tour.
I steam baked sponges in large A10 tins and layered them with berries and cream but I also made this kind of cake too. Fluffy Spelt, Walnut and Orange Pancake Cake. It is served warm, layered with mascarpone or sour cream or sweetened yoghurt and smothered with orange syrup. It doesn't taste too sweet which may surprise you. It is the best cake you can make without an oven. Use what ever fruit or flavourings you like. Just keep the cakes warm while you make the layers then spread and serve.
Print

Fluffy Spelt Pancake Cake with Oranges
---
Author:

Tania Cusack

Yield:

6

1

x
Description
No oven? No worries. This cake is served warm, without an over. It is layered with mascarpone and smothered with orange syrup and is not overly sweet.
---
Cake
3

eggs separated

150

ml (2/3 cup- 5oz) buttermilk

2 tablespoons

caster sugar (superfine)

1 teaspoon

cinnamon

1 Tablespoon

orange zest

1 Tablespoon

of Baking powder

1 cup

of spelt flour

½ cup

of chunky chopped walnuts
Syrup
2 tablespoons

( or near enough) orange zest)

1 cup

of orange juice

½ cup

superfine ( caster sugar)
Fruit to serve – I used quinces

1 cup

of sweetened yoghurt, sour cream or mascapone and ¼ cup walnuts to serve and ready before you begin
---
Instructions
Put the orange juice, zest and sugar into a pot and simmer on low till nice and syrupy or reduced by ½. Pour into a jug and set aside.
Put the yolks, buttermilk, zest and sugar into a bowl and whisk till combined. Mix the cinnamon, baking powder and flour together and whisk gently into the egg yolk mixture. The mixture should be stirable. If it is too thick and a little more buttermilk.
In a clean bowl, with a clean whisk beat the whites to soft peak and nice and fluffy then fold through the batter along with the chopped walnuts till just incorporated without mixing too much.
Heat a fry pan greasing with a little butter testing with a small drop of the batter. Once hot reduce the heat a little and add the first quarter of the batter. The pancakes with be very fluffy. Turn when they start to bubble on the top. Cook slowly so the outside doesn't burn. keep warm wrapped in a clean teatowel till all are finished
Once all four are done layer with the mascarpone. and decorate with fruit and more mascarpone and nuts. Serve with lashings of the syrup and extra cream. Cut just like a cake.
Tania Cusack
After completing Culinary School in Sydney, Tania travelled the world working as a Chef in restaurants, doing catering and cooking on road for a travel company in Europe and the US. Once back at home, the birth of her son meant a change, and during his small years, she enjoyed jobs in wholesale food, buying Artisan food products, testing and recipe writing as sales and educational tools. Tania is now back to what she loves, working as an in house Chef for a large retailer, conducting Cooking Classes and writing recipes for her blog.