A vegan peanut butter mousse layered with a gluten free chocolate crumble for a rich dessert that dreams are made of.
By Ashley Melillo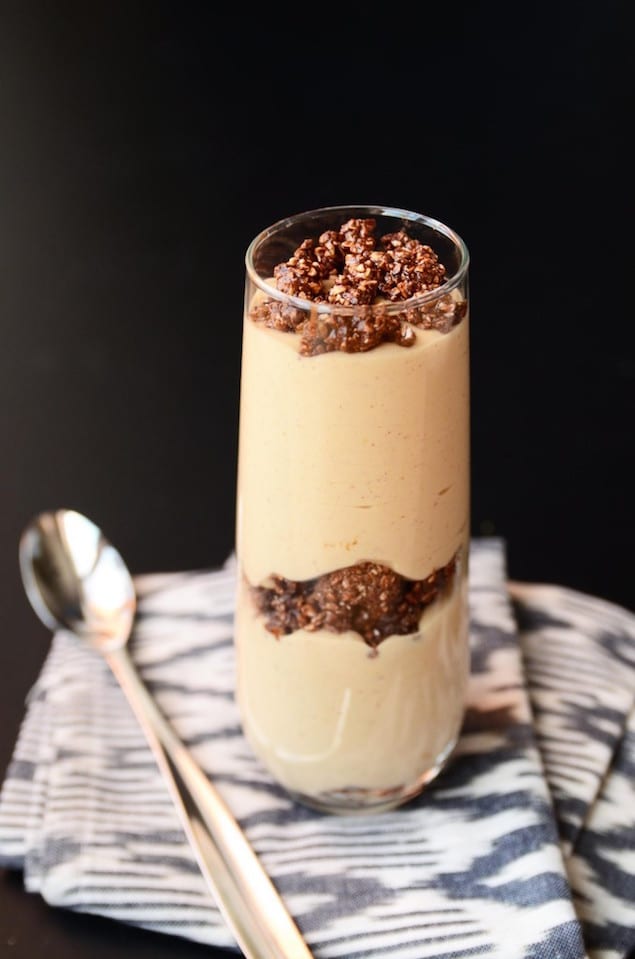 Creamy.
Airy.
Chocolaty.
Crunchy.
Decadent.
What peanut butter dreams are made of…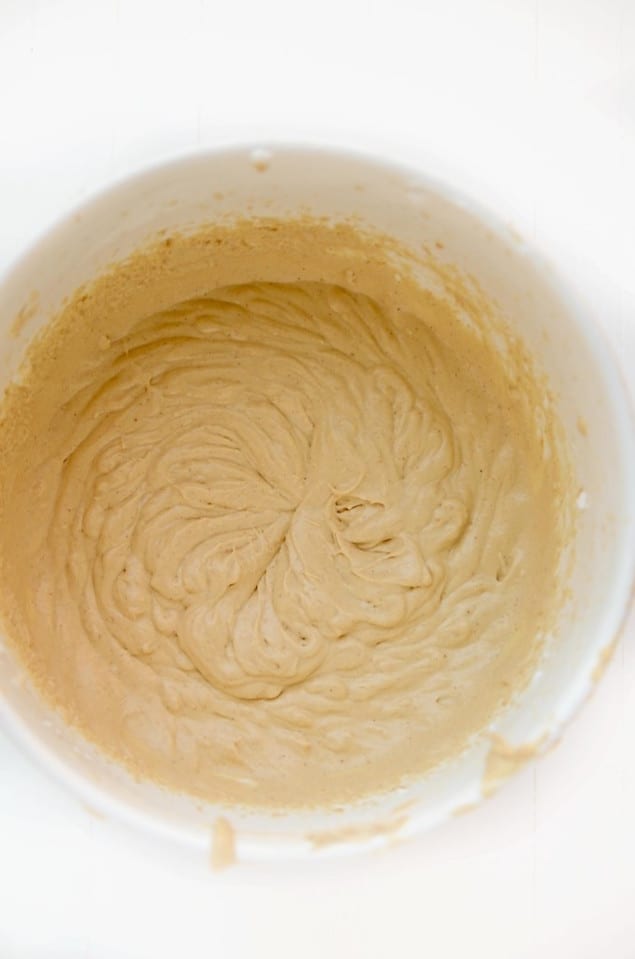 These potent little peanut butter parfaits prove that good things are found in the simplest of combinations.
Peanut butter + chocolate = the good stuff.
To make these peanut butter mousse parfaits, you'll need just 7 ingredients. That's all that separates you from this glass of fluffy peanut butter decadence.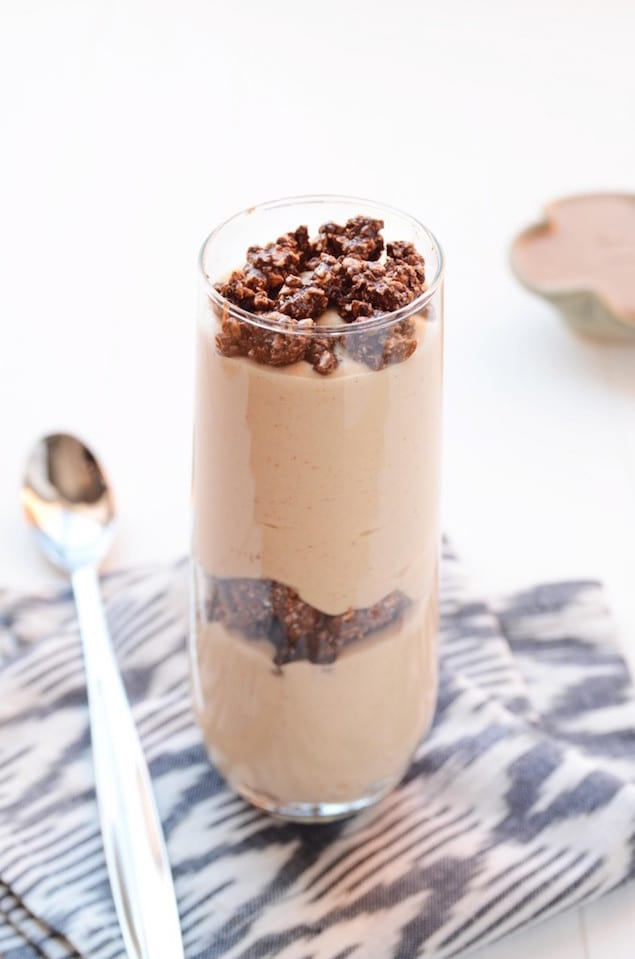 The chocolate-crumble is made by pulsing together raw buckwheat groats, cacao or cocoa powder, and pure maple syrup. You want a mixture of crushed groats and whole groats, so go easy on the food-processor pulsing, my friends.
The last step is layering the chocolate crumble and pb mousse in glasses and popping them in the fridge for a quick (but impatience-provoking) hour to set.

Fluffy Peanut Butter Mousse Parfait with Chocolate Crumble
A vegan peanut butter mouse layered with a gluten free chocolate crumble for a rich dessert that dreams are made of.
Cuisine:
Vegan, Gluten-Free
Ingredients
For the Chocolate Crumble
½ cup raw buckwheat groats
¼ cup cacao or cocoa powder
2-3 tablespoons pure maple syrup, depending on desired sweetness
For the Peanut Butter Mousse
1½ cups unsweetened coconut cream*
¼ cup + 3 tablespoons creamy peanut butter (salted)
3 tablespoons pure maple syrup
1 tablespoon coconut oil
2 teaspoons vanilla extract
Instructions
To Make the Chocolate Crumble
Add the buckwheat groats, cacao, and maple syrup to a food processor and pulse 25-30 times to create a crumbly mixture. You want some buckwheat groats left whole and some crushed.
Transfer to a bowl or container and set aside.
To Make the Peanut Butter Mousse
Add the coconut cream to a large mixing bowl.
In a small mixing bowl, whisk together the peanut butter, maple syrup, coconut oil, and vanilla extract until smooth and evenly blended.
Add the peanut butter mixture to the coconut cream and whisk together with a hand or stand mixer with whisk attachments. Whisk for 2-3 minutes on high or until smooth and creamy.
To Assemble the Parfaits
In small glasses or bowls, layer the chocolate crumble and peanut butter mousse. I use a pastry bag to easily pipe the mousse into the glasses.
Refrigerate for at least one hour to set the mousse.
Serve.
Notes
*You can use full-fat canned coconut milk or canned coconut cream, just ensure it's unsweetened. If you use coconut milk, you'll want to open the can and refrigerate it (uncovered) for at least 8 hours or overnight. Then, scoop off the thick cream on the top of the can and discard the watery liquid at the bottom.
**It's best to have your coconut cream, peanut butter, maple syrup, coconut oil, and vanilla extract all around similar temperatures before whisking them together. This ensures even blending.
Ashley Melillo
Ashley Melillo is the creator of Blissful Basil, a blog dedicated to unearthing the happiest side of life through wholesome, plant-based foods. Being a school psychologist and food blogger, Ashley incorporates a wide array of health-enhancing ingredients into her recipes with the hope of guiding others on their path towards improved well-being.