These incredibly ooey and gooey cookies are a mix of chocolate and coconut – just like a Mounds bar, or a Brazilian Prestígio.
By Denise Browning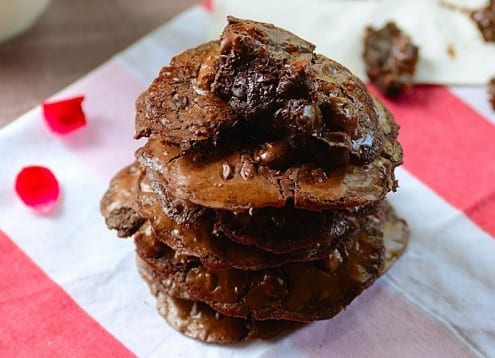 Flourless "Mounds" Cookies
These incredibly ooey and gooey cookies are a mix of chocolate and coconut - just like a Mounds bar, or a Brazilian Prestígio.
Ingredients
3 cups powdered sugar
⅔ cup unsweetened cocoa powder
¼ teaspoon salt
3 extra large egg whites
1 tablespoon pure vanilla extract
2 cups dark or semisweet chocolate chips (I used semisweet in mine)
2 oz (57 gr.) unsweetened coconut flakes (about ⅔ cup plus 2 tablespoons)
Instructions
Preheat the oven to 350°F (about 180° C). Spray two baking sheets with PAM (nonstick cooking spray) and line with parchment paper. Spray top of parchment paper with PAM (this will help cookies to not stick once baked, since they have a high sugar content) and set baking sheets aside.
Sift together the powdered sugar and cocoa powder in a large bowl. Whisk in the salt. Add the egg whites and vanilla and whisk until combined. Stir in the chocolate chips and coconut flakes.
Use a spring-release cookie scoop to portion out small mounds onto a greased parchment paper sheet, keeping a distance of 2 inches from each cookie. Place into the freezer for 10 minutes to chill slightly, and thus prevent them from spreading too much in the oven.
Bake Mounds cookies for 9-11 minutes, until the tops are glossy and lightly cracked. Let the Mounds cookies sit on the paper for a few minutes to set. Then, slide the parchment paper with the Mounds cookies onto a wire rack to cool completely. These Mounds cookies can be stored in an airtight container for up to 3 days. Serve these Mounds Cookies with a good glass of milk. Enjoy!!!
Denise Browning
Denise Browning is a native Brazilian foodie, trained Chef, cooking instructor, restaurant menu/recipe developer, and former lawyer. She is also the author of From Brazil To You - a blog that features Brazilian, fusion, and international dish recipes, stories, and photography of Brazil. Her writing has appeared in Cia Brasil Magazine, while her photography is frequently featured on Foodgawker, TasteSpotting, and Foodepix. She lives in Texas with her American husband and two children.