Flour-Less Peanut Butter Cookies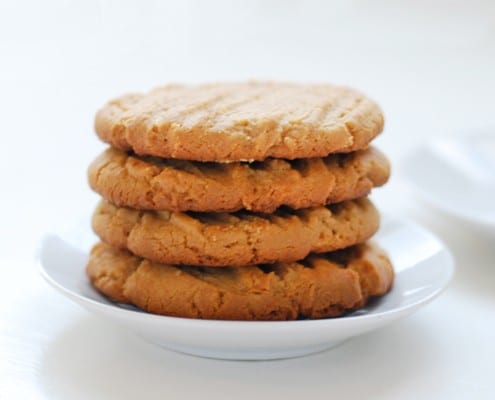 A deliciously chewy and delightfully flavorful peanut butter cookie with no flour.
By Erica Scime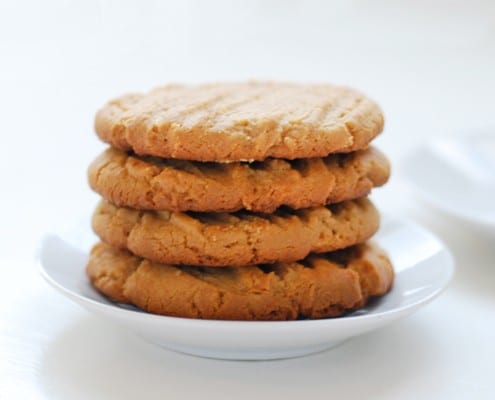 My grandma used to make peanut butter cookies all the time when I was a kid. They were soft and chewy and melted in your mouth but, best of all, my Grandma's peanut butter cookies had a fancy fork pattern on the top. For a while now I have been working on a peanut butter cookie of my own. I have wanted a cookie that was as delicious as my Grandma's but with perhaps a bit less sugar and flour. (If there is a plate of peanut butter cookies in front of me I'm going to eat the entire thing. At least they should be decent for you, right?) I have made all kinds of peanut butter cookies but, at long last, I have found the perfect one. These peanut butter cookies have no flour and only a bit of sugar and yet they are as soft and chewy as the one's my Grandma used to make. Oh, and they even have the fancy fork pattern.
Flour-Less Peanut Butter Cookies Recipe
A chewy, flavorful peanut butter cookie with no flour.
Ingredients
1 egg
1 cup of peanut butter (smooth or chunky)
1 tsp of baking soda
¼ cup of brown sugar
¼ cup of white sugar
Instructions
Preheat the oven to 350°F.
Stir together the peanut butter and sugar until well combined.
Now stir in the egg and baking soda.
Place walnut-sized balls of the cookie dough on a greased or lined baking tray. Press them down with a fork. Bake in the oven for about ten minutes. Allow to cool on a wire rack.
Erica Scime
Erica is a food, health and wellness writer who loves bringing together fresh, local ingredients from the farmers market and bold, beautiful flavours from around the world. Find more on her blog, The Mindful Mouthful.