PARTNER POST: The versatile potato is perfect in a multitude of recipes showcasing flavors from around the globe. Get creative with your spuds.
Dive into a beautiful recipe for classic tapas. Served with a smooth aioli, patatas bravas spiced and so comforting, perfect for a winter day.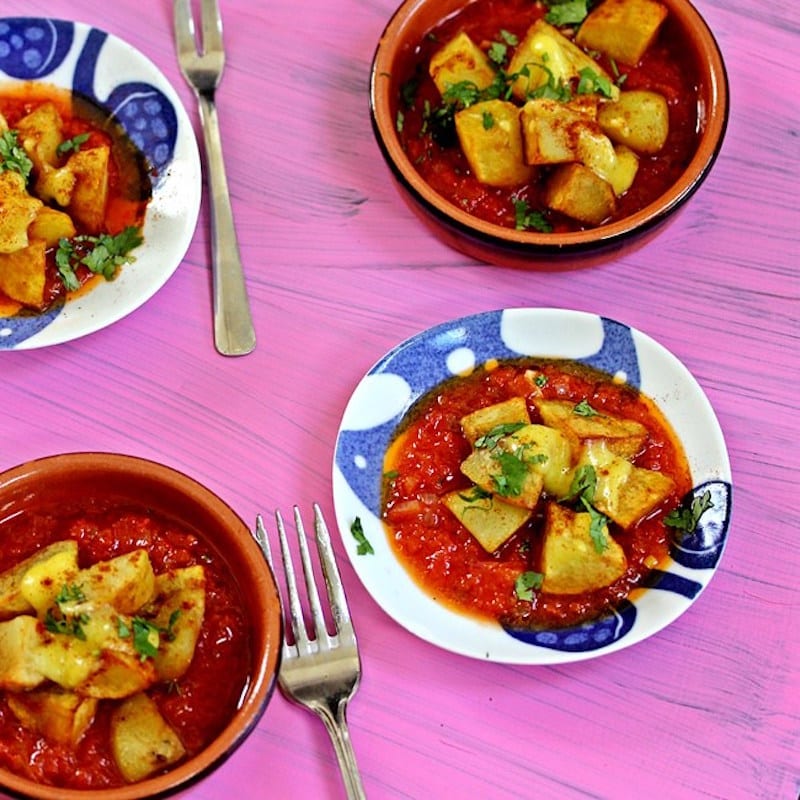 This recipe is one of my favorite forms of a tapas, and like most recipes I add a little more shall we say zest to the sauce. Patatas Bravas loosely translates to fierce or bold potatoes. Speaking of potatoes, I LOVE potatoes. My favorite varieties are red skinned potatoes and classic Yukon golds and yes, in this dish I usually use Yukon Golds.
This dish comes together beautifully with spicy homemade tomato sauce, drizzled with homemade aioli. And, do not think of subbing mayonnaise for the aioli, I shall talk and rhapsodize about aioli on a later day, but fear not that day shall come.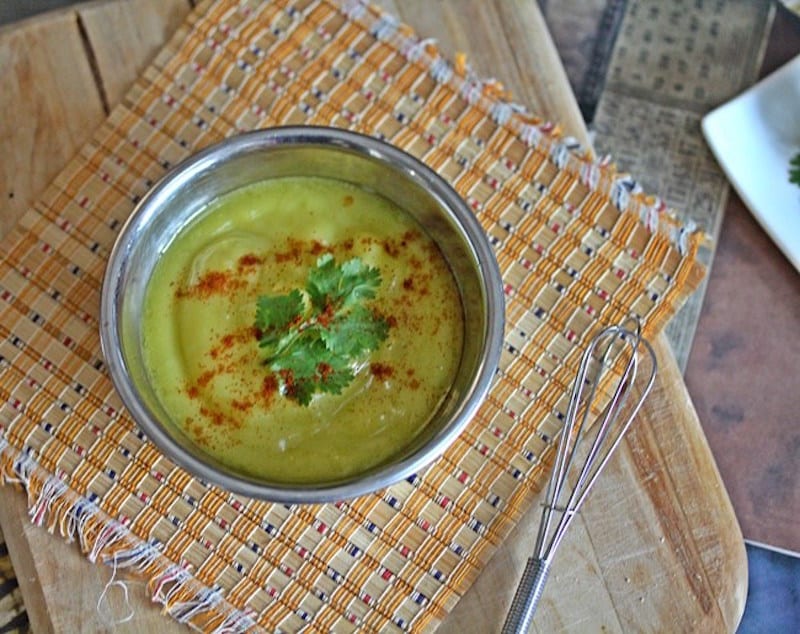 Just a note, this recipe without the aioli is acceptable, I cannot in good conscience tell you that it is just as good, but without the aioli it becomes a peaceful vegan recipe, something that a lot of you ask me for. So, before we get to the recipe we need to get clear on the takeaway, if using aioli make it yourself and do not try to bake the potatoes.
For another international potato recipe, try these Bombay Spiced Potatoes:


Flavorful Patatas Bravas
Dive into a beautiful recipe for classic tapas. Served with a smooth aioli, patatas bravas spiced and so comforting, perfect for a winter day.
Author:
Rinku Bhattacharya
Recipe Type:
Side, Appetizer
Ingredients
For the Potatoes
3 medium sized potatoes (such as Yukon Golds)
Oil for frying
For the aioli
1 clove of garlic
2 tablespoons fresh lemon juice
1 egg yolk
½ teaspoon salt
½ cup extra virgin olive oil
For the Quick and Spicy Tomato Sauce
3 tablespoons olive oil
1 medium white onion, diced
2 to 3 cloves of garlic minced
1 teaspoon powdered cumin
1 teaspoon smoked paprika
4 medium sized very ripe tomatoes coarsely chopped
1 large spicy red cayenne pepper, chopped
1 teaspoon salt or to taste
½ cup water
Lots of cilantro or parsley to garnish
Instructions
Boil the potatoes in plenty of water for about 10 minutes, until somewhat soft but not cooked through. Remove the skin and cut into cubes and dry thoroughly.
In the meantime, mash the garlic clove and mix with the lemon juice and beat in the egg yolk and salt. Mix in the olive oil a few drops at a time and beat well, but do not over beat. Continue this process with patience, until the mixture thickens and gets a rich and creamy sauce like texture.
Add in just enough oil to let the mixture emulsify, and set aside. This dish does not need a very thick aioli.
Once the aioli is done, heat the olive oil for the tomato sauce and add in the white onion and minced garlic and cook for five to seven minutes until the onion is soft and beginning to turn pale golden.
Add in the powdered cumin, smoked paprika and the tomatoes, cayenne pepper and the salt and cook for 8 minutes. Stir in the water and cook for 3 to 4 minutes and set aside.
Set the sauce aside.
Place about 2 inches of oil for frying in a skillet, and heat for about 5 minutes. Add in the cubed potatoes and fry until crisp and golden.
To serve and assemble, place a little of the tomato sauce on the plate, add the crisp potatoes over the tomato sauce.
Drizzle with the aioli and garnish with the cilantro or parsley and enjoy!