Flatbread Pizzas with Roasted Carrots and Avocado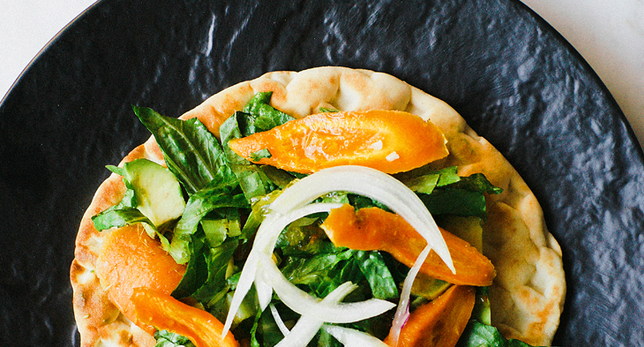 This is a five minute recipe that's perfect for those busy nights where you don't feel like cooking.
By Joy Zhang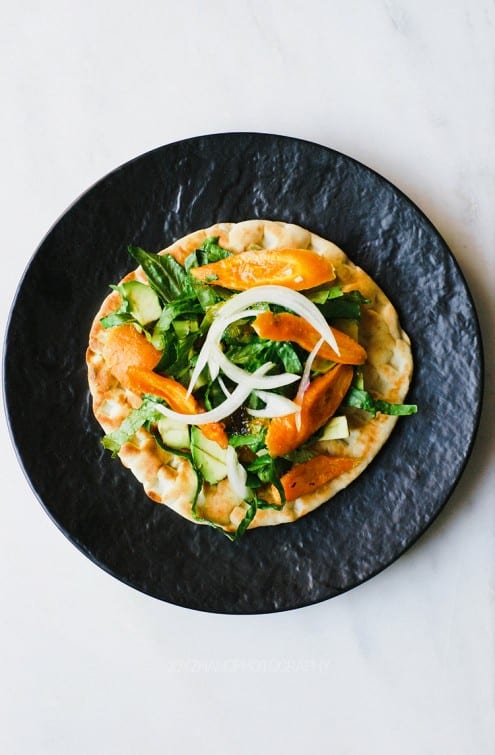 When I cook at home, I always try to plan out what I'll be cooking and eating for the week. That way, it helps minimize food waste and ensures that you utilize your leftovers properly.
I tend to keep carrots in stock at all times, they last long in the fridge, they are insanely healthy for you and very versatile. You can eat them raw, or in stir-frys and soups, maybe a quick roast with some garlic and EVOO (recipe here), steamed or boiled, fried — they're easily one of my favorite vegetables.
I usually put aside a "free day" to make the more extensive recipes that require more prep time and effort but I'll make sure to make a little extra so it'll last me for a good portion of the week. Anytime I make roasted carrots, I always make extra because you can throw them on pretty much anything.
This is a five minute recipe that's perfect for those busy nights where you don't feel like cooking. Pair it with a side salad or some fruit and you've got yourself a great lunch or dinner, you can even slice it up and serve it up as an appetizer for parties. These are so simple, a kid could make em and feel free to omit any ingredients that don't tickle your fancy.
Flatbread Pizzas with Roasted Carrots and Avocado
This is a five minute recipe that's perfect for those busy nights where you don't feel like cooking.
Ingredients
2 whole flatbreads or gyro bread (I personally prefer gyro bread)
½ lime, squeezed
1 tsp olive oil
1 spoonful habanero pepper jam (any type of pepper jam will work here)
½ cup romaine lettuce, cleaned and thinly sliced
½ large avocado, pitted and cubed
1 cup roasted carrots
⅛ cup sweet onion, thinly sliced
Instructions
Place flatbreads in a toaster oven and bake until warm and slightly crispy around the edges, about 2-3 minutes. Meanwhile prep your dressing: in a small bowl whisk lime juice, olive oil and jam until thoroughly incorporated. Set aside.
Prep remaining ingredients (slice romaine, cube avocado, slice onion). Carefully remove flatbreads from oven (use a fork if needed as it will be hot) and place on a plate. In a large bowl, toss sliced romaine with dressing and place onto flat bread. Place avocado and roasted carrots and top with sliced onions and a sprinkle of Maldon sea salt. Finish with a drizzle of high-quality olive oil if preferred.
Joy Zhang
A 25 year-old free-lance photographer, home-chef and writer from Dallas, Texas, Joy finds inspiration for her photography and recipes through music, art and nature. Her work has been featured on Elle Girl Korea and Gourmet Live. Join her culinary adventures through her kitchen and discover fresh, simple and delicious recipes.