Flaky Lamb and Hummus Tart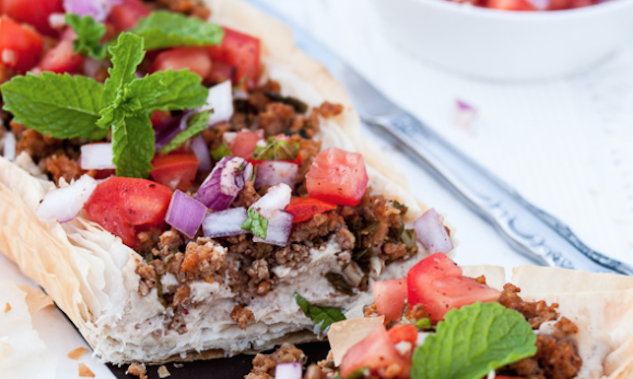 In the midst of all of the traditional kababs, curries, biryani and koftas, this speedy, crispy, wonderfully simple Middle Eastern lamb and hummus tart is a great filo pastry tart if you are looking to add something light to the spread.
By Lail Hossain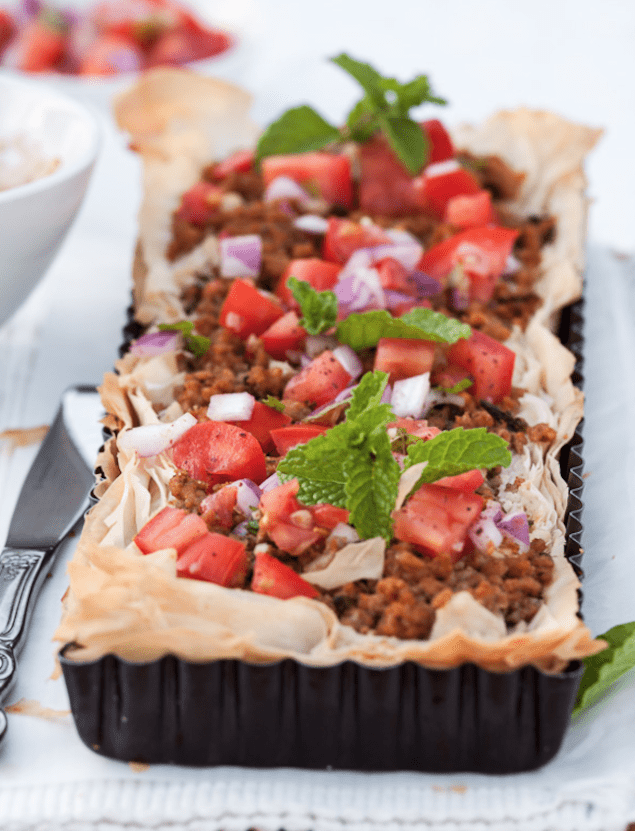 In the midst of all of the traditional kababs, curries, biryani and koftas, this speedy, crispy, wonderfully simple Middle Eastern lamb and hummus tart is a great filo pastry tart if you are looking to add something light to the spread. When I saw this Middle Eastern Lamb Tart on Australia's leading food magazines Taste.com.au, I knew I needed to make it immediately. And guess what? I made this tart twice back to back on a same week. I am addicted to this quick phyllo tart with a base of hummus and filled with lamb and mint. I omitted the feta to keep the refreshing flavors of the tart intact and light. The beauty of the lamb and hummus filo pastry is that it can be served at brunch, lunch, dinner or as appetizer anytime of the year. This lamb filo tart will be the center of attraction as party food when served as hors d'oeuvre or light main course meal.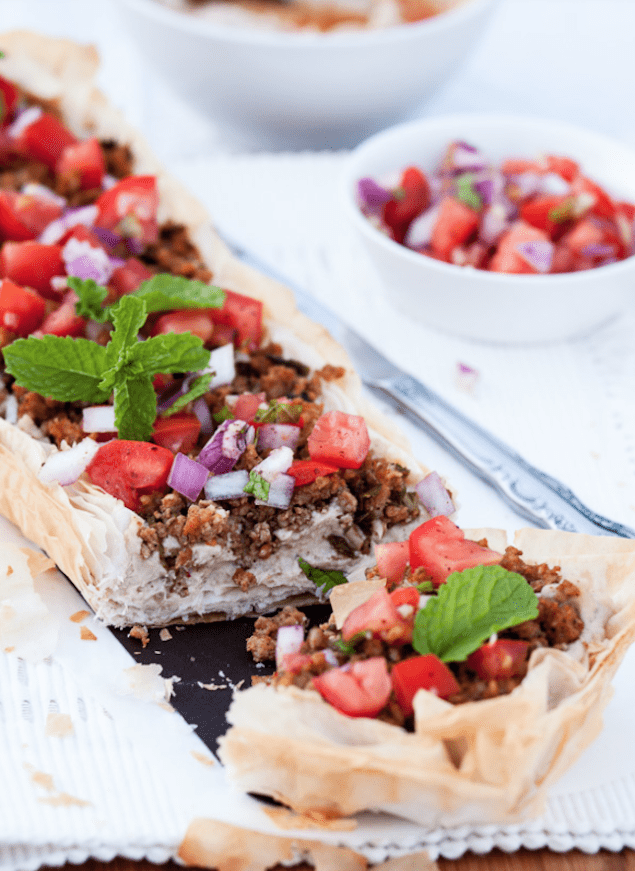 Flaky Lamb and Hummus Tart
In the midst of the traditional kebabs and curries, this crisp, simple Middle Eastern tart is a great pastry tart for something light to add to the spread.
Ingredients
2 tablespoons extra virgin olive oil
1 tablespoon ketchup
2 garlic cloves, crushed
½ lb lean ground lamb (may substitute beef)
1 teaspoon ground coriander
Pinch of dried chilli flakes
2 teaspoons cumin seeds, toasted
¼ cup lemon juice
¼ cup finely chopped mint, plus extra leaves to serve
Salt to taste
4 sheets fresh phyllo pastry
2 tablespoon olive oil
2 Roma tomatoes, seeds removed, chopped
½ teaspoon sumac
1 red onion, finely chopped
2 tablespoons chopped flat-leaf parsley
1 cup homemade hummus, you may substitute with store bought hummus
Instructions
Heat 1 tablespoon oil in a pan over medium-high heat. Add ketchup and half the garlic. Cook, stirring, for about 1 minute.
Add minced meat, coriander, chilli flakes and 1 teaspoon cumin seeds. Cook, stirring, about 5-6 minutes until browned all over.
Stir 2 tablespoons lemon juice and 1 tablespoon mint.
Season with salt. Taste and adjust seasoning per taste.
Remove from heat and set aside.
Preheat oven to 350 degrees Fahrenheit.
Lightly grease a 13¾in x 4½in x 1in high Removable bottom tart pan.
Brush 1 phyllo sheet with olive oil, covering the remaining phyllo with a tea towel while you work. Top with another phyllo sheet and brush with olive oil. Repeat with remaining phyllo and oil, then use it to line the tart pan.
Prick the base with a fork. Bake for 10-12 minutes or until pastry is crisp and lightly golden. Cool slightly and push the centre of the pastry down.
In the meantime, combine tomato, sumac, onion and parsley in a bowl with remaining 1 tablespoon oil, garlic, 1 teaspoon cumin, 1 tablespoon lemon juice and 2 tablespoons mint. Season with salt and set aside.
Spread center of the pastry shell with hummus.
Then, sprinkle the cooked minced meat. Bake for 3-4 minutes to warm through.
Remove from oven and top with tomato, parsley mixture and extra mint leaves before serving.
Lail Hossain
Lail Hossain finds cooking to be an explosion of creativity. She is enthusiastic about modifying a laborious step of an old recipe, and experimenting with different ethnic recipes by adding her own spin to it yet keeping the recipes simple, healthy, and delicious. Originally from Bangladesh, Lail shares her journey of food, creativity and family in her blog "With A Spin". She is also very passionate about highlighting Bangladeshi cooking to the international culinary space.