A southern favorite, pimento cheese spread is a great sandwich addition or go-to party dip. Try these favorite additions to mix in for a fun new flavor.
By Ann Kaufman
Pimento cheese, or "Carolina Caviar," as it was sometimes referred to where I grew up, is kind of a double-edged sword. On the one hand, it's the perfect snacking cheese — spreadable, mildly spicy, and salty. On the other hand, one can never just dip their hand in a single bite of pimento cheese and stop. I know this from firsthand experience. I may have also fallen asleep with streaks of dried pimento cheese smeared across my face in a cheddar-induced haze. This is why I don't make it often. This is also why I've stopped setting it out on my coffee table, right in front of my napping sofa.
Today's recipe is my basic, go-to recipe, adapted from the Lee Brothers Southern Cookbook, and I've listed some of my favorite add-ins to make your pimento cheese uniquely yours.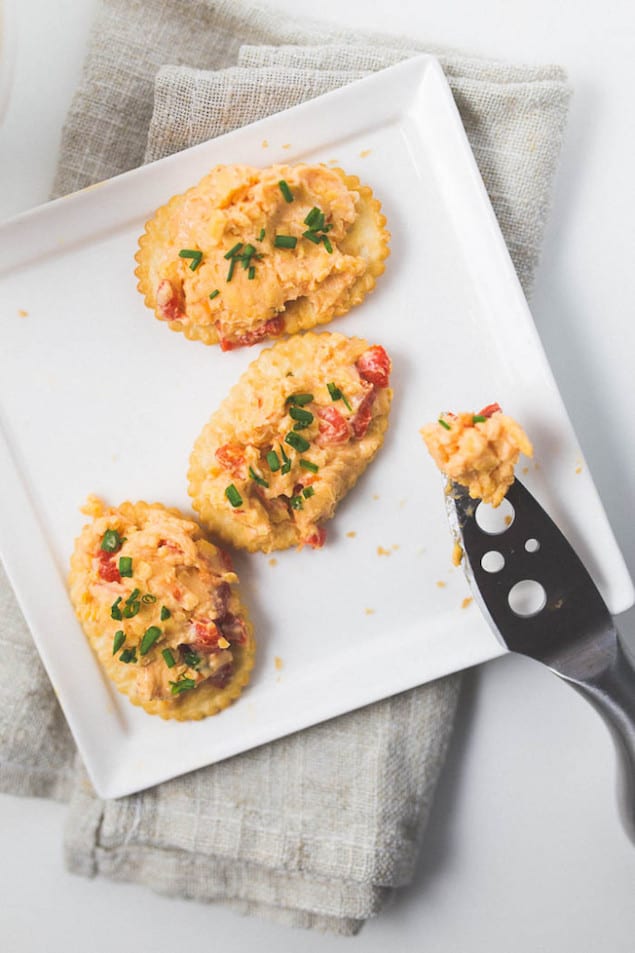 For this recipe, it's important to char the bell peppers so that the skin is extra-black on all sides. It means the bell pepper is getting cooked thoroughly, so that, once peeled, the flesh is sleek and soft the touch, like the surface of an otter (I don't know why it reminds me of that, it just does). Secondly, the char also imparts just a hint of smokiness, which really adds depth to the pimento cheese spread. Without the bell pepper, all you have is a variant of a sad little cheese dip. No one likes sad cheese.
This recipe produces my absolute favorite pimento cheese. The sweet bell peppers mitigate the saltiness of the cheddar well, and the cream cheese/mayo combination adds just the right amount of creaminess. If you're looking to really wow your guests, there are a few ways you can punch up your pimento cheese after you've already made your basic batch of pimento cheese according the recipe I've posted below.
First and foremost, if you don't have kids coming over, mix in a shot of bourbon. The booze elevates the pimento cheese so that it's similar to a port cheddar with a decidedly Southern kick. I also almost always add two tablespoons of minced fresh chives for a lighter onion twist to the cheese. Other times, I'll blacken a jalapeño under the broiler at the same time I'm charring the bell pepper and chop up the two together to mix into the cheese base so that there's a grassier spice mixed in with the sweetness of the bell pepper. A tablespoon of sriracha hot sauce has also been a big hit among our guests in the past, and sometimes I'll make extra bacon to chop up and put into my pimento cheese (although I'll note that adding bacon means you need to eliminate seasoning the pimento cheese with any sort of salt whatsoever, or you'll have a salt explosion in your mouth when you try to eat it).
Print
Five Delicious Takes on Pimento Cheese
A southern favorite, pimento cheese spread is a great sandwich addition or go-to party dip. Try these favorite additions to mix in for a fun new flavor. Adapted from Lee Brothers Southern Cookbook
Author:

Ann Kaufman

Yield:

4

-

6

servings

1

x
1

red bell pepper

8 ounces

finely shredded extra-sharp Cheddar cheese

2 ounces

cream cheese, softened

4 tablespoons

mayonnaise (Hellman's, preferably; is there any other kind?)
salt and pepper to taste
OPTIONAL:
1

shot (1.5 ounces) of good quality bourbon OR

1 tablespoon

sriracha OR

2

strips very crispy bacon, chopped roughly OR

1

jalapeno OR

2 tablespoons

minced chives
Instructions
Wash bell pepper and jalapeño (if using) and pat very dry with paper towels. Turn on the broil function to your oven and allow it to warm up for about 2-3 minutes.
Place the pepper(s) about 2 inches from the top of the broiler in oven.
Flip the pepper(s) with tongs after about two minutes to make sure the skin on all sides gets blackened evenly.
Remove pepper(s) from oven once it is completely blackened on all sides and immediately place in a heatproof bowl. Cover with a plate to steam; let pepper(s) cool.
While the pepper(s) are cooling, stir together the cream cheese and the mayonnaise.
Remove pepper(s) from bowl, reserving liquid, and peel skin off.
Remove seeds and stem, then chop the remaining flesh into a small dice.
Stir together the peppers, reserved pepper liquid, grated cheese and mayo/cream cheese combo until well blended.
If using optional ingredients, fold them in after all other ingredients have been mixed together.
Season with salt and pepper to taste.
Serve immediately with your favorite crackers or store up to a week tightly covered in the refrigerator (after chilling, bring to just below room temperature prior to serving).
Ann Kaufman
Ann Kaufman is an emotional food enthusiast who writes about food at Grits & Chopsticks. When she's not writing about food, she's caring for her two young children, lawyering and thinking about her next meal.