Fish, Nectarine and Spinach Sandwich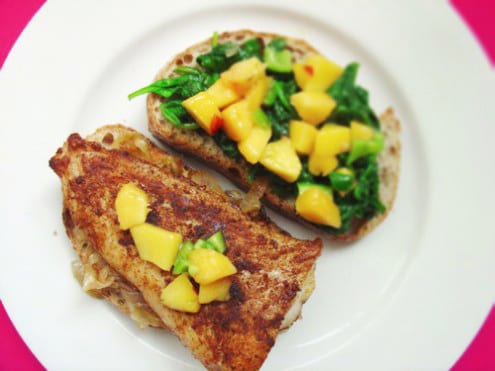 This sandwich has several parts: a fruit salsa, for sweet and spicy flavor; caramelized onions, for richness; sauteed greens, for earthiness and color; and the fish, which you can season heavily or lightly, depending on your preference.
By Jennifer Abbott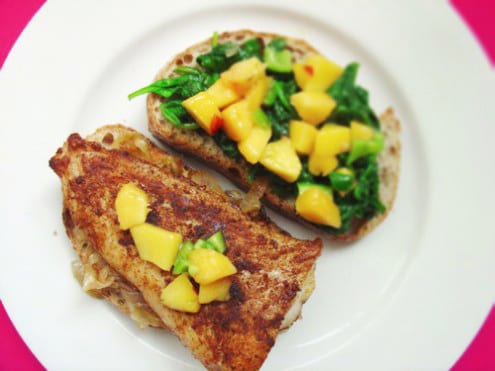 I don't remember exactly what it was that caused Paul and me to put all of these things together, but it could have been trying to use everything we'd picked up at the farmer's market that day, or it could have been the influence of all the great restaurants we'd been visiting.
Fish, Nectarine and Spinach Sandwich
This sandwich has several parts: a fruit salsa, for sweet and spicy flavor; caramelized onions, for richness; sauteed greens, for earthiness and color; and the fish, which you can season heavily or lightly, depending on your preference.
Ingredients
for the salsa:
2 large peaches or nectarines
1 teaspoon minced jalapeno pepper
1 tablespoon minced bell pepper
1 teaspoon vinegar (I used Steen's Cane vinegar)
drizzle of pecan or olive oil
salt to taste
to complete:
3 medium white or red onions, or a combination
4 tablespoons unsalted butter or oil of choice, divided
4 large handfuls fresh baby spinach (or kale)
2 fresh black drum fillets
1 to 2 teaspoons Cajun or Creole seasoning blend, such as Tony Cachere's (optional)
4 slices hearty bread or French bread, toasted
Instructions
First, make the salsa: peel and dice the nectarines or peaches and place them in a small bowl. Add the jalapeno, bell pepper, oil, vinegar, and salt. Mix well, cover, and refrigerate to blend the flavors.
Halve and slice the onions thinly. In a medium skillet, melt 1 tablespoon butter over medium high heat, then add the onions and a pinch of salt. Stir until the onions become translucent, then reduce the heat to very low and continue cooking until the onions have shrunk down quite a bit and are golden brown and sweet-smelling, about 30 minutes.
When the onions have about 10 minutes left to go, heat another medium skillet over medium-high heat, and melt one tablespoon of butter in it. Add the spinach and a pinch of salt and stir until the spinach is bright green and wilted, about 4 minutes. Squeeze the excess liquid from the spinach by pressing a spatula against it on the side of the pan. Set aside.
Season the fish fillets on both sides with Cajun or Creole seasoning if using, or with salt and pepper if not. Heat a nonstick skillet over medium-high heat and melt the remaining 2 tablespoons of butter in it. Add the fillets and cook until done, about 3 to 4 minutes on each side, depending on thickness.
To assemble the sandwiches, place a portion (half or a little less than half) of the onions on one slice of bread (the juicyness of the onions will also act like a spread). Top the onions with one of the fish fillets. On another slice of bread, layer half the spinach, then a generous scoop of fruit salsa. Repeat with the other two slices of bread. Top the fruit salsa bread with the fish bread, and smash together and eat it all up!
Jennifer Abbott
Jennifer Abbott is a writer, music teacher, Southern food enthusiast, and soup aficionado. She lives in New Orleans and blogs about cooking and dining at Food Orleans.