This great fish burger is comforting, juicy and fresh and has a nice salty kick from the capers.
By Denise Kortlever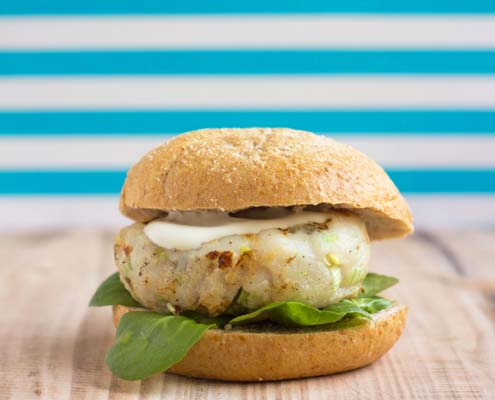 It's interesting to notice that certain types of "junk food" or simple comfort food can suddenly become a new culinary trend. It happened to meatballs for instance; restaurant Meatballs is doing great business in cities like NYC and London and many other restaurants placed the traditional simple meatball as a posh dish on their menu. There's a gourmet mayonnaise store in New York, there are several grilled cheese-restaurants and then there's the burger. From very exclusive burger dishes with wagyu beef, truffles or foie gras to popular restaurants that claim to serve the "perfect basic burger"; burgers seem to please everyone.
This is a great, slightly unusual burger made with fish. It's comforting, juicy and fresh, has a nice salty kick from the capers and is pretty light (but very satisfying at the same time). The fish combines perfectly with the fresh lemon mayonnaise with spicy wasabi.
Fish Burger with Wasabi and Lemon Mayonnaise
Fish Burger with Wasabi and Lemon Mayonnaise
Ingredients
1.3 lb (600 gr.) white fish filet (i.e. catfish/cod/tilapia)
1 tablespoon capers
3 spring onions, finely chopped
salt and pepper, to taste
4 bread rolls
lettuce
For the sauce:
4 tablespoons mayonnaise
1-2 tablespoons lemon juice
wasabi, to taste
Instructions
Divide fish in half. Place one half in food processor and process until smooth. Chop other half into little pieces.
Mix all fish with capers, spring onions and a generous amount of salt and pepper.
Brush burgers with a little olive oil and grill in a grill pan until cooked (about 4-5 minutes each side).
Meanwhile, mix all sauce ingredients and add wasabi to taste.
Top bread rolls with lettuce, grilled fish burger and sauce. Serve.
Denise Kortlever
Denise Kortlever is a freelance culinary journalist and works for a variety of clients and publications. She lives in Amsterdam, but often travels the world to write about the most inspiring food trends and great restaurants worldwide. She shares her recipes and culinary experiences on her blog: tlt-thelittlethings.com.