First Hotel Skt Petri in Copenhagen, is the perfect base for your next gourmet trip to the Danish capital. Enjoy a great special discount offer for Honest Cooking's readers.
By Kalle Bergman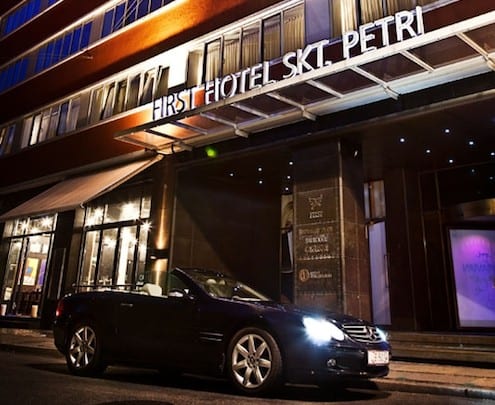 First Hotel Skt Petri is a five-star design hotel, housed in an early modernist building in the Latin Quarter of Downtown Copenhagen. The building was formerly a department store, and it is conveniently located close to prime shopping areas, historic city sights and train and metro lines. Whether you're looking to visit the Tivoli Gardens, the Royal Palace, the Strøget Shopping street, the Nyhavn area or check out the many amazing New Nordic Cuisine restaurants in the Capital – First Hotel Skt Petri is on walking distance from most of them.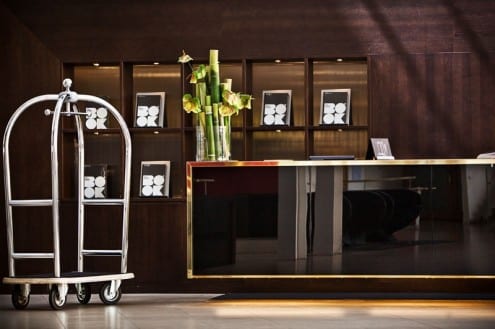 First hotel Skt. Petri offers a wide variety of choices for both resident guests and Copenhageners alike. Bar Rouge features live DJ entertainment and excellent cocktails. Café Petri is a relaxed sanctuary for the urbanite, serving up freshly baked bread and speciality coffees. Brasserie Petri offers a complete dining experience with modern Scandinavian brasserie cuisine served in a unique ambiance.
First hotel Skt. Petri was Denmark's first real design hotel, projecting a clean, modern style. Each room reflects a unique individual style and the furnishing, such as couches, desks and night tables has been exclusively custom designed for First hotel Skt. Petri.
The entrance to First hotel Skt. Petri is located on Krystalgade where an escalator leads visitors up into the sky-bridging lobby, which offers an unrivalled view of medieval copenhagen – the latin Quarter.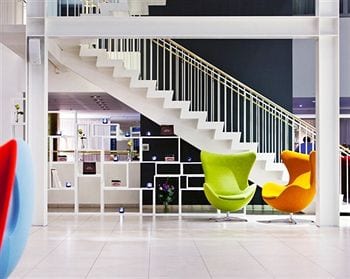 First hotel Skt. Petri opened its doors on 8 July 2003 after extensive refurbishment of the early modernist building. The hotel, which takes its name from the historical neighboring renaissance church, Skt. Petri Kirke, is an urban sanctuary of calm and luxury that attracts international visitors and locals alike. The hotel is immensely popular and soon after opening its doors became a solid success.
So what about the food served at the hotel?

BRASSERIE
Brasserie Petri, the beautiful main restaurant at the hotel – located right next to the magnificent lobby – serves international cuisine with a Scandinavian flair. Chef Stine Kvist combines the finest seasonal Scandinavian products with ingredients from near and far, and the result is an interesting menu that appeals to even the most discerning palate. The Brasserie Petri also has one of the best backyard terraces in the city, where you can enjoy light snacks and cold drinks during hot summer evenings.
SPECIAL OFFER
When you make your reservation at the Brasserie Petri – mention "HONEST COOKING", and you will get a 20% discount on the bill in the brasserie and on the terrace.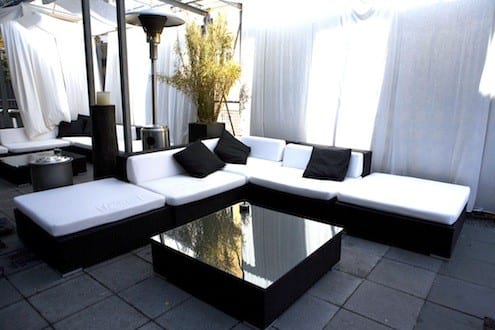 Typical dishes from the evening menu:
Seared Norwegian lobster, with lemon gel, dill and crispy salad
Monk fish in browned butter with baked onions, fresh peas, green asparagus and morels
Lamb fillet, crispy sweetbreads, sausage with sage, puree of wild garlic, new carrots with potatoes and a lemon sage sauce
Rhubarb soup with crispy pickled rhubarbs, rhubarb gel, crispy crumble and homemade vanilla ice cream
Brasserie Petri is also where the legendary breakfast buffet, featuring everything from Nordic delicacies to pastries, fresh fruit, cold cuts and hot dishes is served every morning.
BAR
The Bar Rouge remains one of Copenhagen's most popular cocktail bars, 9 years after it's first opening. Here, Copenhagen's best mixologists have created a menu as unique as they are, and the setting it's delivered in. Bar Rouge is the kind of hotel bar where hotel guests can sit side by side with city dwellers to enjoy top quality cocktails and mingle in an exclusive atmosphere while listening to hot tracks by the resident DJ's.
Bar Rouge sets high standards and, like the rest of hotel, puts customers first. DJs serve up a mix of modern lounge music every weekend to accompany a wide range of those cherished – or sorely missed – cocktail classics.
CAFÉ
Café Petri is a cosmopolitan café with an informal atmosphere reflecting the high quality of First Hotel Skt. Petri. Café Petri, which opened in 2004, is located on the ground floor facing Krystalgade and offers ample terrace seating in the vibrant copenhagen Latin Quarter. Café Petri offers a wide variety of delicious specialities from its own bakery, speciality coffees and much more. A wide selection of international newspapers is available daily, and free wi-fi is offered to all visitors.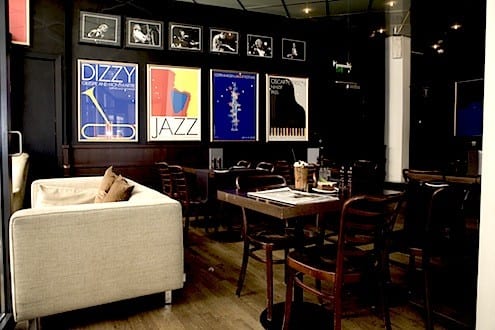 SPECIAL OFFER
First Hotel Skt. Petri has been kind enough to give all Honest Cooking readers a delicious special offer for the summer of 2012. When you make your reservation at the Brasserie Petri – mention "HONEST COOKING", and you will get a 20% discount on the bill in the brasserie and on the terrace.
FIRST HOTEL SKT. PETRI
Krystalgade 22
1172 Copenhagen
Denmark
RESERVATIONS
Website
Phone: +45 33 45 91 00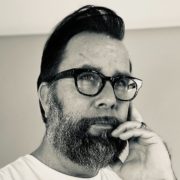 Kalle Bergman
Kalle Bergman is a food writer and media entrepreneur who is the founder of Honest Cooking and PAIR Magazine. As a food writer, his writing has been regularly featured in publications like Gourmet, Los Angeles Times, Huffington Post and Serious Eats. He is obsessed with simple food, more often than not from his native Scandinavia.