Finnish Pulla Bread: A Coffee Time Treat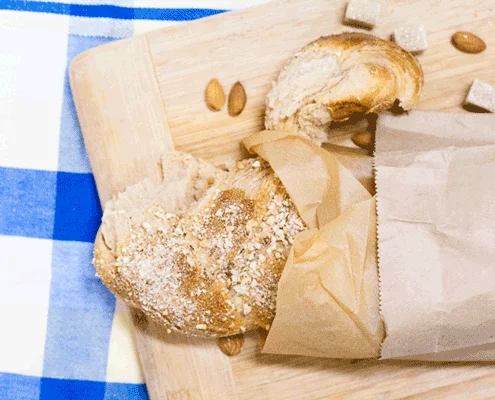 Pulla bread is traditionally served alongside coffee, usually amidst a selection of other pastries, but can very well hold its own. Ages ago, families would dedicated Sunday mornings to the baking of this staple. Today, feel free to whip up a batch of these slightly sweet, dense loaves at your whim!
By Jessie Bryson
As an American whose youth was dominated by sliced sandwich bread, proving as exotic as Orowheat 9-grain, I'm not exactly the most cultured of bread connoisseurs. But I'd like to think that I've made some strides since the white-bread-turkey-and-mustard-sandwich version of my younger self.
The culture of bread in Finland, however far I've come, is still way beyond my scope of imagination.
A Finnish friend once explained that when visiting a grocery store in Finland, one could be faced with dozens of options  breads. "I don't mean different like bagels are different in that some have sesame seeds and some have onion on them, but different because they use different grains (usually rye, wheat, oats and barley in varying combinations), different spices, and have different consistencies".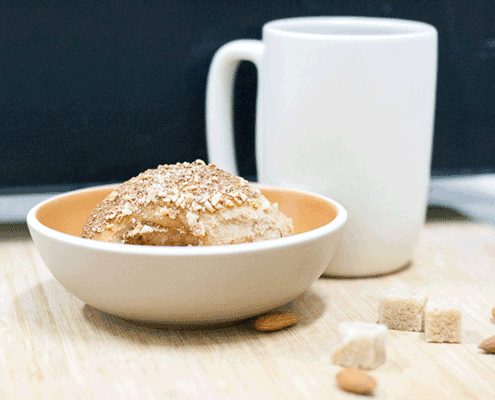 Engrained in each Finnish citizen's very being, from the moment they are born, is a dedication to the craft of baking bread. Special breads are eaten during special occasions, which differ from those that that are eaten everyday, which range in genre from lunchtime open-faced rye breads, to thin crispy, pretzel-like breakfast breads, to dense, slightly-sweet midday coffee-time breads. And since Finns drink more coffee per capita than any other nation, at a jolting rate of 7 cups of coffee per day, this bread, the Pulla bread, is a staple of Finnish cuisine.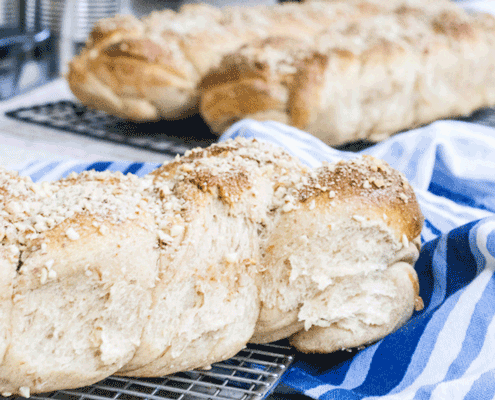 Finnish Pulla Bread: A coffee time treat
Pulla bread is traditionally served alongside coffee, usually amidst a selection of other pastries, but can very well hold its own. Ages ago, families would dedicated Sunday mornings to the baking of this staple. Today, feel free to whip up a batch of these slightly sweet, dense loaves at your whim!
Ingredients
1 package (8 grams) active dry yeast
2 cups (500 ml) milk, heated and then cooled to room temperature
¾ cup (165 grams) sugar
1 teaspoon salt
8 green cardamom pads, toasted, seeded, and ground.
4 eggs, beaten
8 cups (1.23 kg) white AP flour
½ cup (90 grams) melted butter
For brushing on top of bread:
1 egg, beaten
2-3 Tbsp. sugar
½ cups raw almonds, chopped
Instructions
Heat the milk in a small saucepan on medium-high heat. Before the milk comes to a full boil, take the pan off the stove and allow the milk to cool slightly. Ladle 4 Tbsp of the milk and mix in yeast, dissolving completely. In a large bowl, combine along with milk, sugar, salt, cardamom, eggs, and 1 cup of the flour to make a runny batter. Beat until the dough is smooth.
Add 2 more cups of flour and mix well. The dough should be smooth and glossy at this point. Add in melted butter, and stir well. Continue until dough is glossy, then add in the rest of the flour until a stiff dough forms. Use your hands to gather the dough into a ball shape. Do not knead too much, to avoid overworking the bread.
Turn dough onto a lightly floured surface and cover with the same bowl. Let the dough rest for 15 minutes.
After 15 minutes, knead the dough, until smooth and satiny (5-10 minutes). Coat a bowl or a large dutch oven with vegetable oil, and gently transfer the dough into the bowl. Turn once so the dough is fully coated. Cover with a towel and place in an oven (turned off) so it may rise at a draft-free temperature until doubled in size, about 1 hour.
Punch down a few times, then allow to rise again until doubled- about 30 more minutes.
Turn out onto a lightly floured surface. Divide into 3 portions, and then divide each of these into three more portions (so you have 9 total). Shape each into a long log, about 16 inches long. On strips of parchment paper, braid 3 strips together into a loaf, pinching the ends and tucking them underneath.
Transfer the three loaves onto baking sheets, cover with a tea towel, and let rise for 20 minutes. The braids should be slightly puffy, but not doubled in size.
In the meantime preheat the over to 400 F. Chop almonds, or pulse in a food processor for 3-5 minutes until fairly fine (You can also leave them in larger chunks, it's up to you).
After 20 minutes, glaze the loaves by brushing them with a beaten egg, and sprinkle with refined sugar and crushed almonds.
Bake in a hot oven for 25 to 30 minutes, at 400 F. The bread will turn a beautiful golden brown, which is the ultimate signal to take them out of the oven. It's preferable to under-bake as opposed to over-bake, less you prefer dry bread (no!), so err on the side of caution if you think they might be done.
Serve warm. Keep any remainder loaves, uncut, stored in an airtight container for a few days, or wrap in airtight bags and freeze.
Jessie Chien Bryson
Jessie Chien Bryson grew up spending sunny California Thanksgivings eating 20lb. free-range turkeys along with sides of Chow Mein, which is what she thinks cemented her insatiable interest of food cultures and sustainable methods as an adult. She recently spent two years in Guangzhou, China, where the locals were said to eat anything with four legs but a table and anything that flies but a plane. She's now on the other side of the world in Dar es Salaam, Tanzania, where she keeps a diary of food, travel, and expat adventures at www.jessbopeep.com