These beautiful maple cookies are filled with a sweet cream filling and are seriously irresistible.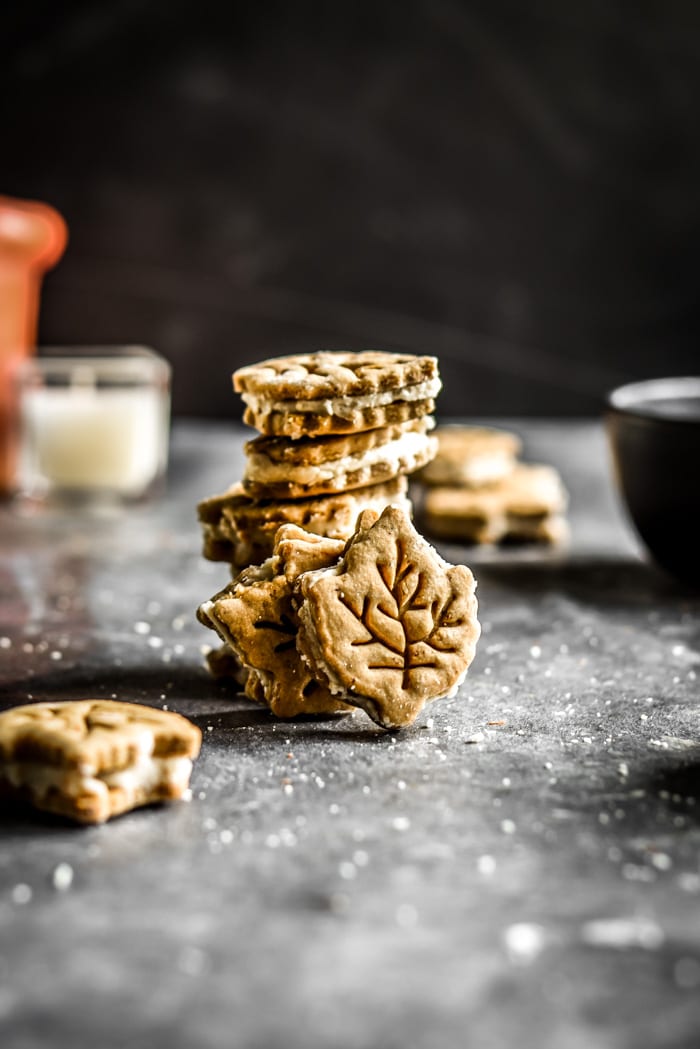 Who else loves those Maple leaf cookies from Trader Joe's? If you've never been to TJ's then you may not know what I'm talking about. These cookies are a classic and have always been a favorite of my mom's. Now, they're not exactly health food, obviously, but balance is a good practice and this time of year just needs occasional treats. Besides, a sweet cookie to go with a warm mug of afternoon tea or coffee is just a must.
To be completely honest, I was never a huge fan of the crunchier type store bought cookies as a kid. I can probably attribute that to my mom making such great homemade treats. However, if I was going to OD on a packaged cookie, these maple leaves are pretty hard to turn down. To me one of the ultimate flavors of Autumn is maple and when these are baking in the oven the whole house smells sooooo good. French toast has always been a holiday tradition in our house so this smell brings with it plenty of nostalgia as well.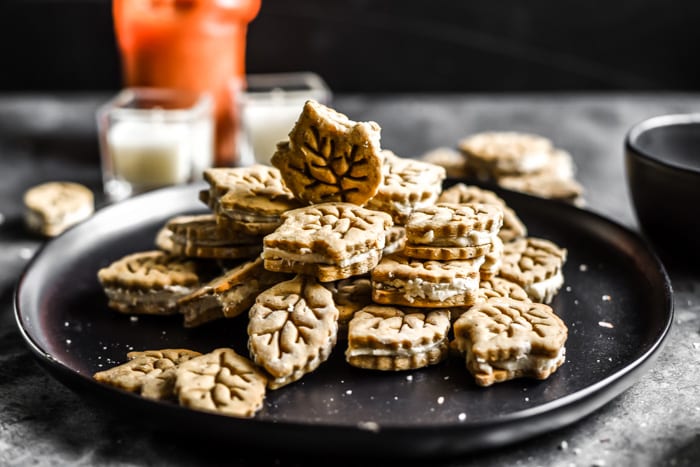 Since I've always loved recreating things the homemade way, these were ones I had to try. I knew I wanted to make these as soon as I got the shape for them. I recently picked up some leaf shaped cookie cutters from a local craft store for the purpose. If you still want to make these but don't have this particular shape, don't worry. You can use any shaped cookie cutter or simply cut them into squares. These are actually much smaller than the ones from the store so you might prefer making them a bit larger.
Click here for the filling recipe.
Print

Filled Maple Cookies
---
Author:

Tori

Total Time:

1 hour 30 minutes

Yield:

36

cookies

1

x
Cookies:
1 1/2 cups

all purpose flour

3/4 cup

coconut sugar

1 1/3 cups

blanched almond flour

2 tablespoons

flaxseed meal

2 teaspoons

baking powder

2 tablespoons

arrowroot powder or cornstarch

1/4 teaspoon

salt

1/2 cup

full-fat coconut milk

1/4 cup

pure maple syrup

1 teaspoon

pure maple extract
Filling:
Click the link above for the recipe.
---
Instructions
Cookies:
For the cookies, whisk together flour, almond flour, flax, baking powder, starch, and salt in a medium bowl. In a larger bowl, mix coconut milk, maple syrup, and coconut sugar with an electric mixer until light and fluffy. Beat in the vanilla and maple extracts until combined.
Beat in flour mixture in several additions, until just blended. Divide dough into two balls and flatten each ball into a disk. Wrap each disk in plastic wrap and chill 30 minutes to 1 hour.
Preheat oven to 350 degrees F (180 C) and line baking sheets with parchment paper or use a silicone baking pads. Roll out one disk of dough on a lightly floured surface until it is about 1/3 inch thick. Cut out cookies with leaf shaped cookie cutters dipped lightly in flour. Place cookies on prepared sheets about 1 inch apart.
Bake cookies until edges just start to brown, 8-10 minutes. Watch them closely as they can start to burn quickly. Cool cookies on sheets for a few minutes and then transfer to wire racks to cool completely.
Filling:
Click the link above for the recipe.
Spread the backside of one cookie with a spoonful of filling. Top with another cookie, and repeat until all cookies are matched up. You can afford to be fairly generous with the filling and might even have some extras. You can put about 2 teaspoons in each sandwich cookie.
Store cookies in an airtight container for up to one week.
Makes approximately 36 two-inch sandwich cookies.
Prep Time:

1 hour

Cook Time:

30 minutes

Category:

Cookies, Dessert
Tori Cooper
Tori is a food blogger with a passion for what she does. She shares all her recipes, photography, and bits about her life living in Patagnia Chile on her blog, Gringalicious.