Halwa is a dessert that is usually contains nuts, dried fruits and flour. Here, fresh, handpicked figs are used to make it deliciously sweet as a dumpling stuffing.
By Priya Mahadevan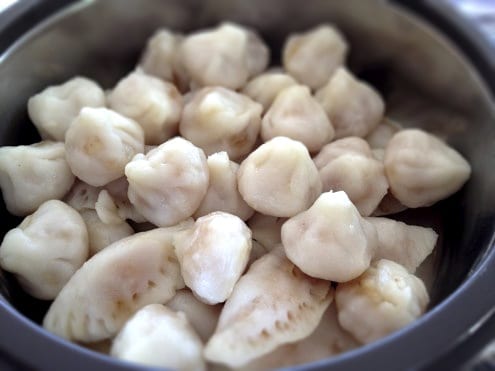 Halwa is a dessert that is usually contains nuts, dried fruits and flour. This time I used fresh, handpicked figs to make this delicious sweet. In this recipe I have used it to stuff what are known as sweet rice dumplings or Kozhakattais, which are normally offered to the Hindu Elephant faced God, Ganesha.
Ingredients
For the Stuffing
16 Ripe or almost ripe Figs
1 cup of grated Coconut
1 cup of jaggery
1 tsp of powdered cardamom
2 tsp of water
For the dumpling shell
2 cups of rice flour
1 cup of water
A pinch of salt
1tsp of sesame oil
Instructions
For the Stuffing
Powder your jaggery – they usually come in blocks and can be found at the Indian store
In a saucepan, add 2 tsp of water and the jaggery
Let it become syrupy
Add the powdered cardamom
Follow it with the coconut and let it cook in the jaggery until the water from the jaggery is completely gone and the mix is thick and stuffable
Remove from flame and allow it to cool
Shell
In the meantime, sift the rice flour
Roast it for literally a minute in a wide pan
Now add the water and salt and what I do is spin it once in the blender so that it is a pasty fluid
Pour this liquid into a saucepan and stir away until the rice flour cooks
Stirring helps avoid knots in the dough
When the white fluid thickens and comes off the sides, add the oil
The color will not be white anymore and the dough will have assumed a cooked look.
Switch off and cover with a cloth so that it does not dry out.
Notes
This Halwa is a stand alone dish and can be served by itself or as a hot topping with ice cream or even greek yogurt
Priya Mahadevan
Priya Mahadevan is a writer and food blogger with a background in journalism & communication. Priya's mission with her food blog is to blow the myth that healthy cannot be tasty. She was a political and feature correspondent for a prominent Indian newspaper in the 90s before moving to the US. She lives in Virginia with her husband and 3 beautiful children. You can find her world of vegetarian recipes at http://priyasnowserving.blogspot.com.