This Fig and Mascarpone Tart highlights the freshest ingredients. Have your kitchen smell like Campo di Fiori while baking this delicious dessert!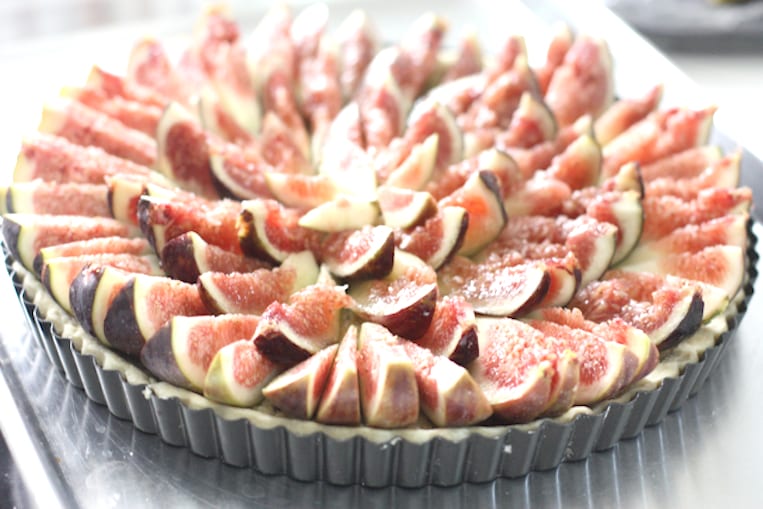 One of my greatest pleasures while traveling is simply walking (and eating) my way through local farmers markets. Nowhere was that more evident than in Rome's Campo di Fiori.
On this particular visit, I just couldn't resist the fresh picked, plump juicy figs that seemingly permeated every corner of the market. Rows upon rows of the fleshiest figs I have ever seen anywhere. I didn't know what I was going to make but knew that somehow I'd make it work and when in doubt, make a tart!
I wandered around some more stalls for more inspiration and picked up some quintessential Italian mascarpone cheese and a bottle of aged balsamic vinegar and there it was. My tart just came to life…in my head at least. Thankfully it tasted just as good coming out of the oven.
Print

---
Author:

Michelle Rose

Yield:

0

i tart

1

x
Sweet Tart Crust
250 g

8.8 ounces unsalted butter, room temperature

200 g

7 ounces sugar
pinch salt

2

eggs

500 g

1.1 pounds All purpose flour
Filling
3

egg yolks

2 tbsp

sugar

1 tbsp

sweet marsala wine

150 g

5.3 ounces mascarpone cheese

80

ml 5.4 Tablespoons heavy cream

2 tsp

sugar

1 tsp

vanilla
About

20

fresh figs (cut into

1/2

inch slices lengthwise)

1 tbsp

balsamic vinegar

1 tbsp

water

2 tbsp

sugar

3/4 tsp

cornstarch
---
Instructions
Sweet Tart Crust
Preheat oven to 375C
Cream butter, sugar and salt until light and fluffy
Add eggs one at a time and mix to combine
Add flour and mix until dough comes together.
Refrigerate at least 30 minutes
Roll out dough to about 1? larger than the tart shell you are using. Keep the thickness of your dough to 1/4?.
Press dough into your tart shell, being careful not to overwork the dough. Trim excess and refrigerate another 15 minutes. This prevents the dough from shrinking when it bakes
Cut out a round of parchment paper, line with pie weights and bake your crust for 15 minutes. Take the pie weights out and bake for another 10-15 minutes or until your crust is golden brown.
Let your crust chill to room temperature before assembling the rest of the tart. Refrigerate the crust if you are making this ahead of time.
Filling
In a heatproof bowl on top of a double boiler, whisk egg yolks, sugar and marsala until the mixture triples in volume and thickens. Do not overcook or your yolks will scramble
Immediately place this bowl into another bowl filled with ice water and whisk until the mixture cools.
In a separate bowl whip mascarpone until creamy. Gradually incorporate the yolk mixture until completely incorporated. Scrape down the side of the bowl a few times and set aside.
In a chilled mixing bowl, combine heavy cream with the other 2 tsp of sugar. Whip until stiff peaks form.
Fold the whipped cream into the mascarpone mixture, fill your tart shell and refrigerate.
Remove your chilled tart from the fridge. Starting at the outside edge, place figs with pointed ends facing up, in concentric circles on top of the filling.
In a saucepan, combine the balsamic vinegar, water, remaining sugar and cornstarch and stir until sugar and starch are well dissolved. Heat over medium, stirring constantly until it comes to a boil. Boil for one minute, remove from heat and with a pastry brush, glaze the figs.
Michelle Rose
After quitting her job, Michelle packed a bag and set off on a four year trip around the world. The one souvenir she brought back: a love of food and cooking. Taking a cooking class while traveling is the only thing that weighs nothing and stays with you forever. Returning home, she enrolled in the Pastry Arts program at the French Culinary Institute in New York City and has worked in some of North Americas finest restaurants and pastry shops. She currently resides in Toronto where she chronicles her travels and recipes on her blog Sweet Escapes.