Crunchy bits of bacon, the subtle sweetness of fig and the heartiness of corn meal make these savory waffles a perfect item for Valentines breakfast.
By Jill Mant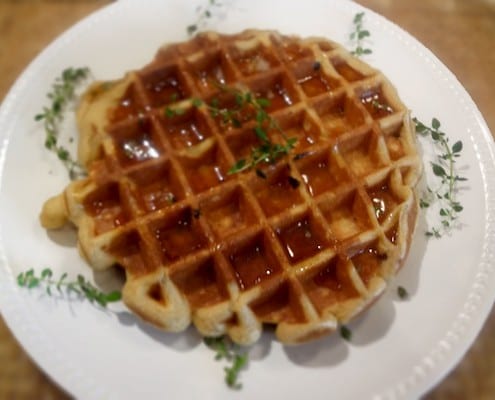 I've been seeing so many recipes for savory waffles lately and I've  just been jonesing to try one. Since it had been snowing like crazy for days and I was obviously preparing for hibernation I had already made a chili, a spicy sausage and chicken soup and a frittata. Why not make waffles for dinner?
I tossed ingredients around in my head for a while. I knew there was that log of goat cheese with fig in the refrigerator. It was from Cotsco so I would have to make something out of at least half of it; after all who could eat a friggin pound of goat cheese? And cornmeal. Certainly cornmeal would belong in a savory waffle. And bacon. Everything's better with bacon, right? I headed into my lab to work on my experiment.
The Brit had been home all day writing grants and was thrilled when I called him to the table for dinner. As he went to sit down he looked at the lovely plate I had placed in front of him, cocked his head to the side and asked "Seriously? This is dinner?"
"Didn't you ever have breakfast for dinner as a kid?", I asked.
"Well, we used to have Pancake Wednesday's", he responded.
"So this is Waffle Friday", I retorted.
"I don't like waffles."
Ohhhhh……
So I didn't even write this up over the weekend. The problem was I thought they were delicious, but now I didn't know. Perhaps in my snow induced gluttony I had become non-discerning?
Isn't it funny how the slightest set back can make you feel insecure. The truth of the matter is that Colin always loves what I make for dinner so if he doesn't care for one thing that doesn't mean that it is bad. But that was exactly what I feared.
See Also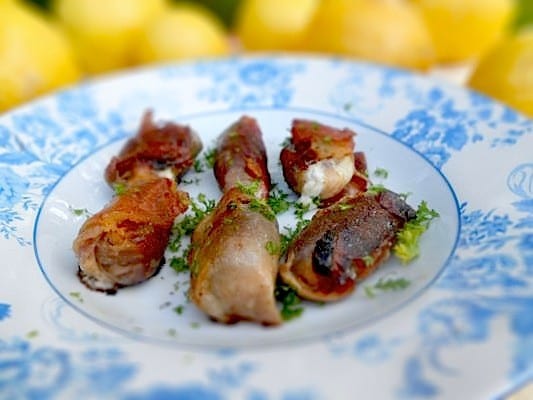 The recipe I had made produced three large, hard crusted waffles. I must confess to eating mine all up, but Colin had stated that he was "full up" about three quarters of the way through his. I placed the uneaten waffle in a zip lock bag and stuck it in the fridge.
Today when Margo came over I served her the third waffle for lunch. I watched with baited breath as she took the first bite. "Don't you want some syrup with it?" I asked. "Nope", she had answered.
I explained to her that I had made some thyme infused maple syrup to put over the waffles when we ate them on Friday night. "that sounds really good," she had responded, "But these are so good alone that they don't really need it."
"Really?" I asked. "You like them?"
"They're wonderful; really delicious," she said.
I was absolved! I sat down to write up this post.
Print
Savory Waffles for Valentines Day Breakfast in Bed
---
Author:

Jill Mant~a SaucyCook

Total Time:

35 minutes

Yield:

3

1

x
Description
Crunchy bits of bacon, the subtle sweetness of fig and the heartiness of corn meal make these savory waffles a perfect item for Sunday Brunch or even a light supper.
---
1 3/4 cup

Unbleached Whole Wheat Flour

1/2 cup

Cornmeal

1/2 tsp

Baking Soda

1 1/2 tsp

Baking Powder

1/2 tsp

Kosher Salt

1/2 tsp

Sugar

4

strip Bacon, cooked

3

eggs, separated

4 oz

Goats Milk Cheese with Fig

2 Tbsp

Butter

1 cup

1% Organic Milk

1/2 cup

Maple Syrup

6

sprigs Fresh Thyme
---
Instructions
Preheat an electric waffle maker
In a large mixing bowl combine flour, cornmeal, baking powder, baking soda, salt and sugar with a wire whisk. Make a well in the middle of the bowl with the flour
In a medium sized glass bowl, heat milk in microwave with butter to melt the butter.
Separate the eggs.
Add goat cheese and milk to egg yolks and beat with a wire whisk to combine.
Beat egg whites with an electric beater until stiff,
Pour the egg yolk, milk and goat cheese mixture and stir to combine.
Fold in the beaten egg whites.
Pour into waffle iron that has been sprayed with cooking oil.
While the waffle is cooking combine maple syrup and thyme in a small saucepan and heat over medium low heat, stirring occasionally.
Remove waffle from waffle iron when done. They should be golden and crunchy on the outside, yet light and fluffy inside.
Bon Apetit.
Prep Time:

20 mins

Cook Time:

15 mins
Jill Mant
To Jill Mant, cooking is a meditative experience, an incantation, a love song to those she is cooking for and an expression of her creativity. She is one of the two cooks behind the blog SaucyCooks, where they discover cooking as multi-sensory experience. Jill loves the aroma that emanates from stove and oven, the sounds of food sizzling in pans and the soft, melodic drum of a knife or mallet hitting the cutting board.