This is a wonderful one dish meal, hearty and complete with compelling flavors.
By Rinku Bhattacharya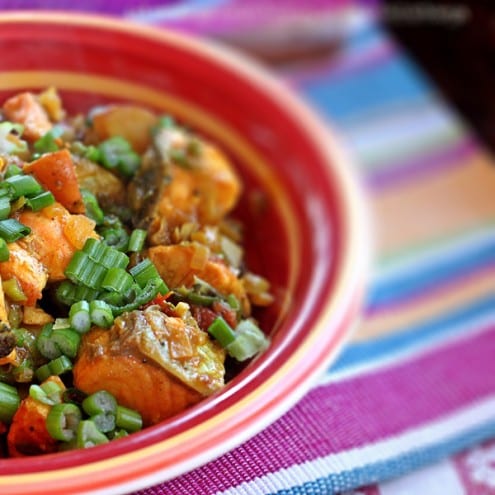 Fiery Salmon Stew with Red Potatoes
This is a wonderful one dish meal, hearty and complete with compelling flavors.
Author:
Rinku Bhattacharya
Ingredients
3 tablespoons extra-virgin olive oil
1 medium sized white onion, diced
1 tablespoon minced garlic
6 to 8 scallions, chopped, whites and green separated
6 small red potatoes, coarsely diced
¾ teaspoon powdered cumin
¾ teaspoon coarsely ground black pepper
¾ teaspoon minced rosemary
¾ cup of dry white wine
Salt to taste
1 pound of salmon fillet
1 lime
½ teaspoon turmeric
¾ teaspoon red cayenne pepper
Instructions
Heat the olive oil on medium heat and add in the white onion, garlic and the scallion whites and saute for about 6 minutes.
The onions should soften considerably and turn a pale toffee color.
Add in the red potatoes and mix in the cumin, black pepper and rosemary and mix well.
Add in the wine and some salt and simmer the mixture for 10 minutes. The potatoes should be folk tender at this point.
Turn the heat on high and evaporate most of the cooking liquid.
While the potatoes are cooking, cut the salmon into 1 inch sized pieces.
Cut the lime and squeeze half the juice over the fish and add in the turmeric and the red cayenne pepper and set aside.
Once the sauce has mostly evaporated add in the salmon and cook for about 6 to 7 minutes until just cooked through.
Turn off the heat, squeeze in the remaining lime, garnish with the scallion greens and serve.
Rinku Bhattacharya
Rinku Bhattacharya, is a teacher of Indian Cooking and the author of the blog, Spice Chronicles. A busy working mother Rinku is committed to offering a practical approach of flavorful, everyday cooking often with an Indian Accent. An author of three cookbooks, Instant Indian, Classic Foods for Every Region of India made easy in the Instant Pot, Spices and Seasons, Simple, Sustainable. Indian Flavors and The Bengali Five Spice Chronicles. Rinku's passion for food starts with cooking and trying new recipes and extends to pairing and drinking wine with food and trying usual combinations by fusing various culinary influences. Rinku and her family are very committed to a sustainable lifestyle, and she uses mostly local produce for her recipes. She is joined in this effort by her husband who is an avid gardener and her children, Deepta and Aadi.