A Southwestern-inspired soup full of flavor with smokey poblanos and the ability to adjust the fun heat to your liking. This is a vegetarian dish with plenty of fun toppings to create a hearty bowl.
By Traci York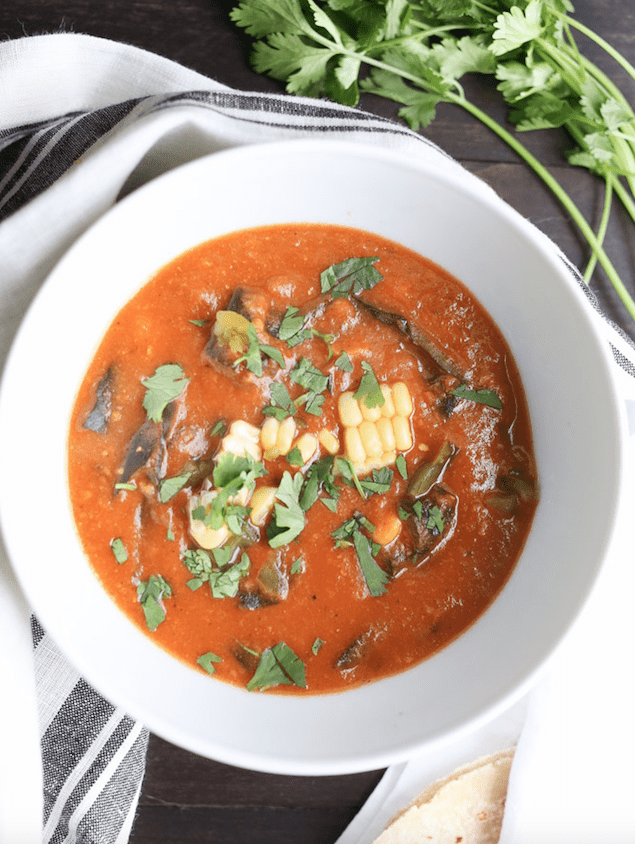 I am completely in love with this soup, y'all. Completely. It is hot… if you add the optional jalapeños. I did, and my nose and eyes watered with every dreamy bite!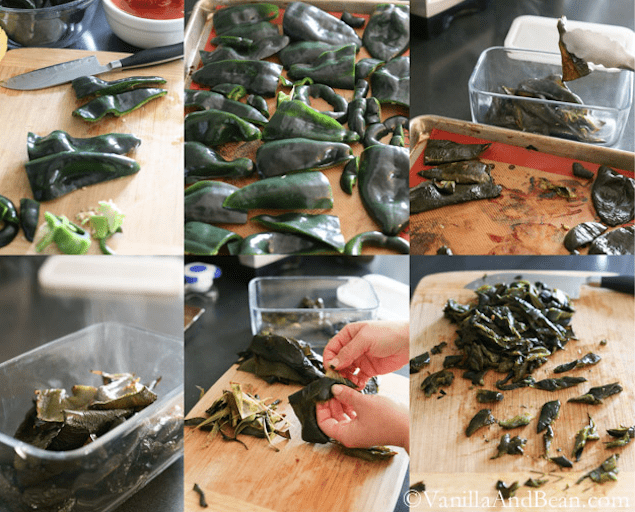 Poblanos are more of a mild pepper yet for more heat, leave the white ribs on while roasting. The ribs and seeds are where the capsaicin, the 'heat' component in chili peppers, is concentrated.
Poblanos taste best roasted and peeled as this brings out their smoky flavor and it removes the waxy skin.
Although poblanos are known for their mild flavor, they can unpredictably have significant heat. More often than not, however, I find poblanos to be mild, in their green form. When red, their heat is much more noticeable.
If you're particularly sensitive to handling peppers, be sure to put on a pair of gloves while handling the chiles. Even though poblanos are considered mild, they can still irritate your skin. I didn't wear gloves… and paid later when I rubbed my eye!
See Also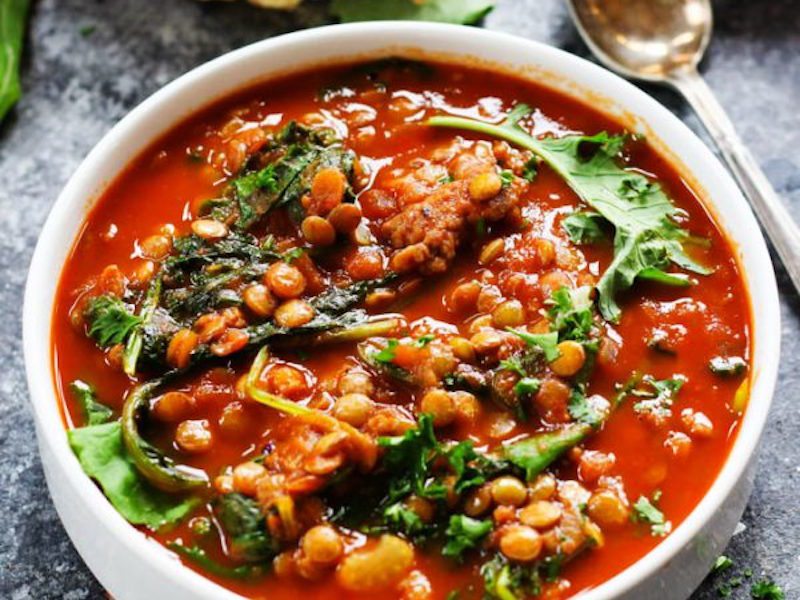 After roasting and peeling the pablanos, this recipe comes together pretty quick. If you're short on time, roasting and peeling the peppers a day or two before you need them is an option.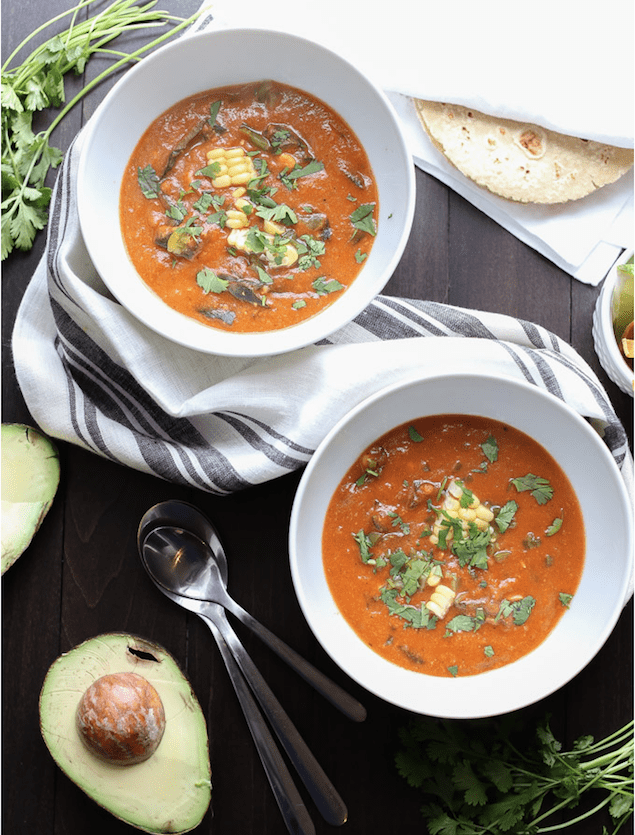 This soup is hearty, creamy, chunky, spicy, filling and full of nutritious, whole foods. It makes a delicious main course served with all the fixings including my pico de gallo! And, I'm telling y'all, it's completely addicting.

Fiery Roasted Poblano Tortilla Soup
A Southwestern soup with smokey poblanos and the ability to adjust the heat. This is a vegetarian dish with plenty of fun toppings to create a hearty bowl.
Cuisine:
Southwester, Vegetarian
Ingredients
For the Soup
6 Poblano Peppers, green
3 Tbs. Coconut Oil
4, 6" White Corn Tortillas, organic, cut into 1" strips 2 Cloves of Garlic, minced, about 2 tsp.
1?4 C White Onion, diced, about 1?4 of an onion
1 Tbs Pickled Jalapen?o Pepper, minced (for intense heat ­ optional)
2 C White or Yellow Corn, fresh or frozen, organic (reserve 1?4 C for garnish ­ optional)
28 oz Can of Whole or Diced Tomatoes 3 Tbs. Tomato Paste
2 tsp Ground Cumin
11?2 tsp Sea Salt
1?2 tsp Chili Powder
1?2 tsp Chipotle Chili Powder 4 C Vegetable Broth
For Serving
Fried corn tortilla strips or tortilla chips Diced jalapeños
Chopped cilantro
Reserved corn
Lime Avocados Pico de Gallo
Instructions
Preheat oven to 400F.
Destem, deseed poblanos. Cut poblanos in half and lay on parchment or silpat lined sheet pan. The flatter the poblanos, the better. If needed, cut in quarters to flatten. Roast at 400F for about 40 minutes, or until poblanos are blistered. Remove from oven and place in a covered container for at least 20 minutes. Once cool enough to handle, peel blistered skin off and slice the poblanos into 1" strips (this step can be done up to two days ahead).
In a 4 quart sauce pan add the oil on medium heat. When oil is shimmering, add the cut tortilla pieces to the hot oil. Stir frequently on medium high until strips are crisp (a bit of sticking here is ok).
To the tortilla strips add the minced garlic, onion and optional jalapeño pepper. Sauté' for about 2 minutes on medium, stirring frequently.
To the tortilla mixture, add 1?2 the corn, tomatoes, veggie broth and all spices and salt. Bring to a simmer, stir and simmer for five minutes.
Remove from the heat and using an immersion blender (or other), blend until soup is smooth and creamy.
Return to heat on low, add the corn and poblano peppers. Heat until corn and poblano has had time to warm, about 5 minutes on low.
Garnish with limes, tortilla strips, avocado, corn, cilantro. Serve with warm, soft tortillas and pico de gallo.
Notes
This soup freezes and reheats with ease. Perfect for that busy evening!
Adapted from Sedona Tortilla Soup recipe by California Pizza Kitchen.
Traci York
A Texas native and former omnivore, Traci is the author and photographer behind Vanilla And Bean, a vegetarian food blog where you'll find savory and sweet recipes and photography to inspire. Although flavors of TexMex influence her cooking, she now resides just North of Seattle WA where farms and farmers markets abound. This is where she finds her inspiration. After a career in education, Traci set off to pastry school to learn in the French style and hone her baking skills. While working at an organic, artisan bakery Traci started Vanilla And Bean to share her love of good food.