Have you tried fiddlehead ferns? If not, now is the time. Sauté them in butter and serve them with a simple lemon pasta.
By Carlynn Woolsey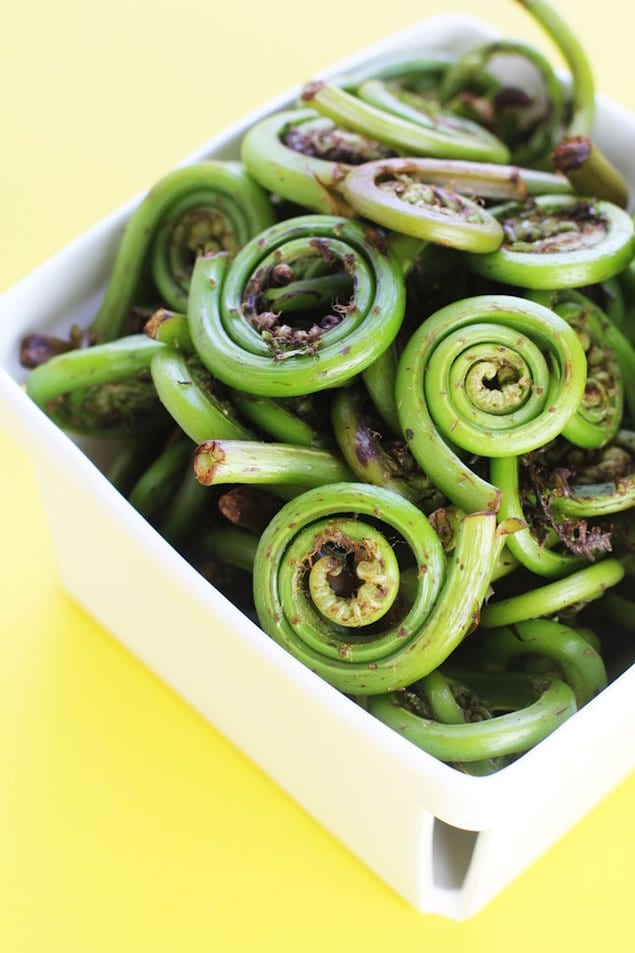 Maybe you're wondering "What the heck are fiddlehead ferns?". Or maybe you've seen these gnarly looking veggies hanging out at your local Farmers' Market. Or maybe you love them and look forward to cooking with them every Spring.
So for those of you who are unfamiliar with them or are just generally curious, and those of you looking for a new recipe, here are the deets:
What are they? Fiddleheads are the young, coiled, fronds of the ostrich fern. They grow wild in wet areas, typically in the Northeast region of the United States, predominantly in Maine. As they're only available for a few weeks of the year – between April and May depending on the growing season – they're considered to be somewhat of a delicacy.
Where can I find them/What do I look for? I found mine at Wegmans, and in the past have seen them at various Farmers' Markets. You can also forage them if you know what to look for (And follow sustainable harvesting guidelines, of course!). Whether purchased or harvested, fiddleheads should be tightly furled, and bright green with very little to no discoloration. The photo above was taken pre-wash and before I removed some of the papery brown chaff, so while they look dirty here, they were in tip-top shape once cleaned.
What do they taste like? Fiddleheads are often compared to asparagus, but I think they also have some of the bitterness of broccoli and the snap of green beans. Basically, they have a flavor all their own! They also have a very "green", grass-like component to them, if that makes sense.
What do I do with them? The longer you wait to eat them, the more that fiddleheads will lose their firmness and flavor. In this case fresh is best, and simple preparations are the way to go. Avoid eating them raw as certain – though rare – cases of food poisoning have been attributed to fiddleheads in the past. Boil them for at least 10 minutes (up to 15 minutes) as a best practice, and you'll be in the clear!
While I have tried making fiddleheads sautéed in both coconut oil, and olive oil, my favorite way to prepare them is in some straight-up, real-deal butter. I personally feel that they need the richness and some of the saltiness that butter provides. Capers and garlic (Lots of it!) are excellent additions, as is a sprinkle of cheese. They're delicious just like that, but if you want to step it up a notch, I suggest tossing the fiddleheads into an egg pasta for even more richness. I put the recipes for both options below.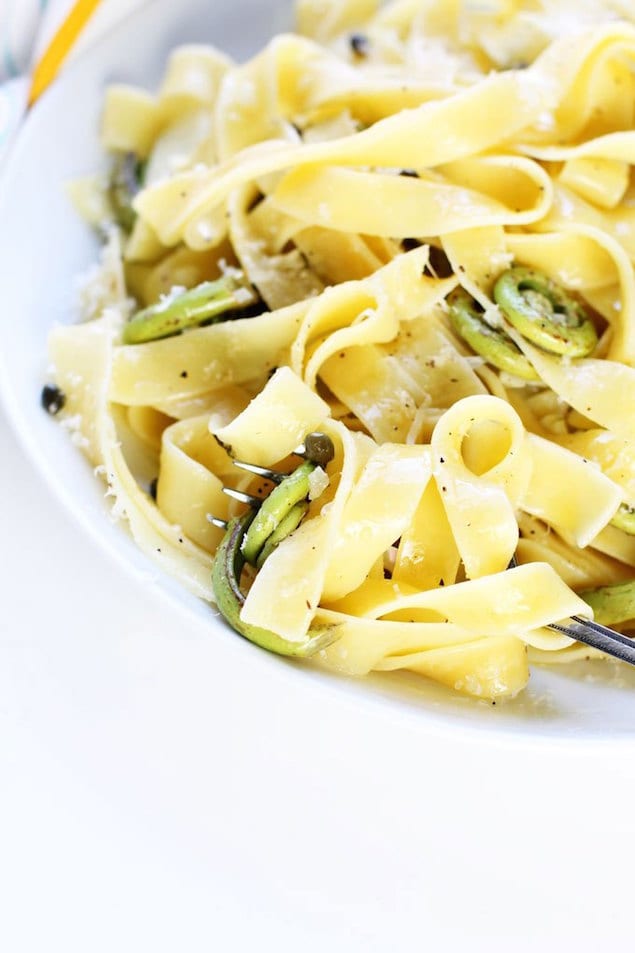 Fiddlehead Fern and Caper Pasta
Have you tried fiddlehead ferns? If not, now is the time. Sauté them in butter and serve them with a simple lemon pasta.
Recipe Type:
Main, pasta, side
Ingredients
1 pound fresh fiddlehead ferns
2 tablespoons butter (I recommend salted, but feel free to go the unsalted route, if you prefer!)
3 garlic cloves, peeled and chopped
1 tablespoon capers
1 tablespoon fresh lemon juice (approximately ½ of a lemon)
¼ cup freshly grated Parmesan cheese
(Optional):
1 additional tablespoon butter
1 pound Pappardelle OR Tagliatelle pasta
Instructions
Place the fiddlehead ferns in a large bowl of ice water, and soak for a few minutes. Drain the water, and repeat as necessary until any dirt and particles have been removed. If your fiddleheads have any brown papery chaff on the exterior, remove that as well.
Bring a pot of water to a boil. While waiting for the water to boil, prepare a separate bowl with ice and cold water.
Add the fiddleheads to the boiling water, and cook for approximately 10 minutes, until tender. Remove the fiddleheads from the pot (The water may be dirty! It's okay!) and immediately place them in the ice bath to prevent them from cooking any further.
Melt the butter in a skillet set over medium heat.
Add the garlic and the capers to the pan, and cook for 2 minutes.
Add the fiddleheads to the pan, and cook for an additional 2 minutes.
Remove from the heat and toss with the lemon juice and Parmesan cheese. Serve immediately.
If making with the pasta: Cook the pasta according to package directions [in a separate pot]. while you are boiling the fiddleheads. Melt 3 tablespoons of butter instead of 2, and cook the remaining ingredients as listed. When you remove the fiddleheads from the heat, toss in the cooked pasta, before adding the lemon juice and cheese.
Carlynn Woolsey
JJBegonia is a silly nickname that my equally silly Dad gave me when I was a little girl. Needless to say, it stuck. My real name is Carlynn and I started my blog in September of 2012 to chronicle all of the things I love, and the things that inspire me, in one place. Over the course of the past ten years, I have lived in Boston, New York City, and L.A., and am currently in Upstate New York [where I grew up]. I graduated from Boston College with a double major in English and Psychology, and later returned to BC to obtain an MBA in Brand Management. My professional background is in Magazine Publishing/Advertising Sales, however I have always had a creative streak which is the driving force behind my blog. I am heavily influenced by food primarily because I love to eat (!), but also because I grew up in the restaurant industry. While I write and showcase many recipes, I adore sharing my favorite products, best style finds, and my life in general.