Fenugreek seeds swell up and become slimy when soaked in water. The gummy substance on the outer covering does not dissolve in water and acts as a mild laxative.
By Sanjeeta Kk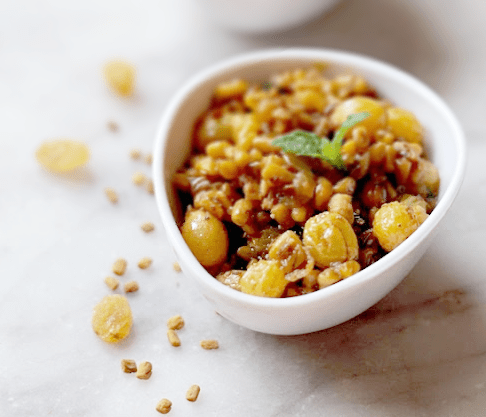 Fenugreek and Poppadom Curry
Fenugreek seeds swell up and become slimy when soaked in water. The gummy substance on the outer covering does not dissolve in water and acts as a mild laxative.
Ingredients
¼ cup Fenugreek seeds
2 large papad or poppadoms
2 tbsp. yogurt
2 tbsp. raisins
½ cup water
2 tbsp. oil
1 tbsp. jaggery/sugar
Salt as desired
Spices;
½ tsp. red chilly powder
¼ tsp. turmeric powder
A pinch of asafoetida powder
Instructions
Wash and soak fenugreek seeds overnight. Beat curd in a bowl and add chilly powder salt, jaggery, raisin and turmeric powder in it.
Break the papad into small pieces.
Heat oil in a pan and pour the yogurt mix in it. Cook for a few seconds on low heat and add soaked fenugreek seeds in it. Cook for 2 minutes and add broken papad pieces.
Cook for another 2 minutes or till it reaches to the consistency you require. Add extra water to get gravy or cook further to give it a dry and semi solid consistency.
Add grated jaggery or sugar and serve with hot India flat breads.
Notes
Do not overcook the fenugreek seeds, it will make the recipe taste bitter. Use yellow Fenugreek seeds if you cannot get the green variety.
Sanjeeta Kk
Sanjeeta kk is the author of food blog 'Lite Bite' which features vegetarian recipes. Her quest for egg free baking and healthy cooking is extensively shared though all her recipes. She likes to share stories behind the origin of her recipes which are easy and accessible. Homemade, unprocessed and healthy food is what she strives for each day. She defines food as nostalgic, comforting & an important factor to connect with people and make community