It's hard to think of salads in the cooler months that use seasonal produce and are still refreshing. This Italian-inspired side made with fennel, sesame seeds, pistachios and Parmigiano Reggiano is a great way to get your winter vegetables.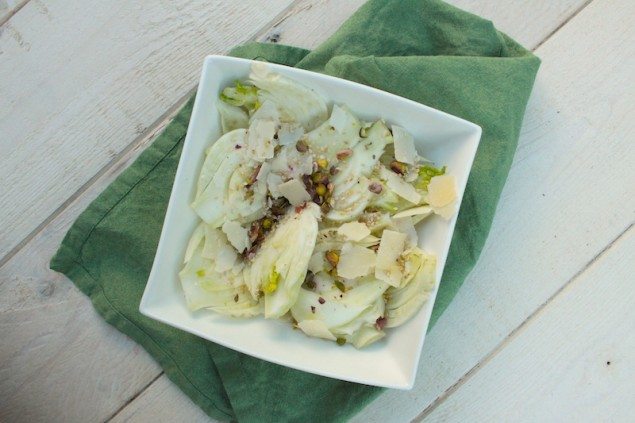 photo by G. Giustolisi from THE VEGETARIAN ITALIAN KITCHEN

Fennel Salad with Sicilian Pistachios and Sesame Seeds
Ingredients
1 fennel bulb
Extra virgin olive oil, to taste
Sea salt and freshly ground black pepper, to taste
2ounces toasted sesame seeds
2ounces shaved Parmigiano Reggiano
Sicilian pistachios, chopped, to taste
Instructions
Wash the fennel, remove the hard part of the core and cut into 4 pieces lengthwise (keeping the feet on the core). Slice, rinse and dry using a centrifuge salad spinner or just blot with a clean cloth.
In a bowl, pour the oil, salt and pepper and toasted sesame seeds, whisk with a fork and let it sit for about 10 minutes.
Pour in the fennel and stir.
Add the grated Parmigiano flakes and pistachios and serve.