Choose a meal, or cook all day, and show Dad not only that you can fend for yourself in the kitchen, but also how well you know him. Check out these recipes for your special guy that are outrageous, decadent, spicy, or veggie loaded, and create the ones that fit him to a T.
By Annelise McAuliffe
Breakfast
Goofy Dad: Bacon, Egg, and Cheese Breakfast Wontons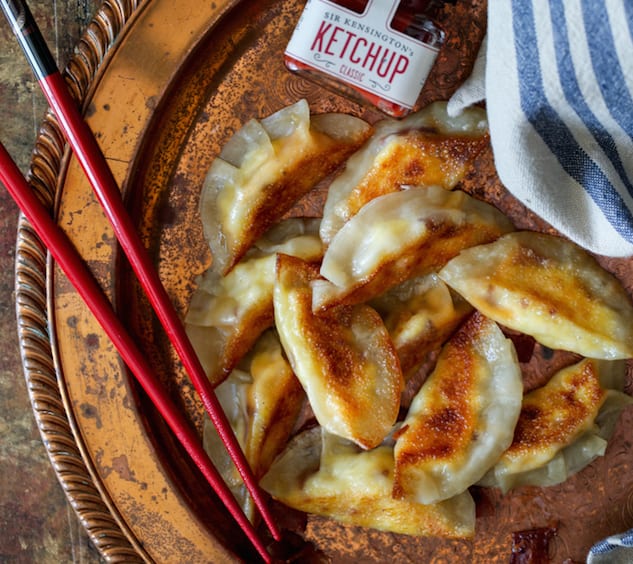 Shared Appetite
They may sound outrageous, but your dad is goofy and likes to step out of the box too. So naturally he deserves a fun breakfast to kick off his day. These crispy fried bites are filled with scrambled eggs, bacon, and gooey cheddar cheese that are easy to make ahead so all you have to do is cook and serve with his favorite dipping or hot sauce. Get the recipe here.
Sweet Tooth Dad: Bourbon and Peach Pancakes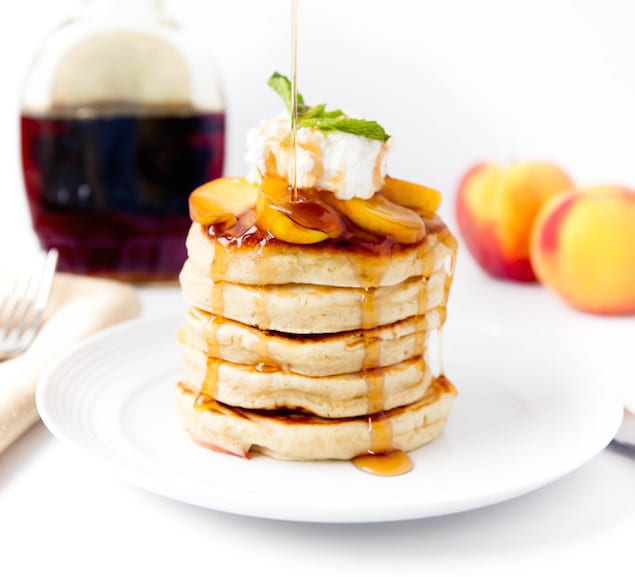 Broma Bakery
Bourbon soaked peaches top the fluffiest cinnamon and bourbon spiked pancakes your father will ever taste. Treat him to this stack of goodness! Get the recipe here.
Lunch
Vegetarian Dad: Falafel Burger with Tzatziki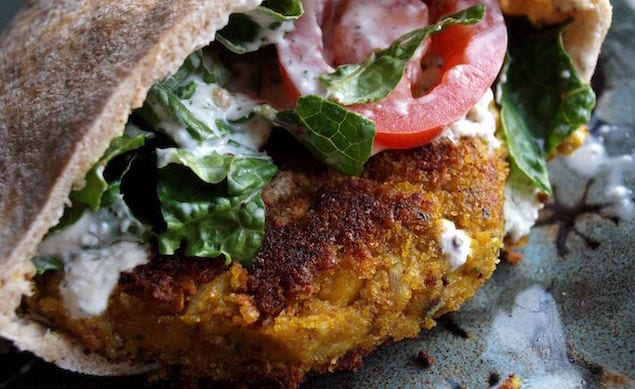 Nutrition Styles
Give dad a healthy dose of protein from garbanzo beans that have been processed with tahini and spices to create a flavorful meat-less patty. Serve in a pita with homemade yogurt sauce and spinach for a fresh lunch he'll love. Get the recipe here.
Sriracha Dad: Spicy Meatball Banh Mi with Sriracha Aioli
The Woks of Life
Filled with spicy meatballs, a pickled carrot and daikon slaw, cilantro, and Sriracha aioli, this take on the Vietnamese sandwich is about to blow Dad's mind and tastebuds. Get the recipe here.
Drinks
Ginger Dad: The Grilled Pineapple Moscow Mule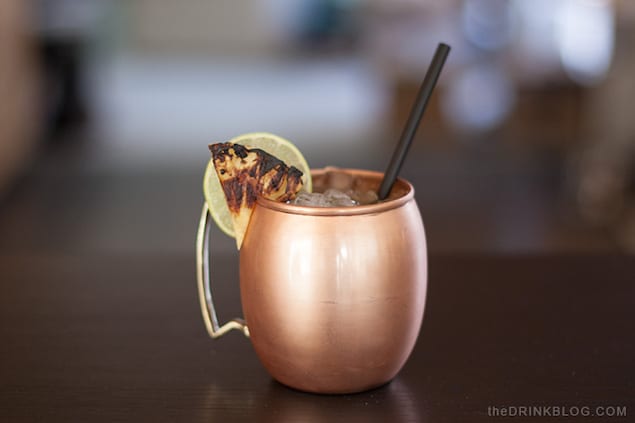 The Drink Blog
If you start with a quality, bold ginger beer, you will impress the dude in your life with this classic vodka cocktail complete with a twist of smokey pineapple. Get the recipe here.
Beer and Bourbon Dad: Sparkling Bourbon and Basil Lemonade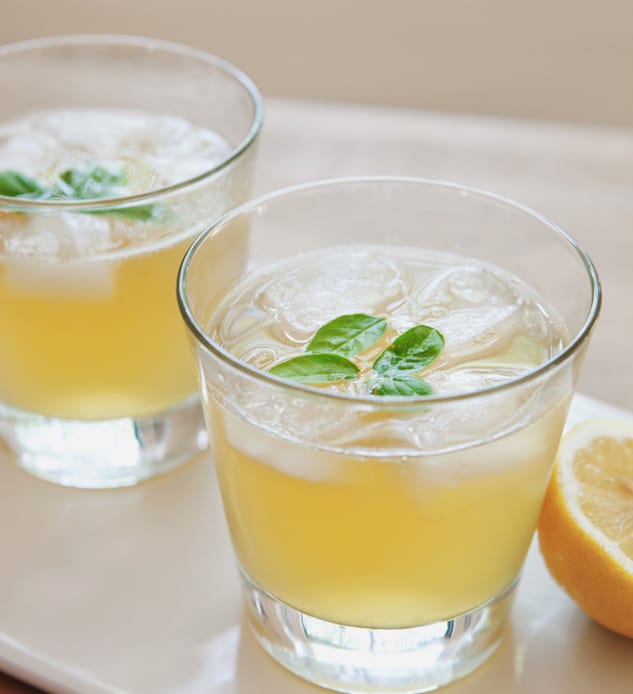 a Better Happier St. Sebastian
If your dad enjoys simple cocktails, straightforward beers, maybe even a cool shandy on a warm day, this is the drink for him. You're sure to have these basic ingredients on hand to make your special guy an ultra boozy glass to relax and enjoy. Get the recipe here.
Sides
Fried Food Dad: Cajun Fried Okra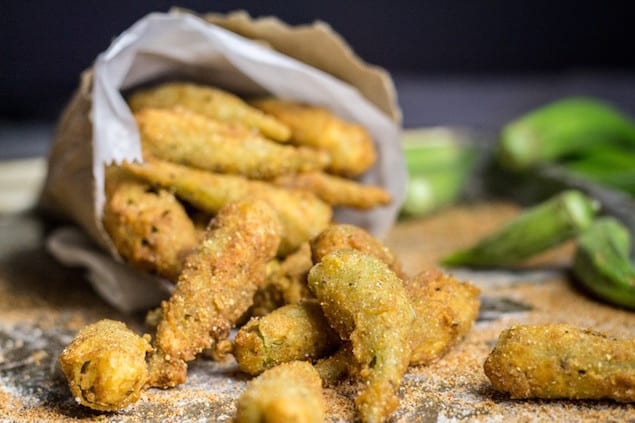 Southern Fatty
Instead of his usual nosh of fries, pickle chips, or mozzarella sticks, wow Dad with a seasonal approach to delicious fried food. This cornmeal and spice coated okra is great served beside a grilled burger or as an appetizer while you work on the rest of dinner. Get the recipe here.
Fusion Dad: Korean-Inspired Mexican Street Corn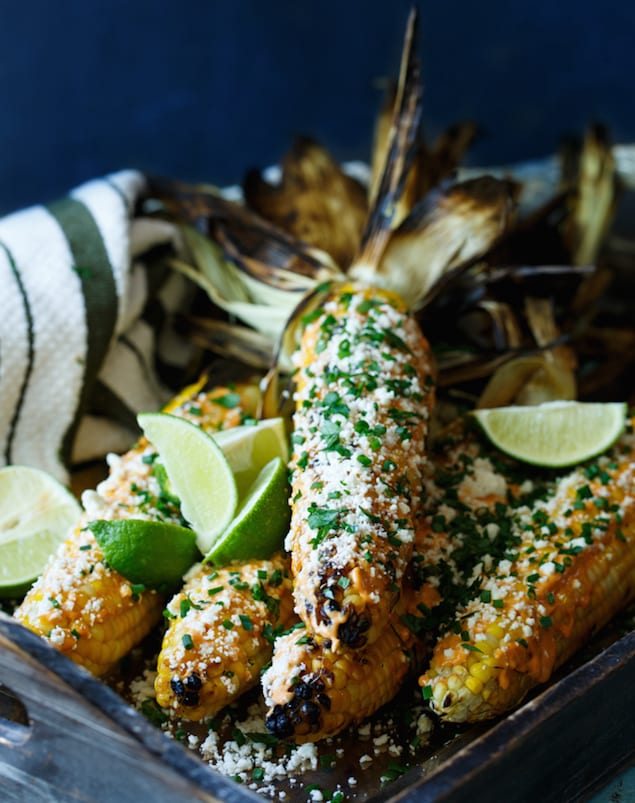 Shared Appetite
Like traditional Mexican-style street corn, this side is spruced up with queso fresco and a squeeze of lime juice. But instead of being dusted with spicy chile and coated with mayo, the grilled corn is slathered with Korean gochujang aioli. It's the best of both worlds and any dad that likes to throw to delicious things together will love it. Get the recipe here.
Rustic Dad: Potato and Heirloom Tomato Salad with Burrata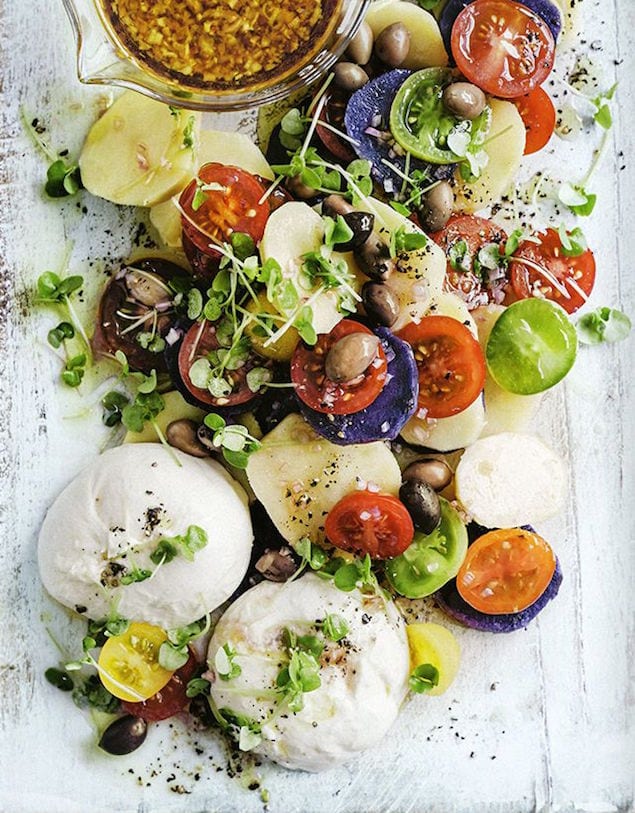 Ben Dearnley
If your dad loves taking simple ingredients, like potatoes and tomatoes, and making them into a pure decadent creation then this dish is a must. Consider throwing the raw tomatoes or boiled potatoes on the grill for added smokey flavor that will beautifully contrast the creamy cheese. Get the recipe here.
Dinner
Comfort Food with Spicy Dad: Cheddar Cornbread Chicken Fingers with Jalapeño Honey Butter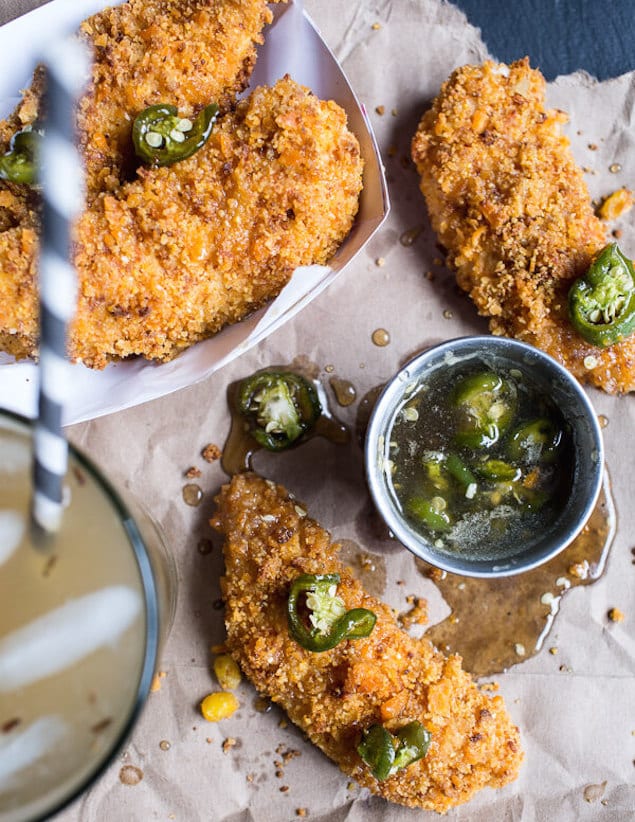 Half Baked Harvest
See Also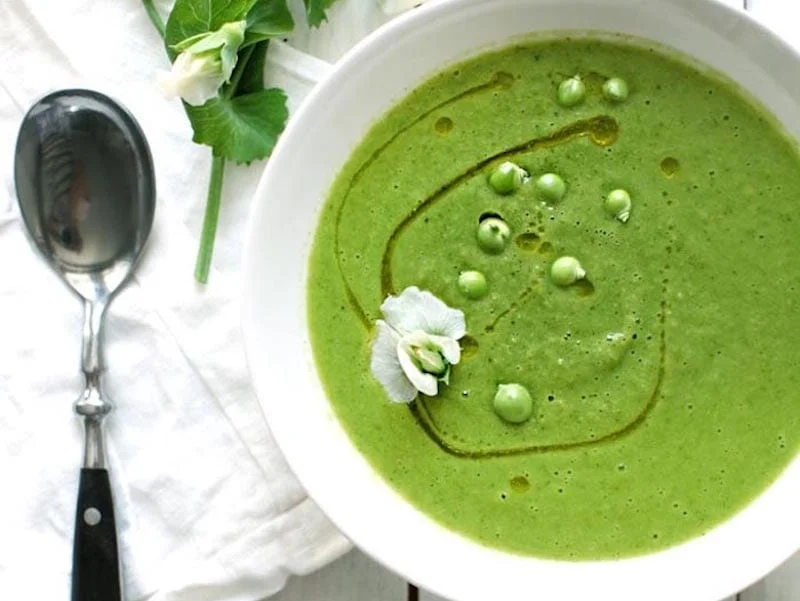 Finger food, comfort food, food to show Dad you care. This chicken may take some extra time to make, as you have to bake a pan of cornbread before you can coat the tenders, but your man will notice your effort and devour it, too. Get the recipe here.
BBQ Dad: Sweet and Sour Tequila Ribs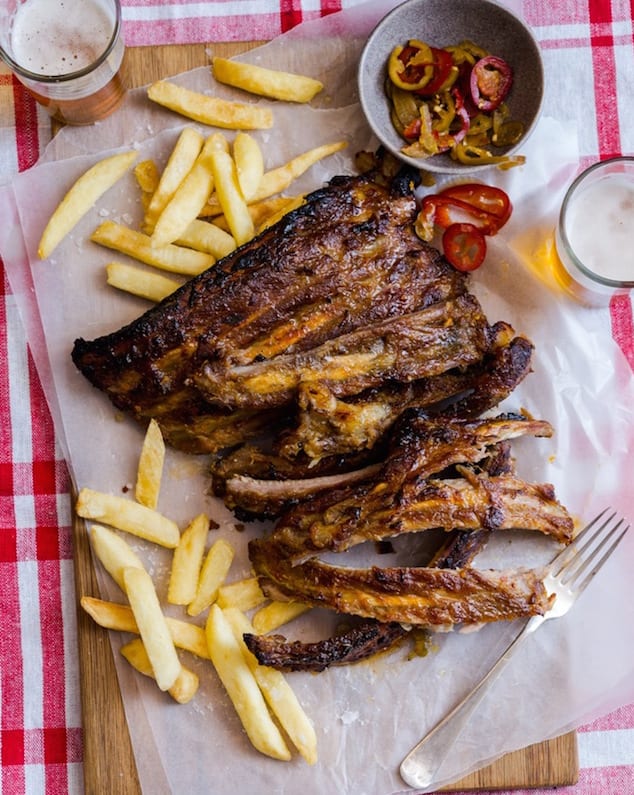 Hein Stirred
Show off the grill skills Dad was sure to pass on to you with these smokey, marinated ribs. If you are confined for space and have no backyard to grill in this, this recipe can be easily roasted as well. Get the recipe here.
Something Sweet
Chocolate Dad: Salted Chocolate Chunk Cookies Layered with Chocolate Liqueur Ganache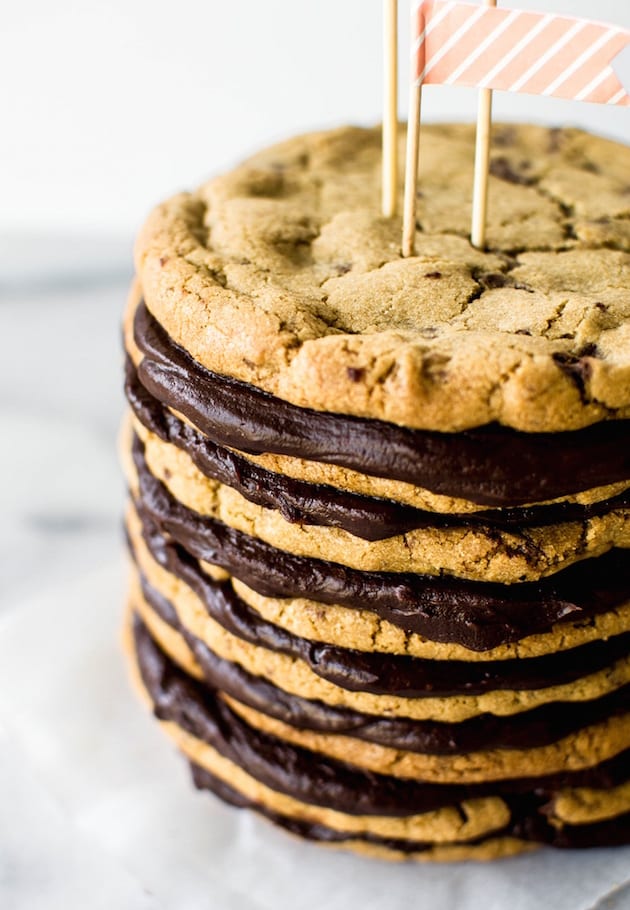 Butter and Brioche
If your dude loves rich, bitter, deep, dark chocolate then this stack of goodness will be right up his alley. A full sized or miniature version of salted chocolate chip walnut cookies sandwiching luscious, gooey ganache is sure to bring a smile to Dad's face. Get the recipe here.
Quirky Dad: Banana Fritters with Peanut Sugar and Mexican Chocolate Sauce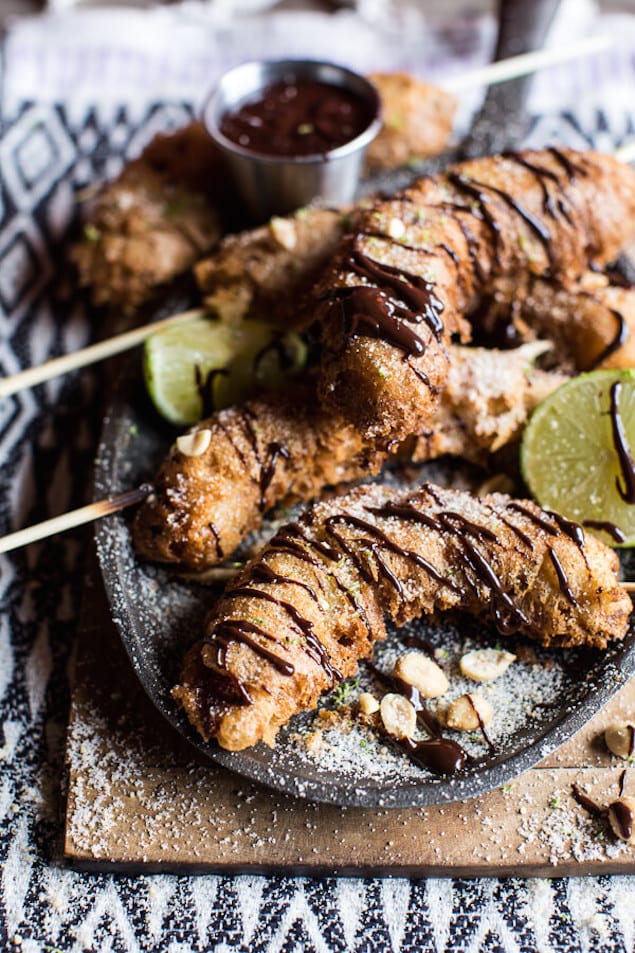 Half Baked Harvest
If Fun is Dad's middle name, then he will love these whimsical, and of course delicious, fried bananas that are coated in peanut sugar and dunked in a rich chocolate sauce. Plus it all takes place on a stick. What is more fun than an interactive dessert? Get the recipe here.
The Cool, Breakfast-For-Dinner Dad: Blueberry Pancake Ice Cream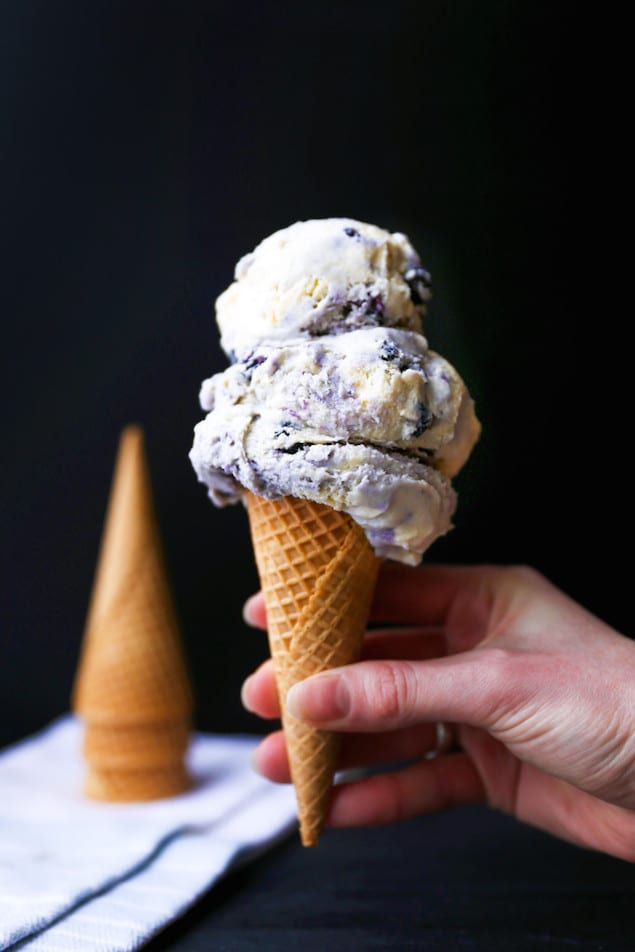 Broma Bakery
Does your dad love ice cream, even the out there flavors? Is he an advocate for having pancakes for dinner? Or is it just really warm and he could use a quality cool-down? If you answered "yes" to any of these questions, then this is the dessert for you, or rather, for Dad. The ice cream tastes just like the real pancakes, only cooler. Get the recipe here.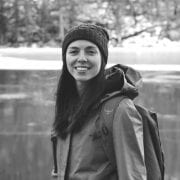 Annelise McAuliffe
Mandatory family outings to the Detroit farmers' market and nightly home-cooked meals cultivated Annelise's respect and curiosity for food. A graduate of The Culinary Institute of America, she spends her free time in New York City recipe testing, eating breakfast all day, and dreaming up international culinary adventures.