PARTNER POST – Get creative with any of Castello's uniquely crafted cheeses. Click here for a $1 off coupon to create your own gourmet masterpiece.
An easy and versatile focaccia recipe that you'll be coming back to again and again. Made with creamy caraway Havarti, serve the bread with bright citrus flavors as a side for soups or with toppings as a pizza.
By Priscilla Willis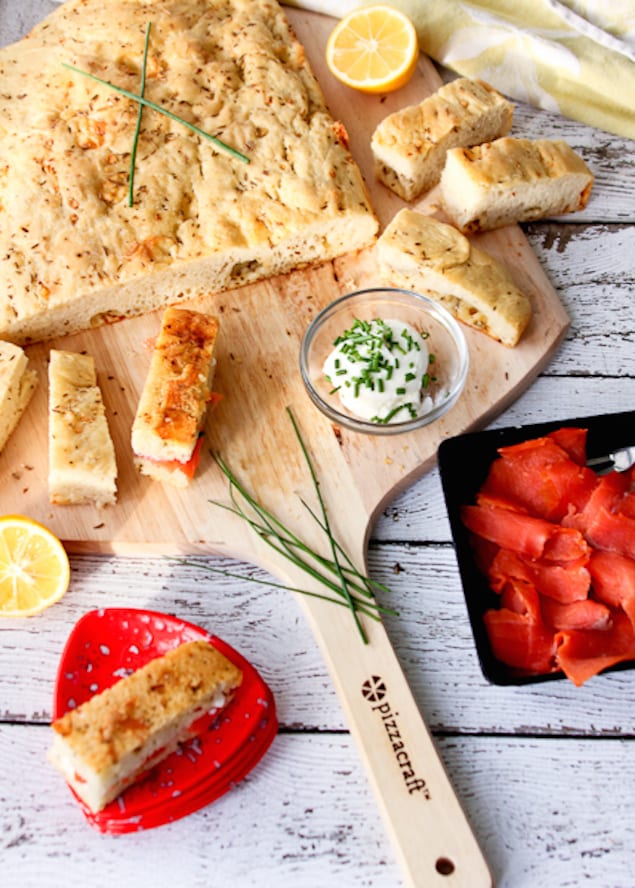 All you have to do is say "cheese" and I'll come running!
When you think of cheese, Denmark may not come immediately to mind, but since 1893 Castello® has been producing cheese with the expertise of artisan cheese makers and traditional production methods – in Denmark. The first cheese was Castello white, designed to have a thin, delicate rind and a subtle creamy flavor by their first master cheese-maker Rasmus Tholstrup. Not content to just make just the standard cheeses, Castello has a history of creative cheese making using ingredients and techniques from all over the world, giving each cheese a unique flavor and texture.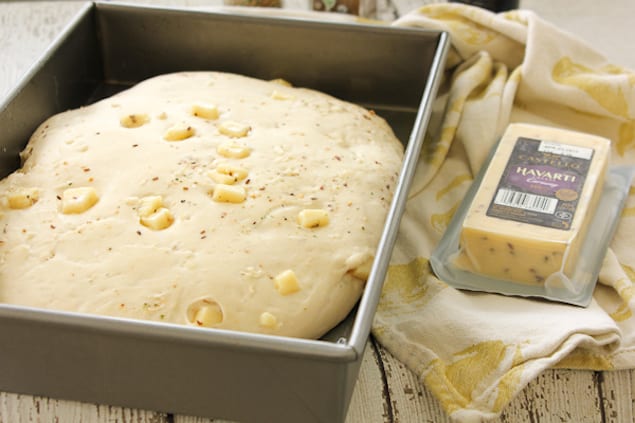 Tasked with creating a cheese recipe (using Castello's Caraway Havarti) that stretches beyond favorites like grilled cheese, mac & cheese, and mouthwatering cheeseburgers, visions of cheesy concoctions danced in my head for days. I wanted to stretch my boundaries as well and, since I'm a bit light in the baking department, I decided to try my hand at bread making – especially, after returning from Paris where I happened upon the Omnivore World Tour and the accidental baker whose self-healing journey led to the "best bread in France" and who now finds himself with an offer from none other than Alain Ducasse, but more on that later.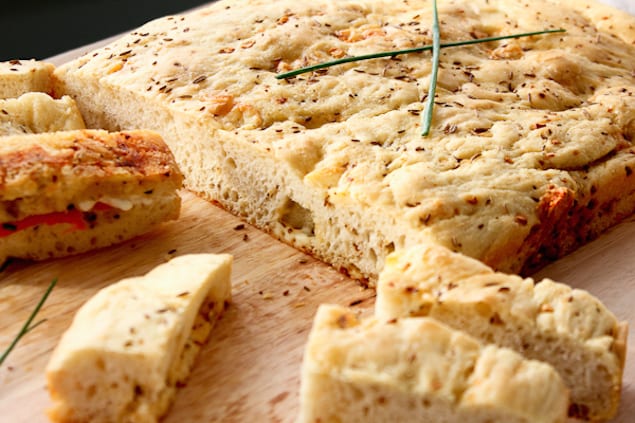 See Also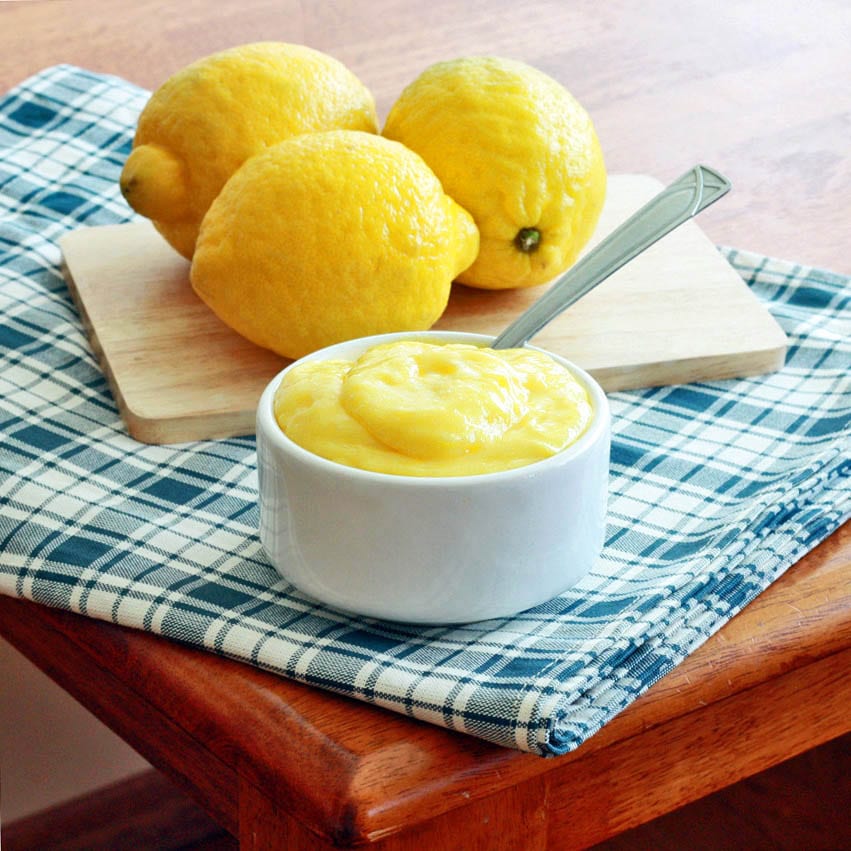 Adapted from a recipe from King Arthur's Flour, this recipe is one that will make an impatient baker, like me, happy because it comes together very quickly, no kneading is involved, and the dough rises only once for an hour. The end result was a wonderfully crispy exterior and desirably chewy interior with tiny air pockets throughout.
Castello's Caraway Havarti is a creamy, mild, semi firm cheese with a buttery, aromatic and mild caraway flavor accentuated by ground fresh caraway seeds and bright premium citrus olive oil. This bread is the perfect accompaniment to soups or salads and the options for appetizers is endless. With the citrus flavors and caraway, smoked salmon with sour cream and chives was a match made in heaven. I hope you enjoy it as much as we did and feel free to get creative with your favorite flavor profile.

Feed Your Creativity — Lemon-Caraway Focaccia with Cheese
A versatile recipe made with creamy caraway Havarti, serve the bread with its bright citrus flavors as a side for soups or with toppings as a pizza.
Recipe Type:
Baking, Bread
Ingredients
1½ cups lukewarm water
3 tablespoons quality lemon olive oil
1 teaspoon salt
1 teaspoon Savory Spice Shop Citrus Blend
3½ cups King Arthur Unbleached All-Purpose Flour
1 tablespoon instant yeast
1-2 tablespoons EV olive oil to drizzle in pan*
Add-ins:
1 cup cubed (1/2") Castello Caraway Havarti cheese
1 teaspoon whole caraway seeds, crushed
4 cloves garlic, finely chopped
Instructions
Lightly grease a 9" x 13" pan by drizzling1 to 2 tablespoons olive oil in the bottom.
Combine all of the ingredients except the cheese and garlic, and beat at high speed with an electric or stand mixer for 60 seconds.
Add the cheese and garlic, beating gently just to combine.
Scoop the sticky batter into the prepared pan, cover the pan, and let it rise at room temperature for 60 minutes, till it's become puffy.
While the dough is rising, preheat the oven to 375°F.
Sprinkle the dough with pizza seasoning, and/or the dried herbs of your choice, if desired.
Bake 35 to 40 minutes, until golden brown.
Remove it from the oven, wait 5 minutes, then turn it out of the pan onto a rack. Serve warm or at room temperature.
Notes
I used just 1 tablespoon and the bread was a little hard to remove from the pan, so I recommend 2 tablespoons in the pan unless you also use parchment paper.
Feel free to get creative with the add-ins - spicing it up with jalapeños, fold in pesto, sun dried tomatoes, etc. For a pizza, spread the dough onto a rimmed cookie sheet for a crust.
Get creative with any of Castello's uniquely crafted cheeses. Click here for a $1 off coupon to create your own gourmet masterpiece.

Priscilla Willis
Intrepid food writer, drinker, and culinary traveler, Priscilla is the publisher of the popular Orange County, CA food and cooking blog She's Cookin' which features deliciously healthy, low sodium recipes, Southern California restaurants and foodie events, cocktails, spirits, and culinary travel.