Camping season is here and we are stoked. Rather than relying on canned biscuits and Oscar Meyers, we'll be eating in style around the fire, but without the stress. This year, we're packing Emma Frisch's new cookbook, Feast by Firelight: Simple Recipes for Camping, Cabins, and the Great Outdoors . Check out a few tips from the book to make packing and cooking camp or cabin food a breeze.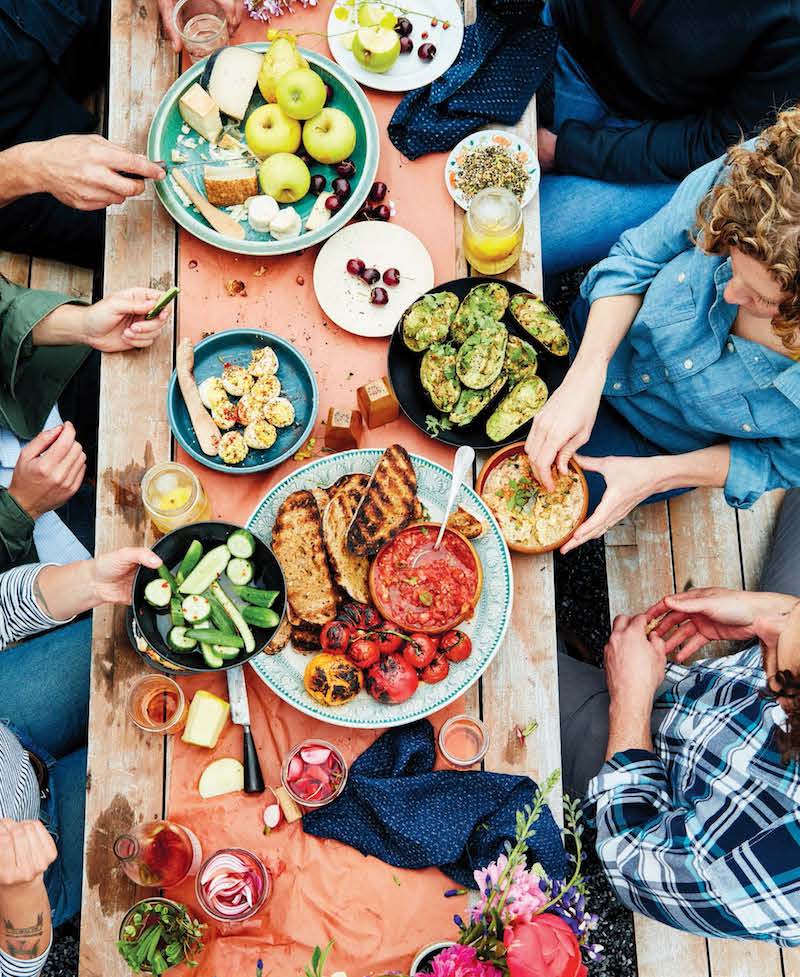 Along with her husband, Emma Frisch owns the stunning glamping spot, Firelight Camps in Ithaca, New York. It was around one of their campfires there that she decided to share her chef training and love for cooking outdoors in the form of a cookbook. The book is bursting with recipes that can be made in or outside and range from a simple picnic or car trip to menus that can be adapted for intense backpacking excursions.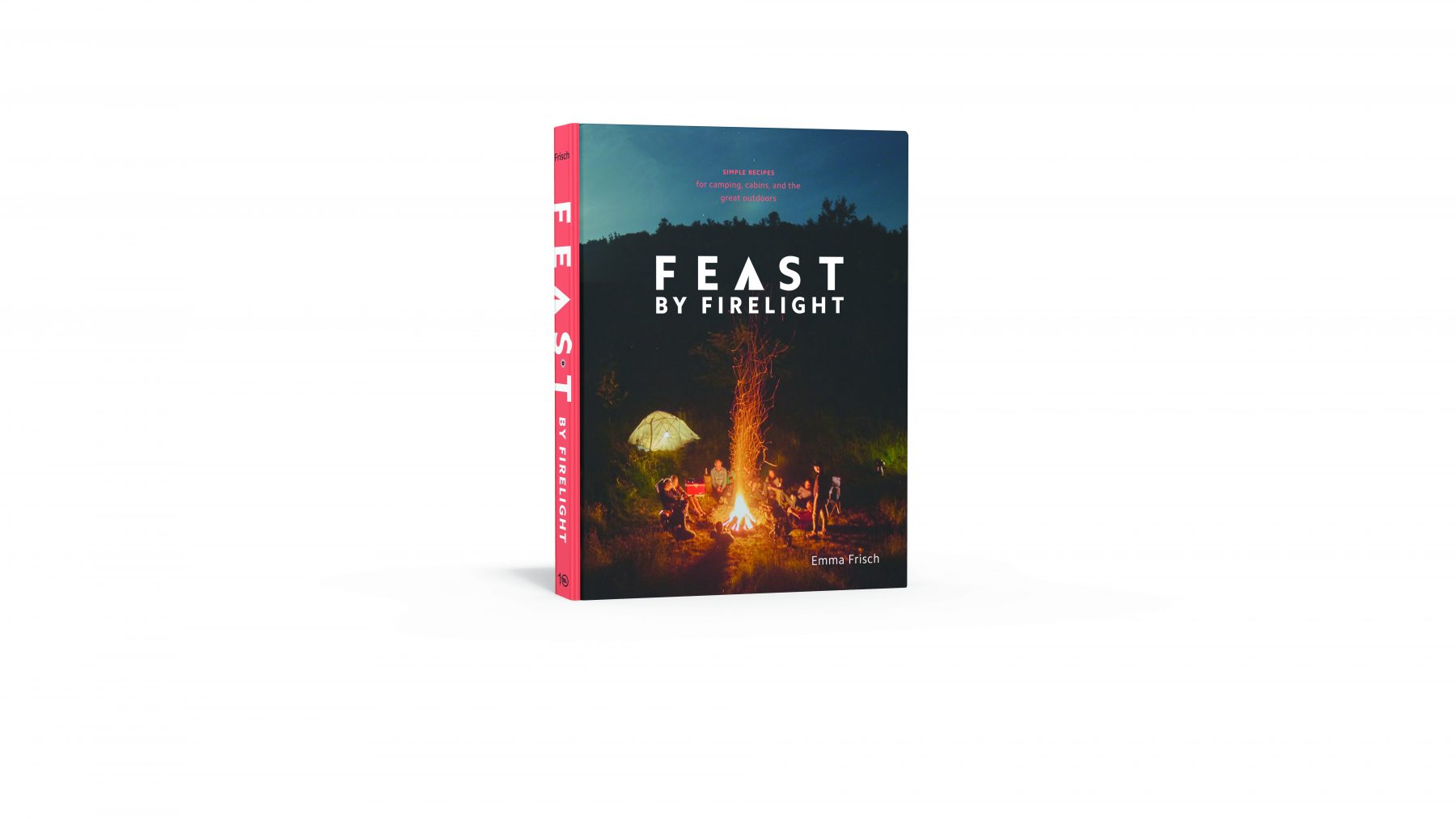 All images were reprinted with permission from Feast by Firelight, text and illustrations copyright © 2018 by Emma Frisch. Published by Ten Speed Press, an imprint of Penguin Random House LLC. Photographs copyright © 2018 by Christina Holmes
Prep Ahead
From experience, we cannot stress this enough. Prep as much of your meals as you can in your home kitchen so that you are set for success when you get around the fire or up to the cabin. Plus, the more your prep, the less you have to bring and the fewer dishes you have to use … if a recipe calls for an herb sauce, make the sauce so you don't have to travel with all the bunches of herbs, salt, pepper, a lemon and so on. When we chatted with Emma about her book, she mentioned that because many of these recipes can be prepped ahead, they also are perfect to make at home. She's found that busy parents thrive with these recipes that can be mostly prepared during their down time and assembled when everyone's ready to eat.
Keep Your Eyes Peeled for Farm Stands
If possible, be on the lookout for farm stands on the way to your rural destination. This will allow you to support the local farmers, but also have the freshest produce on hand when you reach your destination.
Don't Forget the Salt and Pepper
Emma encourages readers to find a small pepper mill that can be packed with your camping supplies, freshly ground pepper makes all the difference. Also consider bringing along a small tin of course sea salt for garnishing, her favorite is sel gris.
Pack a Microplane
Most of us have these in our kitchens, but we don't think about bringing them along when we go camping. It's the perfect multi-use tool for grating ginger, garlic, zesting a lemon and more. This book also reminded us that we can skip most of the fancy camping gadgets, yes, they're cool, but often unnecessary. We've found our cast iron skillet to be the best and pretty much only tool we need consistently when camping. At the start of the book, Emma lists out the cooking ware you might needs and suggests fitting it all in a 54-quart tub for car camping.
Hone Your Fire Knowledge
Whether you plan on cooking over charcoal, a wood fire or a camp stove, be sure to refresh your knowledge before you go so that you have all the tools you need. There's nothing worse than realizing you forgot a crucial part of your heating source and that dinner will be cold. The book provides a whole chapter to help you out. (Don't be afraid to bring the book with you if you think you might need some tips while you're out there! It's not too big and can easily be packed with your gear.)
Be Lavish, You're on Vacation
One of our favorite things that Emma reminded us, is that camping is a vacation and it's ok to pack a special treat or be extravagant by making homemade marshmallows to roast over the fire before your go. After a long day of hiking or setting up camp, a nutritious, delicious meal is exactly what you need. With that being said, snacks, fun sauces and special desserts are key to making things special. Prepare them before you leave for your trips and your tastebuds will be so happy you did.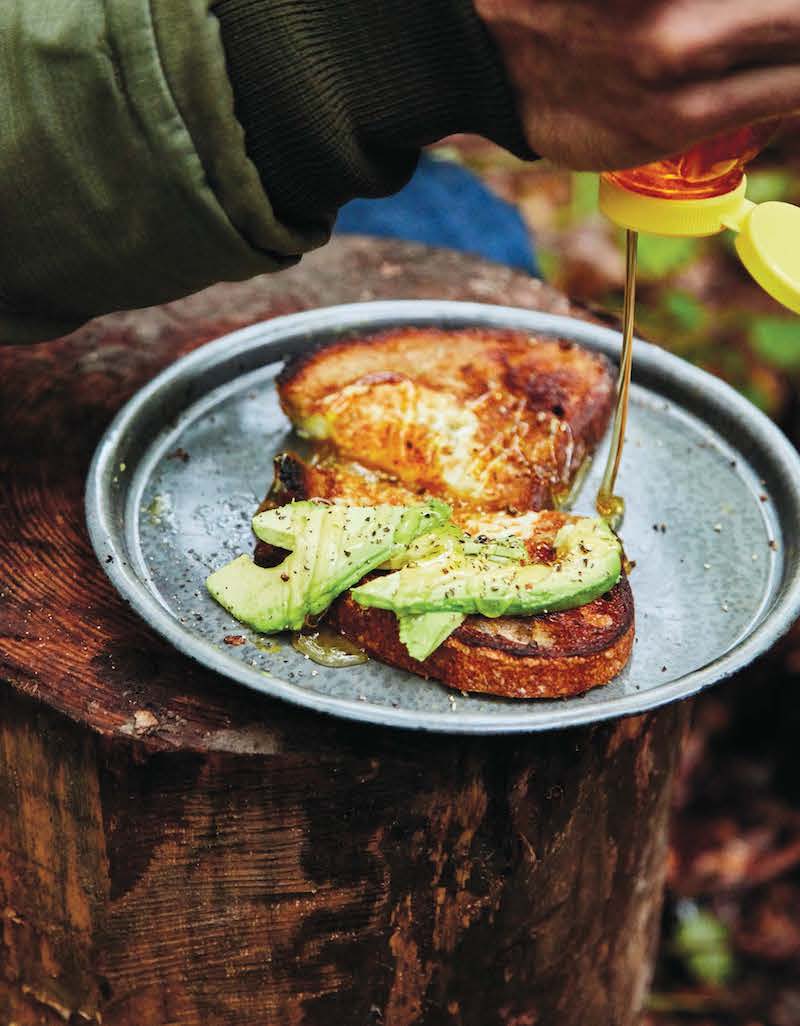 Our New Perfect Camping Menu from Feast by Firelight:
Check out all of these recipes in the cookbook and happy camping!
Breakfast
Bird in a Nest with Honeyed Avocado and Cardamom-Mint Turkish Coffee
Lunch
Emma maps out a mouth-watering sandwich and salad guide to help you pack up the perfect lunch to enjoy on a trail or at the campsite.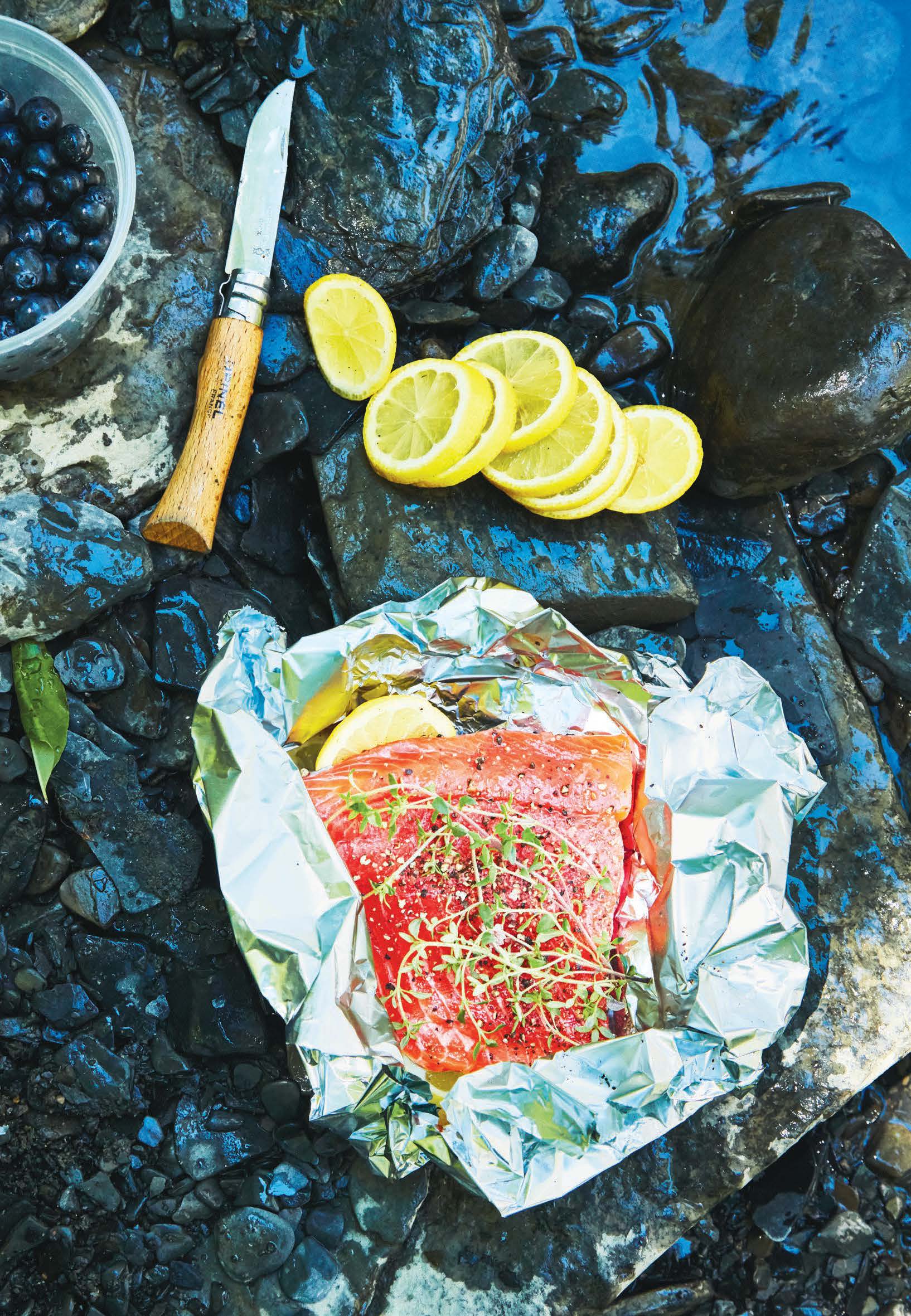 Happy Hour and Dinner
If you're anything like us, you're famished when you return to the campsite. Get the fire going and nibble on a few of the easy eats that the cookbook suggests.
Dessert
Grilled Stone Fruit with Bread Crumbles
Campari Sangria Spritz and charred bread with prepped dips, spreads, hardboiled eggs, charcuterie or cheeses. If you're still hungry for a proper dinner, serve grilled asparagus with honey mustard dressing and shaved parmesan and foil packet salmon with lemon, thyme and blueberry.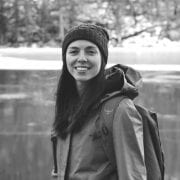 Annelise McAuliffe
Mandatory family outings to the Detroit farmers' market and nightly home-cooked meals cultivated Annelise's respect and curiosity for food. A graduate of The Culinary Institute of America, she spends her free time in New York City recipe testing, eating breakfast all day, and dreaming up international culinary adventures.