The Filipino cuisine is entering the global foodie scene with its creative twists of the classics, stronger demand on traditional food and the introduction of fusing together international cuisine to the local dishes.
By Rowena Dumlao Giardina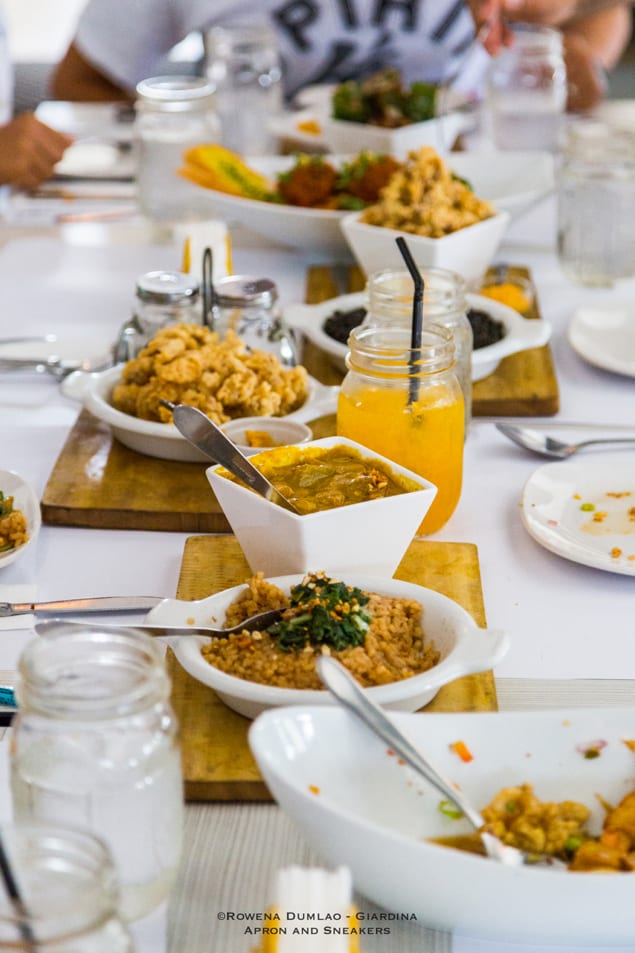 The food culture in the Philippines is an integral part of the country. You might be surprised that one of the main activities of the Filipinos is to eat and for that, there is a plethora of restaurants in the country. And being food lovers, the Filipinos are not limited to the native kitchen but also to international cuisines. It is a melting pot of different tastes and flavors interpreted to the local palate. So when you are in the Philippines, the best thing to do is what the locals do. Go out and eat!
Being born and raised in the Philippines, I sometimes have the need to reconnect myself to my roots and true to the Filipino way, I always eat my way around. Just recently, I stayed there for a month and a half and this time, I put tabs on the restaurants that I would be returning to and to recommend to anyone who goes there. I won't keep you waiting as I give you a random list of restaurants I tried and enjoyed. These are scattered about in the capital, a few may be off the beaten track but still places where any traveler can reach easily.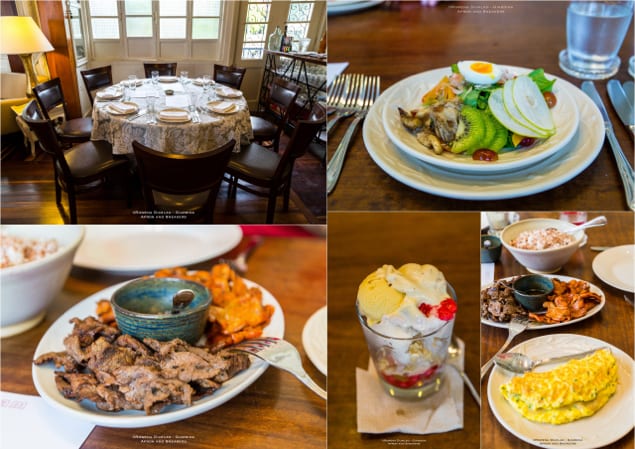 Purple Yam: Malate, Manila
If there is a place where you can learn the Filipino cuisine, this has to be the best place. Amy Besa, along with her husband Chef Romy Dorotan, the proprietor and chef of this restaurant, aim to educate their clients in the genuine Filipino cooking using fresh local ingredients with good quality. Expect a lot of twists to the traditional dishes but the results are always excellent. It's must-try to get to know the cuisine. They are open on weekdays for lunch and dinner and Sunday brunch. Book ahead because this restaurant, situated in the couple's ancestral home in the old part of Manila can only accommodate a handful. They also have a restaurant in Brooklyn, New York carrying the same name.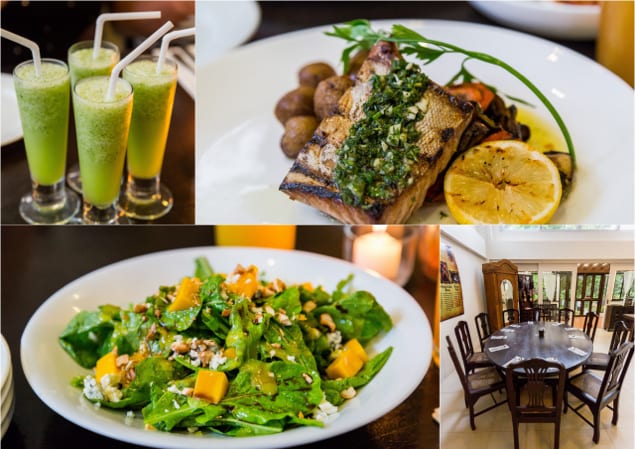 Gourmet Farms: Silang, Cavite near Tagaytay City
When the concept of the restaurant is farm to table, expect freshness and excellent quality of ingredients. Chef Ico Molera prepares the dishes with the ingredients harvested straight from the restaurant's immense garden giving the food an excellent quality of merging of flavors. The salads and drinks are as fresh and good as you can imagine them to be. (Facebook)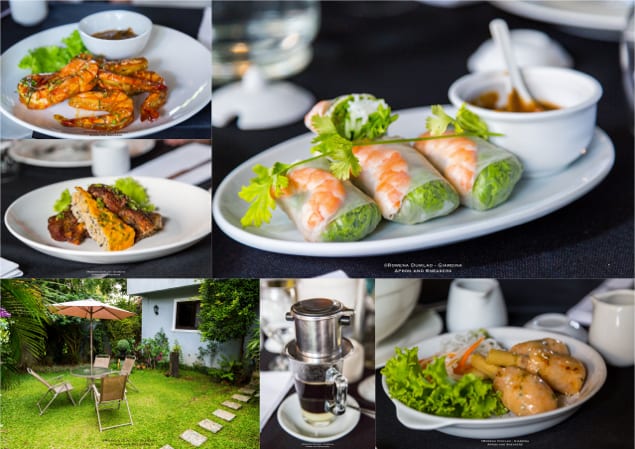 Bawai's Kitchen: Tagaytay City
Home-style Vietnamese kitchen. Vietnamese food like how it is in done in a kitchen with a mother's love for cooking for her family. The restaurant was started by My Duyen or Bawai to her family (which means maternal grandmother in Vietnamese). Being Vietnamese in origin, she normally cooks Vietnamese food for her family and friends and by word of mouth, her popularity blossomed. If everyone wants to knock on her door for home cooked meals, then we all do too, right? The restaurant in Tagaytay was meant to be a vacation home for herself and her husband but as the popularity of her delicious home cooked meals became too demanding, she finally converted the place to a weekend-only restaurant in 2007. Currently, there are two other branches in Sta. Rosa, Laguna and Quezon City.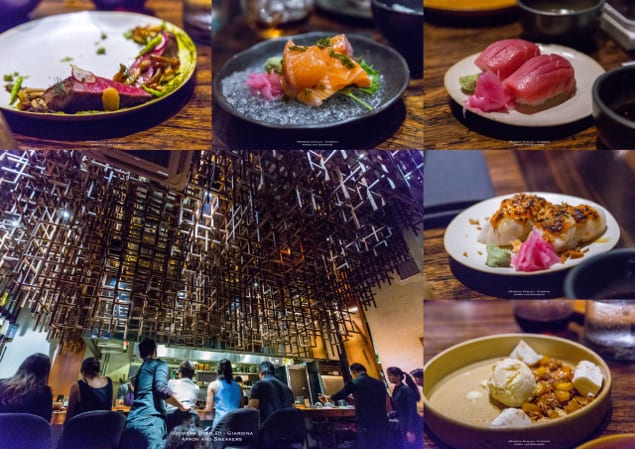 Mecha Uma: Bonifacio Global City, Taguig
If you feel like having global cuisine with strong Japanese influence, then this superb restaurant ran by Chef Bruce Rickets should be your next booking. Chef Rickets' innovative menu will make you eat more than you can handle but do watch out because prices can be steep. Do check out how creatively delectable the sushi can be.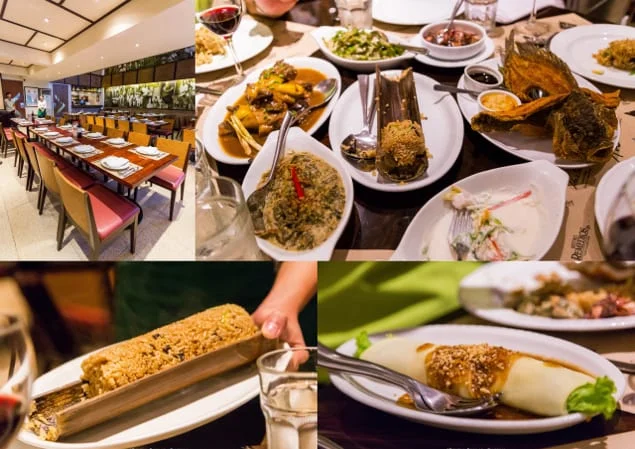 Abe Restaurant
A very good ambassador of Filipino cuisine with special regional dishes from Pampanga, one of the best culinary regions of the Philippines. They serve traditional dishes and some with interesting twists that make dining quite an experience in getting to know the local food. Book ahead because they fill up fast especially on weekends. There are currently 4 branches in the key cities of Manila namely Abe Serendra (Bonifacio Global City), Abe MOA (Pasay City), Abe Alabang Town Center (Alabang) and Abe TriNorma (Quezon City)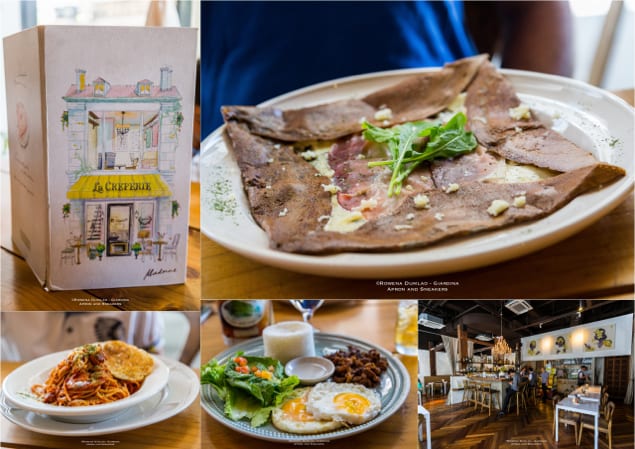 La Creperie
Like what the name suggests, expect sweet and savory French crepes and galettes. There is a good selection in the menu to ponder on and it is even hard to choose because they are all good. The Breton galettes are made with buckwheat flour and filled with hams and cheeses and other savory ingredients. Aside from these, they also serve Filipino breakfasts, salads, soups, pasta dishes and main courses. End your meal (or start your day) with a sweet crepe and experience what La Creperie is all about. At the moment, they have 7 branches all over the capital. They are La Creperie Moderne (Makati City), La Crepererie Boheme (New Manila), La Creperie Robinson's Galleria (Quezon City), La Creperie Shangri-la Mall (Mandaluyong), La Creperie Maison (Calderon, San Juan City), La Creperie Provencale (Katipunan, Quezon City) and the newly-opened La Creperie Burgos Circle (Bonifacio Global City).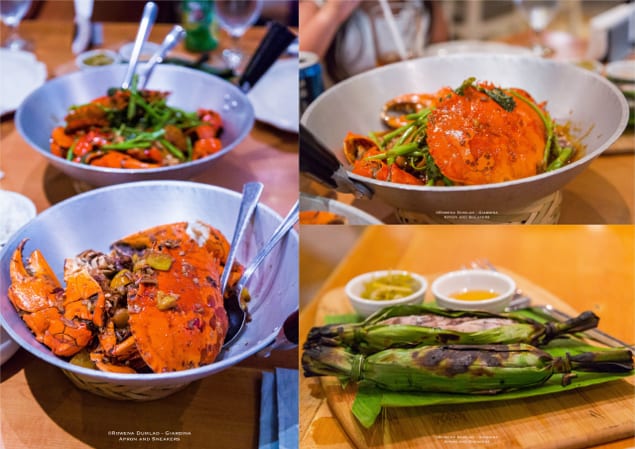 The Red Crab Alimango House
There are not so many crab houses around and fortunately this chain of restaurants has good dishes to offer. So when the craving for crabs hits you, book a table at The Red Crab. They serve crabs cooked in different Asian ways plus there are also a lot of local seafood dishes to choose from. The Red Crab has a few other branches spread out in Manila.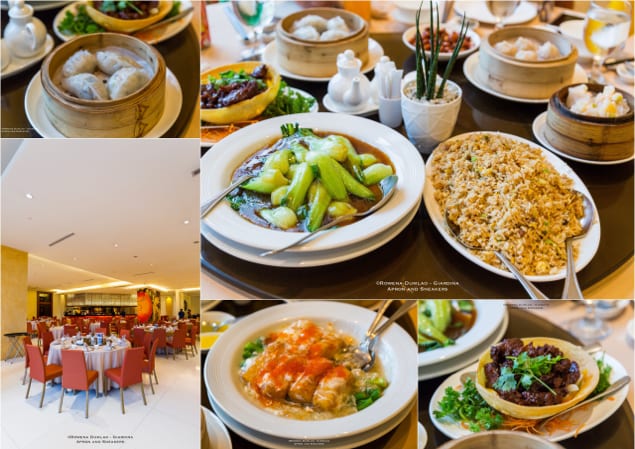 Phoenix Court: Bellevue Hotel, Alabang
To every lover of Chinese food, this place is the place to go to. It just opened its doors and it is already gaining so much popularity. There's a big menu to choose from. They also have eat-all-you-can dimsums with a set price. Book a table ahead especially on weekends because even if it is big, it fills up fast especially with big groups. Located on the second floor of Bellevue Hotel in Alabang.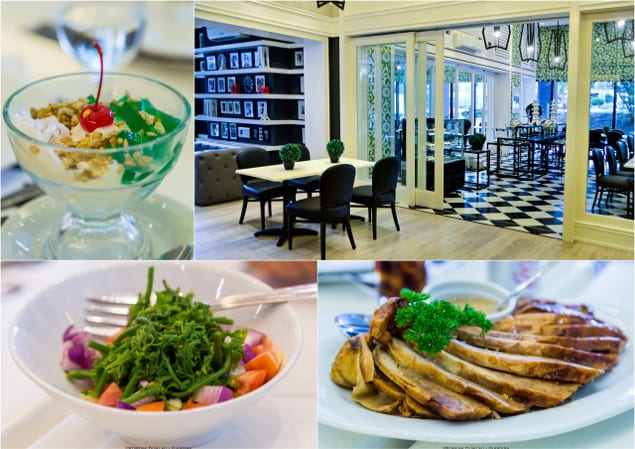 Romulo Café: Azumi Hotel, Alabang
In memory of the late Carlos P. Romulo, an important Filipino figure in international diplomacy, his grandchildren put together Romulo Café to celebrate both his public and private life in memorabilia and heirloom family recipes in the restaurant. They serve old-fashioned Filipino food from old family recipes. You can also find some Filipino dishes with modern twists. One of their best dishes is the Chicken Relleno, a roasted half-chicken stuffed with ground pork, raisins, chorizo and peas. Aside from the branch in Alabang, Romulo Cafè is also present in Makati City and Quezon City.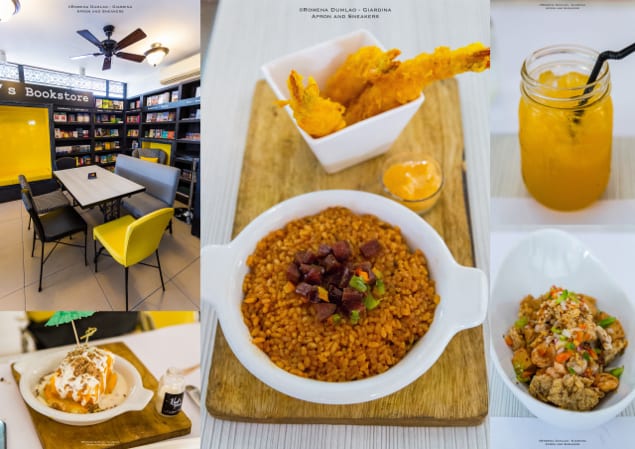 Neil's Kitchen: Alabang
Sparks of creativity and fun ignite the menu of restaurateur Neil Ramos as he presents traditional Filipino dishes with unexpected twists. His different rendition of the old classic tofu and pork dressed with vinegar replaces the pork with seafood is a must-try. He also has the Bagoong Paella with Kare-Kare and Sinigang Paella with Grilled Pork Belly that can make any Filipino mind stop for a minute and try to understand the modern matches that he thought of. And don't miss the desserts too. If you have the space, try all three and have fun with the flavors!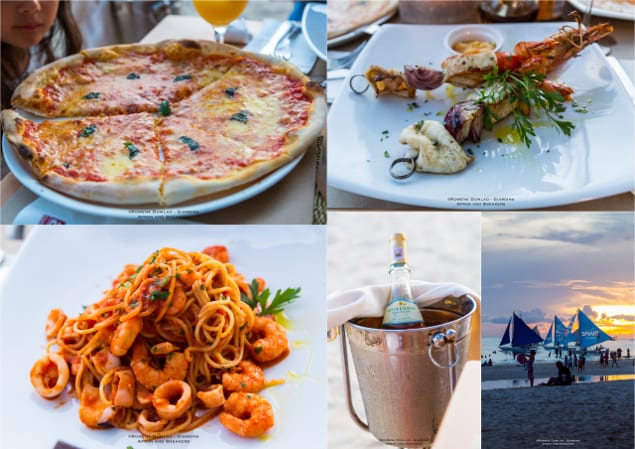 Aria Ristorante: Boracay Island
Genuine Italian fare touches the Filipino palate with wood fire oven-baked pizza, pasta and risotto dishes, prosciutto, cheese, seafood and meat main courses, salads and desserts. Oh, and they also have gelato! Italian Chef Gino Amodio takes with him the true tastes of Italy to meet the Filipino palate. The Philippines has a lot of Italian restaurants but this is the only one that touched a chord to genuineness as to how Italian food is just like in Italy. The restaurant is located right in front of the beach where you can enjoy your early dinner while the sun is setting (outstanding view!). Now, it also has a branch in Bonifacio Global City.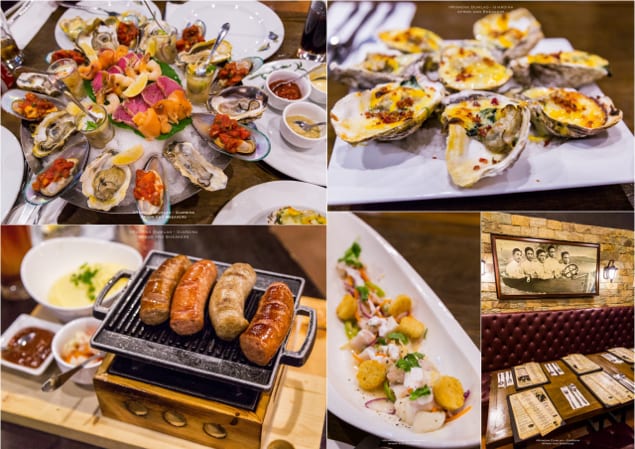 Los Indios Bravos: Boracay Island
Expect good food when two great chefs come together and work in taking their creativity to your table. Chefs Norbert Gandler and Kenneth Cacho, both professors at the International School of Culinary Arts and Hotel Management put together this gastropub with locally made handcrafted beer to pair with the food. They serve international dishes with major Austrian influences from Chef Gandler's origin mixed with Filipino and other cuisines. The Fruits de Mer is a raw seafood platter that is a spectacle to the eyes and great to share together. And if you want something hot and cooked to perfection, try their soups, appetizers, sandwiches, main courses and traditional pub pies.
Rowena Dumlao Giardina
Rowena Dumlao - Giardina is the author and photographer of Apron and Sneakers and The Chosen Table. Besides her blog, she's also a recipe developer and a travel writer for other food and travel sites.