Check out a few favorite cafes and breakfast spots in London, after all, breakfast is the most important meal of the day.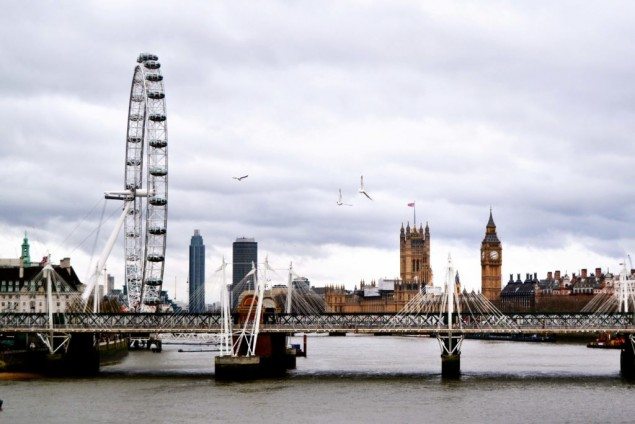 I have to say, London's food scene was a pleasant surprise. Maybe it's because I was expecting meat pies or bangers and mash to be the gastronomic highlight, but I was blown away by the variety and quality of food on every street corner and down every cobblestoned alleyway.
Because I somehow managed to eat a month's worth of food in one week, I've broken up my trip into several posts. First up: breakfast, my personal favorite meal of the day. Dig in!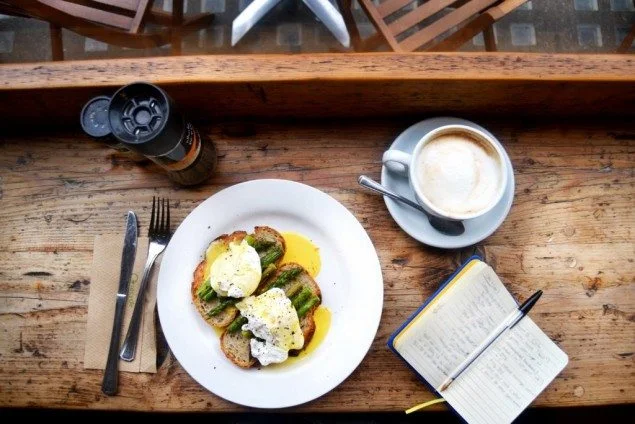 Moreish Cafe was just down the street from my hostel on Tavistock Place near King's Cross. I walked in expecting to order a pastry from the case I spotted from outside, but was pleasantly surprised to see that they offered full breakfast dishes as well. Their menu has a Spanish flair, and the dish I ordered was simply called "eggs on toast". Eggs benedict by any other name tastes just as delicious.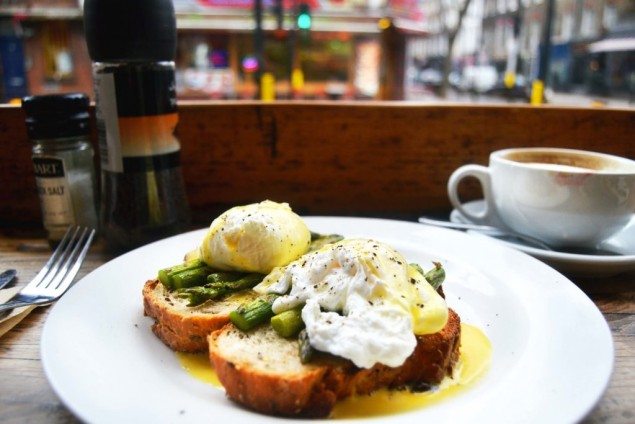 Moreish perfectly cooked the eggs and asparagus, and the soy latte was pretty good too. I spent an hour enjoying my breakfast and people-watching out of their floor-to-ceiling windows, while secretly listening to the two British dudes next to me very politely argue about American politics.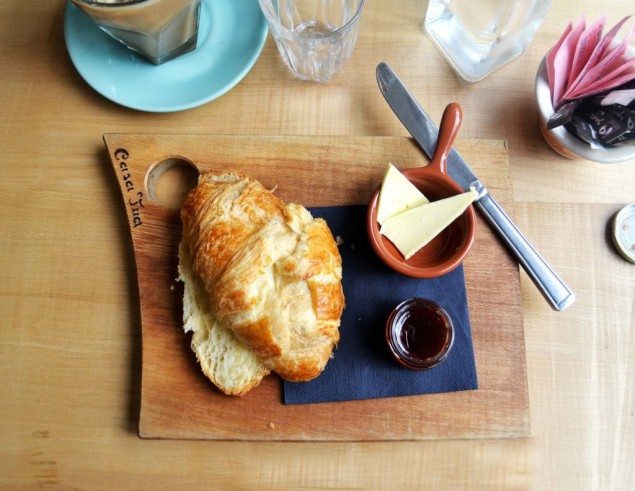 The next morning, I wandered over to Casa Tua (at its Bloomsbury location), a bright and airy Italian cafe that served pastries, sandwiches, and some damn good espresso. I got the "caffe soffiato", which my Italian waiter described to me as an iced latte with hazelnut. Let's just say I was glad I didn't go with my usual almond milk latte.
The butter I was served with my croissant was almost as delicious as Irish butter, which is saying a lot. American butter doesn't even begin to live up to the standards set by any of its European cousins.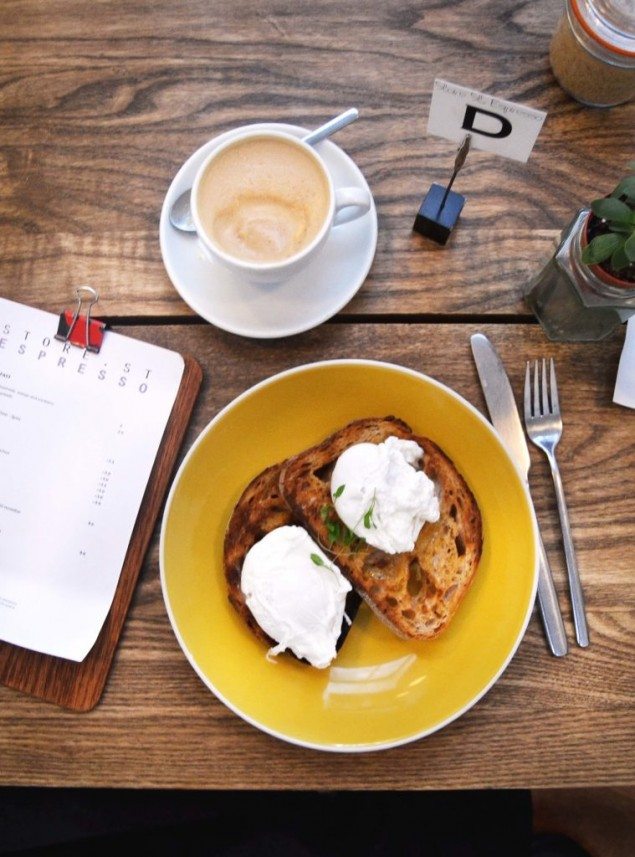 The following morning I slept in, so I woke up feeling more than just a little peckish. As someone with a history of fainting and hitting her head on hard things, low blood sugar ain't no joke. Luckily, Store Street Espresso was literally across the street from where I was staying (did I mention how many cafes line every block?).
Poached eggs on toast and a flat white (which is basically a latte) saved the day, and I was ready to explore the city.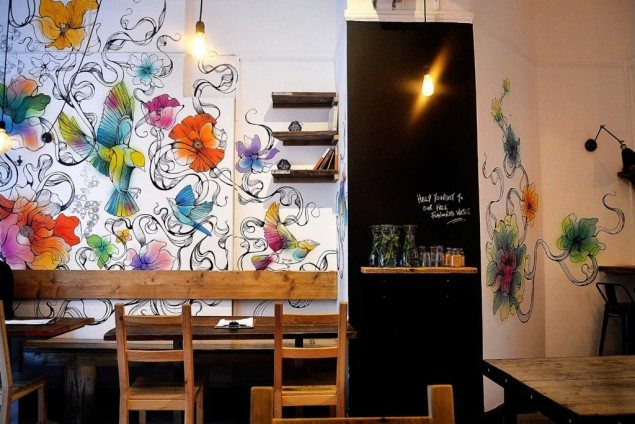 Towards the end of my trip, I decided to leave London and go on an Oxford walking tour. I woke up early to grab a quick bite to eat before meeting up with my tour group at Paddington Station. About one block away from where I was staying, just a stone throw's away from King's Cross station, I stumbled upon Half Cup Cafe. I wish I had more time to spend in this funky, bright coffeehouse because I would have loved to try one of their breakfast specials, but only had time for a delicious croissant and cappuccino.
Half Cup's specials' menu informed me that it was apparently "Pancake Day". I had no idea what that meant until my Oxford tour leader explained that the day before Ash Wednesday is called Pancake Day. Before giving up anything for Lent, you would traditionally take all the food you had and mash it up into a sort of pancake. It is also tradition to have pancake competitions, seeing who can eat the most pancakes in the shortest amount of time, or who can make the best ones.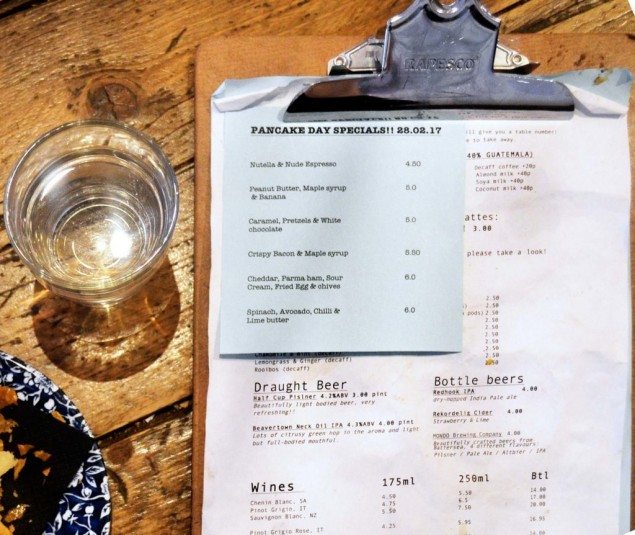 On several mornings, when the weather was grimy and I was feeling the effects of the previous night's choices, I wandered over to Bloomsbury Coffee House (which, surprise surprise, was right down the street from where I was staying. Do you sense a theme here?). With free wifi and outlets, a deceptively large interior, and hella cozy vibes, this place had me from the moment I stepped inside.
I had their quiche on more than one occasion, and their almond milk lattes were excellent. Not to mention their kind and speedy service. Every visit was respite from the leaky London skies, and I often had to force myself to leave – especially on one occasion when I stepped out and found that it was no longer raining, but hailing. Yes, hailing.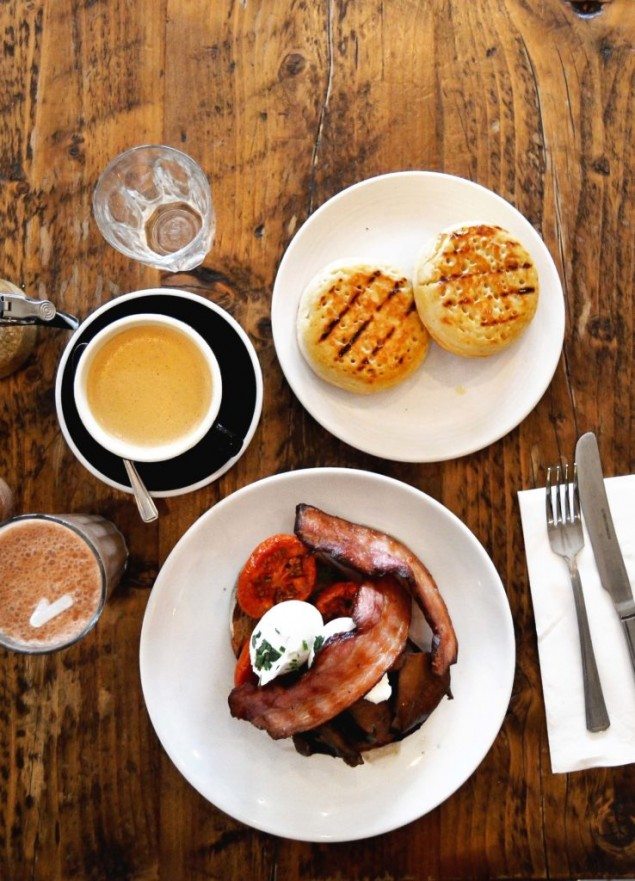 Finally, on the last morning before my flight back to Boston, I planned ahead and decided to go beyond the one block radius that had become my comfort zone. Caravan in Exmouth Market was a 20 minutes' walk east of King's Cross in the Clerkenwell neighborhood, and had a reputation for serving up a killer brunch.
Because I was going to be traveling, I decided to overindulge slightly so I could power through the flight without having to eat any questionable airplane food. In retrospect, this was a very good idea.
I started with a latte and a smoothie. The smoothie was a blend of banana, almond milk, tamarind, and cacao nibs. I was curious about the inclusion of tamarind, but I inhaled the smoothie before really taking the time to pick apart its flavors. It was that good.
For my solid food, I opted for the Caravan Fry: eggs, sourdough toast, slow roasted tomatoes, bacon, and field mushrooms. As if that were not enough, I also sprung for an order of "two crumpets and too much butter". I mean, how could I not order something with that kind of description?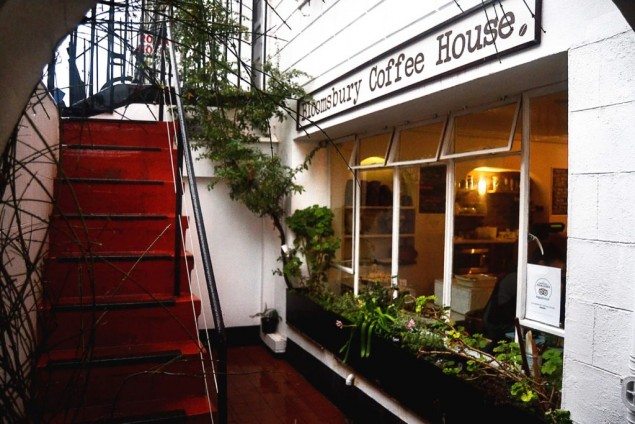 Satisfied with my final breakfast, I trudged back to my hostel to collect my backpack and hop on a train to Gatwick airport. As much as I was ready to be back home, I couldn't help but wish I had more time to get to know London and all of her quirks. I know I could spend a lifetime wandering its streets without ever running out of things to fall in love with. And that, my friends, is what my dreams are made of.
Looking for more food and travel guides for London? Click here.
Leili Ansari
Leili is a Boston-based food writer and recipe developer who shares all of her kitchen adventures on her food blog, Yin and Yolk. She loves cooking up healthy comfort food dishes but also has a passion for pastries, and strives to create recipes that are both delicious and wholesome. When she's not experimenting in the kitchen, she can be found perusing the local farmer's market, jogging through the city, or trying out new places to eat.