Nancy Lopez-McHugh with a manly sub for this year's Father's Day.
By Nancy Lopez-McHugh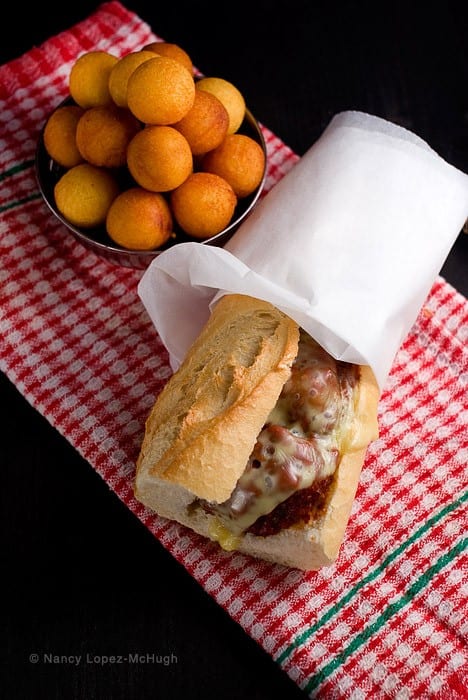 Meatballs, I used to hate them. When I say hate I mean the mere sight of a meatball repulsed me. If a meatball covered in red sauce and jammed inside a roll ever crossed my path it made my body quiver in disgust. These repulsive feelings towards meatballs were to blame on grade school cafeteria food. Much like the story of Sloppy Joe's, I previously shared, our history started off badly. Every time I saw someone order or eat meatballs covered in sauce it was pure torture. I would flash back to the cafeteria meatballs that the lunch ladies forced me to eat. During those years I was still learning English and I couldn't explain to them that those "meat" balls tasted like ground cardboard swimming in bland tomato juice. I could never understand why anyone enjoyed putting those meatballs in their mouths.
For years after grade school and up until my early 20s meatballs were something I avoided like the plague. But that all changed when hubby cooked his special meatball sandwich for me. I admit there was huge hesitation on my part but I trusted my husband and agreed to try them. Hubby's meatballs were tender, juicy and the sauce thick, tangy and sweet with a hint of spiciness. I loved the meatball sub so much that for a month I requested it for dinner every week.
Hubby's Meatball Sub Sauce
240 g tomato paste
1 tsp oregano
1.5 tsp granulated garlic
1-2 tsp cayenne, adjust to taste
1 tsp salt
1/2 tsp ground black pepper
Cooked meatballs, I like to make meatballs from scratch but you can also purchase ready made from the butcher.
Baguettes
Provolone cheese or Gorgonzola, any mild Italian Cheese
See Also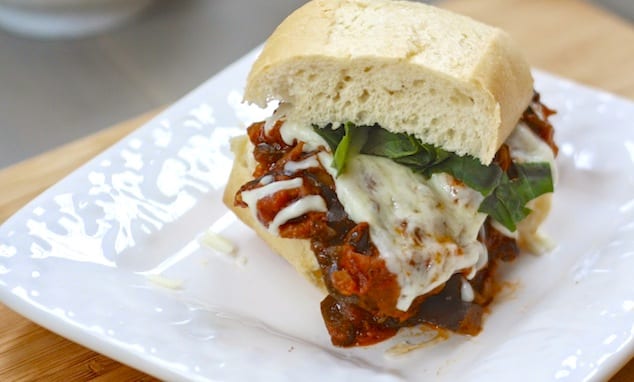 1. Cook the meatballs through, and drain off all excess fat from pan. Mix in all the sauce ingredients, stirring until well combined. Cover and allow to cook until the tomato paste thickens. Serve the meatballs in sub rolls or baguettes. Top with cheese slices and if desired place under broiler to melt the cheese. Serve with desired side dishes. We served ours with potato croquettes.
One day he taught me how to make them and now every once in a while I like to surprise him with meatball subs.  What I love most about hubby's recipe is that it is so fast and easy to prepare but you'd guess it took a long time. Don't think that the tomato paste will give it a sweet taste,  the addition of cayenne and garlic help balance it completely. Plus using the paste will result in shorter cooking times. This meal is perfect for nights when you don't want to spend a lot of time cooking dinner, or a great meal to surprise the man in your life. I think it's safe to say that men never turn down a meatball sub.
Nancy Lopez-McHugh
Nancy Lopez-McHugh is a food blogger, photographer and published author. Most recently she has published "Yummy Pics: A Food Blogger's Guide To Better Photos".