An exciting salad with falafel spiced, roasted chickpeas and a generous tahini dressing. Add seasonal vegetables to make it an easy warm-weather meal.
By Faith Gorsky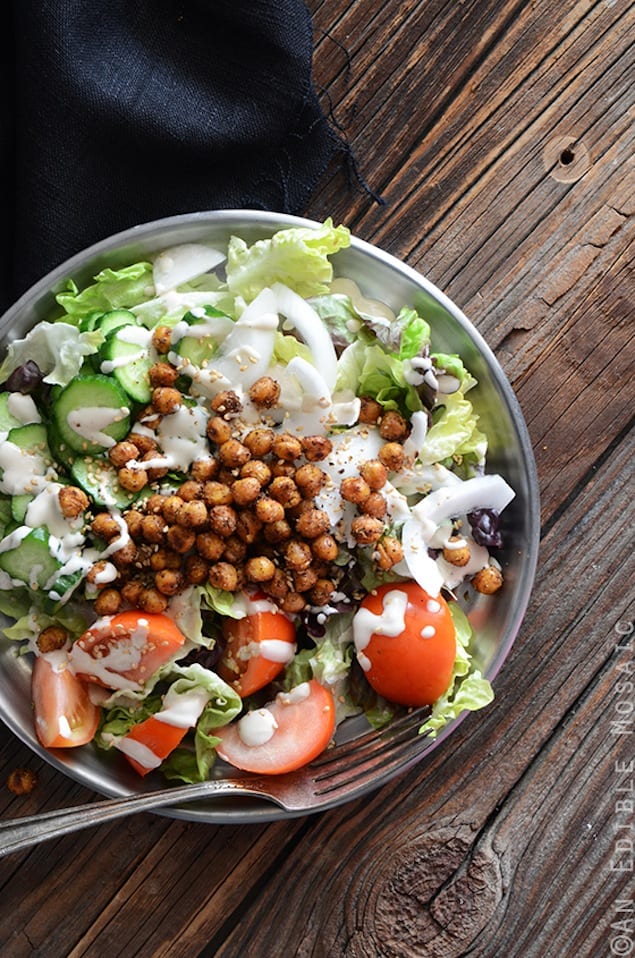 Falafel-Spiced Roasted Chickpea Salad with Tahini Dressing
An exciting salad with falafel spiced, roasted chickpeas and a generous tahini dressing. Add seasonal vegetables to make it an easy warm-weather meal.
Ingredients
Dressing
2½ tablespoons tahini
1½ teaspoons fresh lemon juice
3-6 teaspoons cold water
⅛ teaspoon salt
⅛ teaspoon black pepper
Salad
4 cups red or green-leaf lettuce, torn into bite-sized pieces
1 medium tomato, cut into wedges
2 Persian cucumbers (or ½ English cucumber), thinly sliced
1 small onion, halved and thinly sliced
1 batch Falafel-Spiced Roasted Chickpeas
1 teaspoon sesame seeds
Roasted Chickpeas
1 (16 oz/450 g) can chickpeas, rinsed and drained well
1 tablespoon olive oil
½ teaspoon cumin
½ teaspoon coriander
½ teaspoon garlic powder
½ teaspoon onion powder
½ teaspoon paprika (you can use sweet, hot, or smoked to vary the flavor)
¼ plus ⅛ teaspoon salt
Instructions
Chickpeas
Preheat the oven to 400F.
Line a baking tray with paper towels and pour the drained chickpeas on top. Pat well to dry and then remove the paper towels.
Add the oil and all spices and toss to completely coat the chickpeas.
Make sure the chickpeas are spread in an even layer on the baking tray, and roast until golden and crisp outside, about 30 to 40 minutes, tossing a couple times.
Cool slightly, and then serve warm or at room temperature (do not cover them or they will lose their crispness faster). Note that these are best served within about an hour of making them so that they stay crisp.
Salad
For the dressing, whisk together the tahini and lemon juice in a medium bowl. While whisking, add the water 1 teaspoon at a time until it reaches your desired consistency. Whisk in the salt and pepper.
For the salad, arrange the lettuce on 2 plates; top each with half of the tomato, cucumbers, onion, and chickpeas. Sprinkle the sesame seeds on top and drizzle on the dressing.
Serve immediately.
Faith Gorsky
Faith Gorsky is the writer, recipe developer, photographer, and food stylist behind the blog An Edible Mosaic. Her recently-released first cookbook, An Edible Mosaic: Middle Eastern Fare with Extraordinary Flair (Tuttle Publishing), is a collection of authentic Middle Eastern recipes handed down to her from her husband's family during her extensive time spent in the Middle East. Faith loves to travel, especially to places steeped in rich culture and history.