A Fair Trade certified coffee purchase directly benefits the farmer or entrepreneur, their community and supports a sustainable environment.  Laura Davis likes that her consuming patterns can make a difference.
By Laura Davis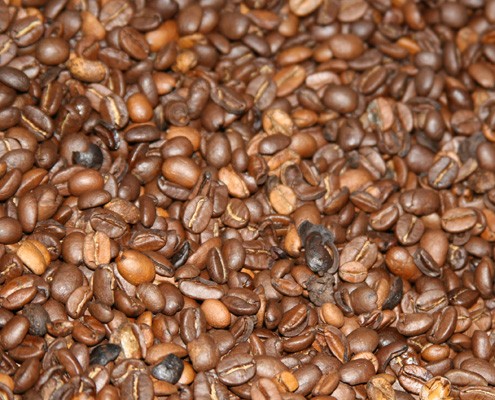 Fair Trade is a label that I recently have seen more of in the US markets. I bought a store brand coffee blend labeled Fair Trade dark roast beans last time I stocked up on java.  No specific information was offered at the market so I felt some research was in order.  I found out that this coffee was Fair Trade Certified and was an organic blend of Mexican coffee and a dark roast Sumatra blend from Indonesia.  What exactly does fair trade certified mean?  The Fair Trade USA website states the definition as "Fair Trade goods are just that. Fair. From far-away farms to your shopping cart, products that bear our logo come from farmers and workers who are justly compensated. We help farmers in developing countries build sustainable businesses that positively influence their communities. We're a nonprofit, but we don't do charity. Instead, we teach disadvantaged communities how to use the free market to their advantage. With Fair Trade USA, the money you spend on day-to-day goods can improve an entire community's day-to-day lives."  That makes me really happy.  I believe there can be a lot of power in the purchases that a person makes.   You can vote all you want (and I do) but real power in the markets.  It is amazing to me that a routine cup of morning coffee in my life can make a big difference in someone else's life and their community.   This is one of the reasons I love my local markets.  I know who grows the food,  I can ask them question about concerns I may have and I know that the purchase money is going directly to them.  For me, beside feeding my family, I feel like I am doing the right thing.  This also makes me really happy.
During a family trip to Costa Rica, we had an opportunity to take a coffee tour when we were in Monteverde.  This tour took us to a farm that was just about 3 hectares (about 7.4 acres) and the farmer gave us a tour of his property. He spoke very little English and we spoke very little Spanish but we had a translator when needed.  It was very personable.  The farm was amazing.  No rows and rows of coffee beans, instead it was a hillside of seemingly random plantings behind the farmers home.  We wove through the jungle like area and the farmer pointed out the coffee plants.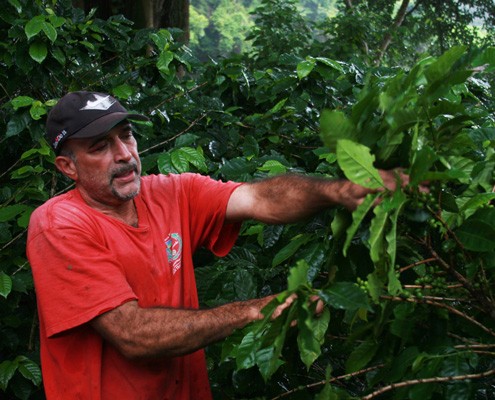 The coffee plants seemed like they were growing wild and were among plantain, banana, lime and orange trees.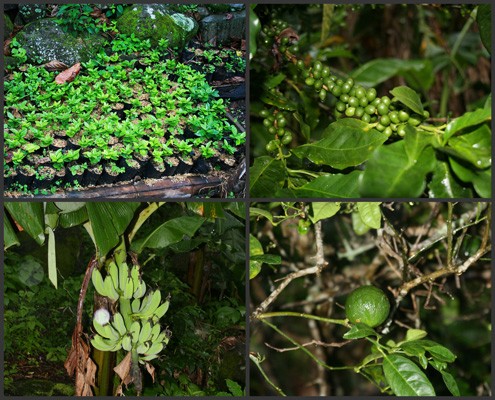 The farmer was friendly and very proud of his farm. It was a rainy day so we wore raincoats but then the deluge came and cut the tour short. He made us a cup of coffee under a canopy and it was delicious and memorable.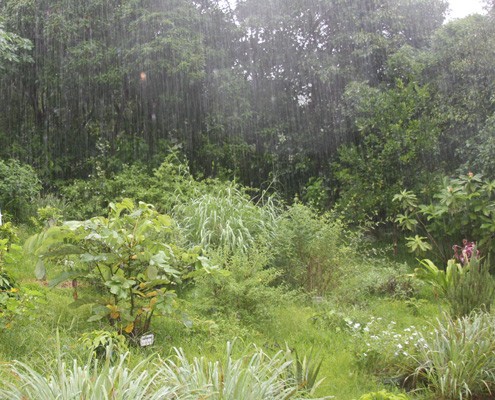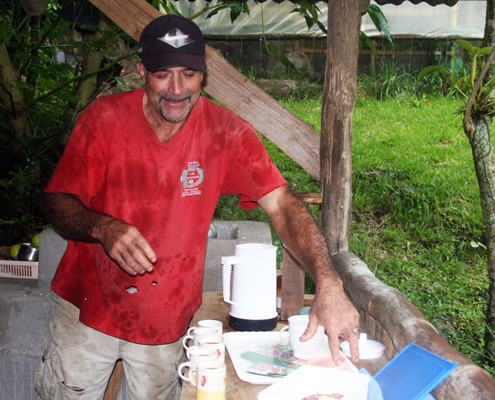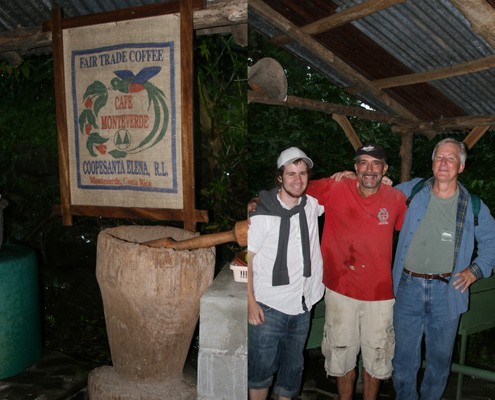 After we were finished on the farm, we headed out to the area where they process and roast the coffee.  It didn't let up raining and there were a few roads washed out, but we managed to get there.  I guess that is how it goes when you vacation during the rainy season!  We got there just in time to experience and watch them roast a batch of coffee beans.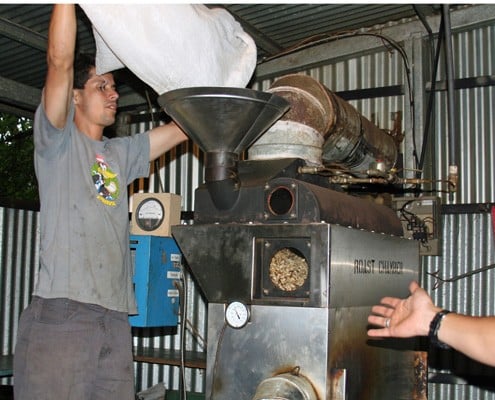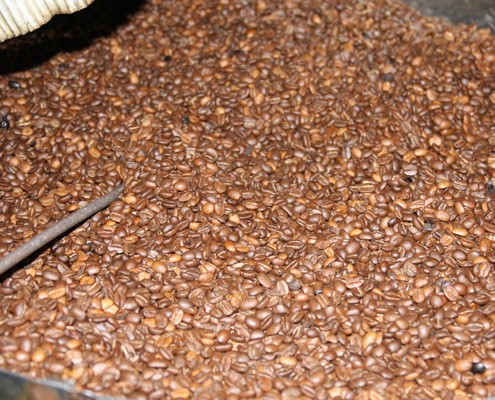 We still get a newspaper delivered to our driveway. It is true we are one of the few in our neighborhood but we can't seem to get on the handheld device bandwagon of reading books and such.  One day when they don't deliver door-to-door (we know that is not too far off) we will move on to electronic devices for our news, but until then I like reading the paper old school.    One recent morning there was this article about a coffee company in Philly called La Columbe (located in Philadelphia, New York, and a new opening coming in Chicago) and how one of the founders, Todd Carmichel discovered an almost wild grown typico coffee in Haiti.  He went and brought back this coffee and sold it to one of Philadelphia's top restaurants called Talula's Garden.  The Haitian farmer  got the opportunity to come to Philadelphia and he stopped by the restaurant to personally thank the owner for their business and shared what it meant to him.  Considering all that has happened in Haiti, it was a very moving and awesome story that you can find in full here.
See Also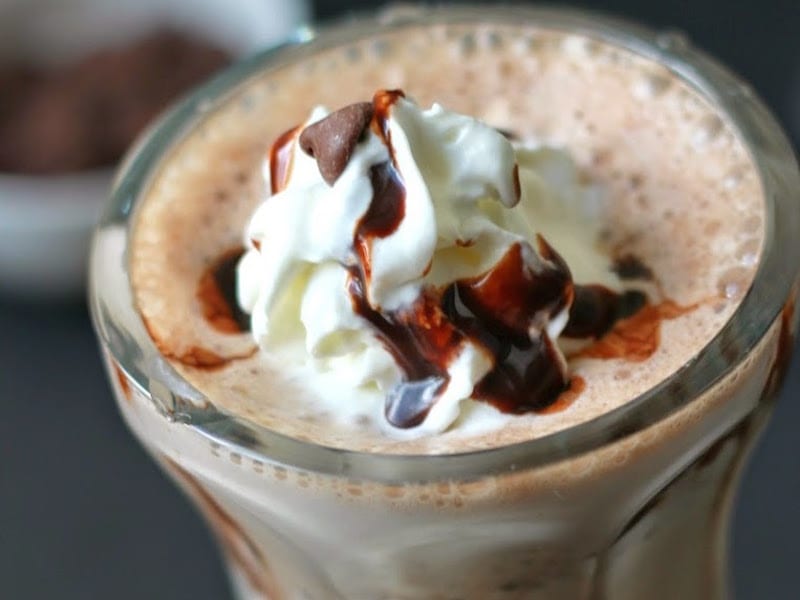 Direct Trade is a term I had never heard before going toChestnut Hill Cafe in Lancaster, PA. Their espresso was reviewed by Bill Walsh here on Honest Cooking and I decided I had to try it the next time I was in Lancaster. It did not disappoint as in it was amazing and I agree with everything he said. He is the connoisseur and I will leave the nuances up to him.   I asked them if they used Fair Trade coffee and he said yes and Direct Trade.  I had never heard of Direct Trade before and it is essentially what the name implies, they buy directly from the producer/farmer thereby bypassing the middleman.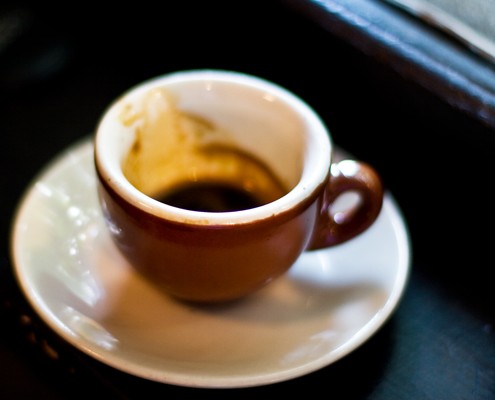 On a final note, I would like to mention a town that is not too far from me that calls itself America's First Fair Trade Town.  It is a great place to dine and one of my favorite places to window shop for unique purchases.  This quaint little town is called Media, PA located west of Philadelphia and you can check out their website here.  I have to wonder if there are not other places or towns like this.  Maybe you know of some places that support Fair Trade and will share with us in the comments section and maybe we can support them.
If you have the opportunity to make a difference in someone's life by purchases that you are probably going to make anyway, then buying from businesses that buys Fair Trade thereby sustaining a farmer, a small business person and helping to protect the environment just makes sense.  What can be better than that?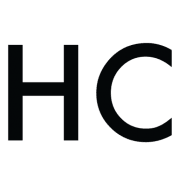 Laura Davis
Laura Davis is the author of the blog Sweet Savory Planet and has a life long culinary passion with southern roots originating in her home state of Alabama. She has a degree in nutrition from University of Texas at Austin.