Fabulous Farm food is Just a Ferry Ride Away: San Juan Islands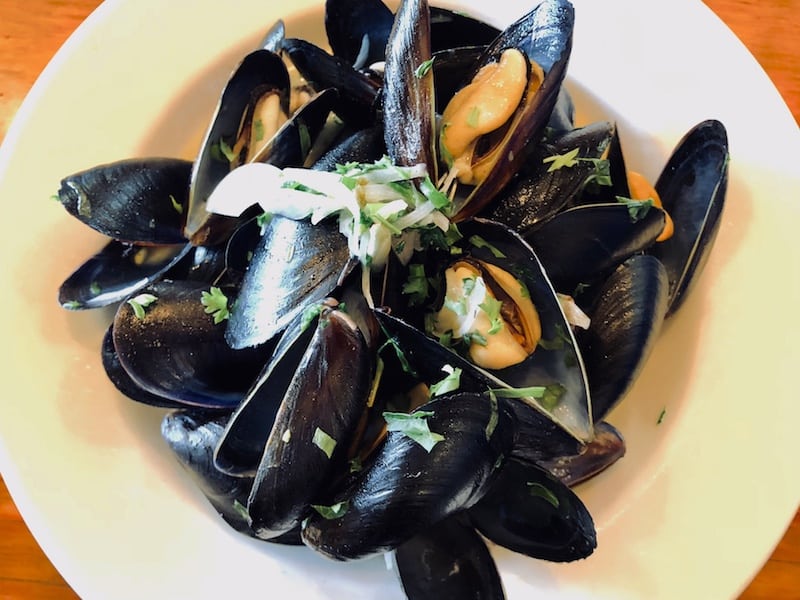 There are approximately 172 islands in Washington State's San Juan County and once you start visiting them you'll soon learn that the finest fresh caught, shucked, brewed, foraged and farmed food awaits you at every turn.
The easiest, prettiest and most fun way to island hop is on the Washington Ferry System which runs regularly scheduled ferries between San Juan's Friday Harbor and Orcas, Lopez, Shaw Islands.
Below are my favorite spots for a weekend gastronomic getaway to Whidbey and Orcas-two culinary treasure islands I'd love to be shipwrecked on.
WHIDBEY ISLAND
Eat here:
Oystercatcher could be the poster child for locally sourced, sustainable, farm to table dining. The talented Chef Tyler Hansen, along with his extremely capable wife Sara, who seamlessly runs the front of the house, spins his magic on the farm fresh bounty to create an outstanding, memorable meal. You know you're in caring hands from your first bite of his justly famous, house baked bread, be it Rosemary olive, molasses oatmeal, sprouted wheatberry, rye, etc., topped with a savory spread such as pork lardo or roasted shallot goat cheese, all the way through to your final bite, which in our case was an incredible Rye pound cake topped with rhubarb jam, buckwheat crumble and honey ice cream.
Inside Tip: Our dinner was artistically presented on organically shaped, handmade dishes created at Cook on Clay. Stop in at their studio to see how they are made or to purchase your own ruggedly elegant pots.
Orchard Kitchen has another dynamic husband and wife team who also turn out uber seasonal, local, refined farm food.
Chef/restaurateur Vincent Nattress, who has cooked at Michelin-starred restaurants in both France and California, and his wine maven wife Tyla, moved back to Whidbey to realize their dream of opening Orchard Kitchen, a restaurant and cooking-school set on a five-acre farm. Be sure to reserve a spot in advance because their unique four-course family style farm dinners are only served at one 7:00 PM seating, Thursday -Saturday. Trust me- you'll be happy you did.
Insider tip: Once you try Vincent's food, you'll be hooked so why not learn how to DIY by signing up for one of his in-depth cooking classes, ranging from "How to Make Gnocchi" to "Flavors of India".
Whidbey Pies is well worth a detour if you're anywhere even remotely on the West Coast. Owned by yet another hub & wife duo (maybe Match.com should start a foodie division?) they also own Greenbank Farm, which was once the world's largest Loganberry farm. The pie team makes over 1,500 of these flakey handmade pie with various fillings ranging from a tart Washington Cherry pie, classic Loganberry, salted caramel apple and even a savory Thanksgiving Pie filled with turkey, sausage stuffing, gravy and taters.
Inside Tip: Due to popular demand their classic Apple, Marion and Pumpkin Pies are now available gluten-free.
Drink here:
Who would have thunk that the understated, rustic, family-owned Whidbey Island Distillery would make the single highest rated spirit (of any type) produced in North America? Not only that, but their Blackberry Liqueur, has been awarded the prestigious Platinum Medal (98 points) by the Beverage Testing Institute and is one the top rated in the entire world!
And if that doesn't grab your attention than the family friendly distillery, plunked on nine acres, also offers daily informative tours by a super friendly staff and tastings for free! Whisky aficionados will be impressed by their "Whidskey.
Holmes Harbor Cellars is what happens when you combine art and science. Owned by Greg Martinez, a long flying Delta pilot who has tasted the finest wines worldwide and his chemist wife (the science half) who produce a diverse range of elegant Old-World style wines. Their award-winning, Red Etude, a balanced blend of Cabernet Sauvignon, Merlot and Syrah, certainly pleased my palate! If either of the knowledgeable duo are there, absolutely chat them up since there are very few places Greg hasn't been and his passion for great wine is infectious.
Their 20-acre wooded estate overlooking Holmes Harbor includes a few garden picnic tables, a tasting room and a brand new loft, where they will be holding cooking classes. They are also building a new "barn" venue that is modeled after one of Greg's favorite European train stations.
Sleep here:
Compass Rose B&B, listed on the National Register of Historic Places, will provide one of the most fascinating sleepovers you'll ever have. Seemingly, every square inch of this elegant 1890 Queen Anne Victorian home is filled with eclectic, often priceless, antiques and objet d'art…but not in a hoarder way, much more like spending the night in a glorious museum.
Your remarkable hosts, Captain and Mrs. Marshall Bronson (Jan) will regale you with stories about their 30 years of traveling the world while entertaining foreign dignitaries, which were part of Marshall's duties as an attaché in the US Navy.
Wake up to a scrumptious candlelit breakfast served on bone-thin china, crystal, silver, linen and lace.
Word is that their island mode of transportation is a green Thirties Packard which certainly would compliment the long Victorian-style gown that Jan wears with great style.
Inside Tip: There are only 2 rooms so book well in advance.
Next stop: ORCAS ISLAND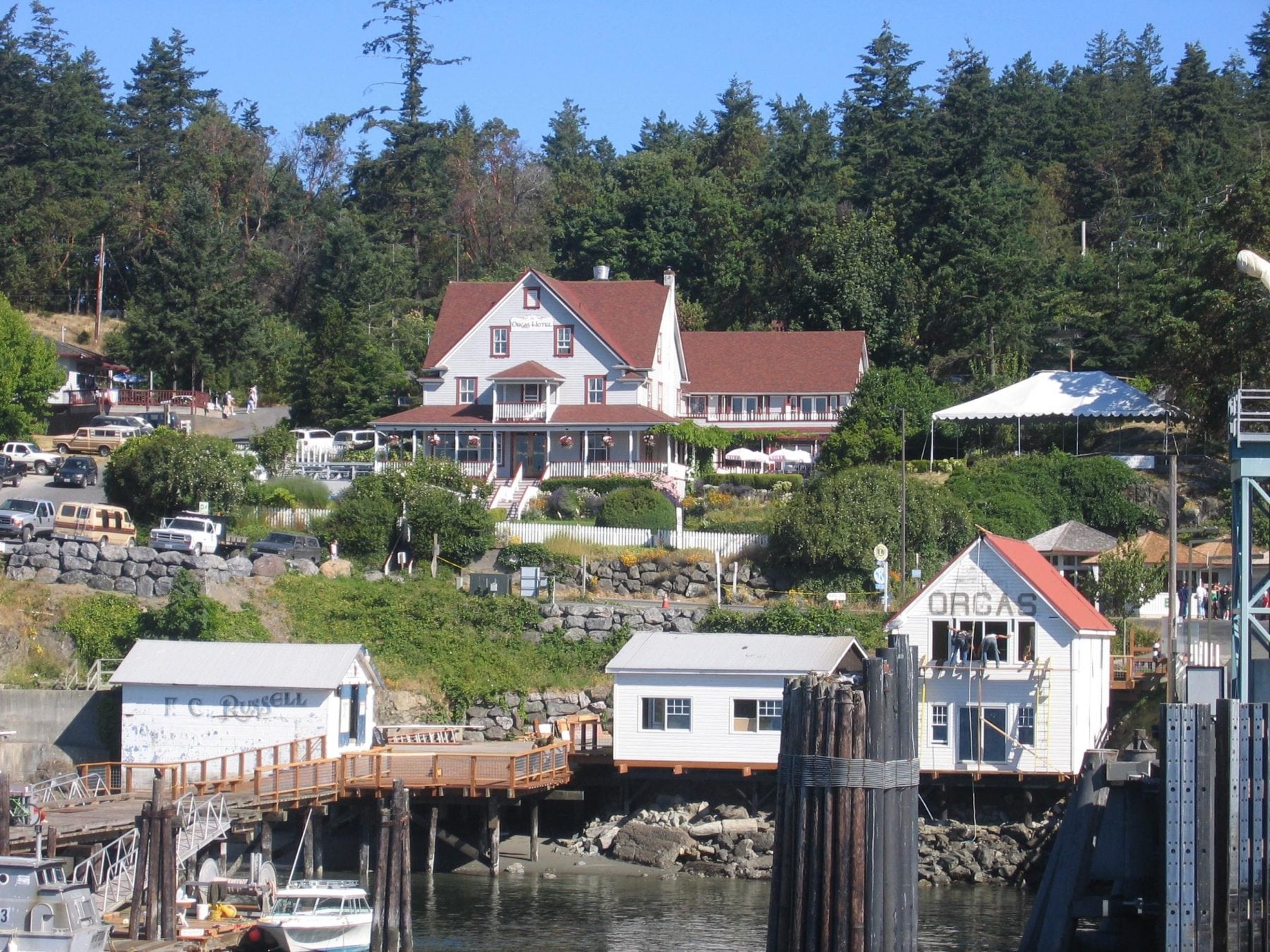 Orcas Island, Courtesy of San Juan Islands
Time to board the ferry for the scenic ride to Orcas Island, or as the locals call it "the Emerald Isle". A diverse green playground, Orcas is known for having the highest mountain in the San Juan's, the gorgeous 5,252-acre Moran State Park with 38 miles of trails for you to hike, bike, or horseback ride through, and it's charming villages.
Eat here:
Roses Bakery & Café– this gourmet restaurant has successfully merged its split personalities: fine dining, a casual pizzeria, bakery, wine store, and a specialty food grocery. It's no wonder that S.F. famed Chef Nancy Oaks and hubbie, Bruce Aidell had happily dined here the night before.
The thin-crusted asparagus pizza was calling to me but I couldn't resist ordering the steamed mussels with crème fraiche and herbs-simple perfection. Luckily, I overheard our server telling another table that there was just one serving of rhubarb raspberry crisp left which I promptly dibsed, although I generously (reluctantly) shared it with the rest of the table.
I strongly suggest raiding the store for picnic supplies for another day. We filled our basket with a crusty, seeded loaf, cheese, and a selection of charcuterie, mixed olives, some home-baked sweeties and a bottle of wine.
New Leaf Café- so many choices, so little time. It's a good thing that New Leaf serves breakfast, lunch and dinner and does all three supremely well! Since it's located inside the historic Outlook Inn, particularly lazy foodies could sleep here too and never have to budge off property!
A classic lardon salad of bacon, garlic croutons, Gorgonzola cheese, and greens, with a perfectly poached local egg set the tone. While I was expecting simple bistro food, it was elevated to a much grander scale with a menu that focused on seasonal island ingredients, cleanly and simply prepared with a nod to Chef Steve Debaste's French heritage. Their local Judd Cove Oysters embellished by a shot of housemade horseradish vodka has now become de rigueur for my mollusk enjoyment, and I'm still dreaming about the impeccably cooked halibut with white truffle verjus.
The Mansion at Rosario-This historic Arts and Crafts style mansion was originally built in 1906 by Robert Moran, a shipbuilder and former mayor of Seattle. It now houses The Mansion Restaurant, the centerpiece for the popular Rosario Resort & Spa which offers 88 guestrooms sprawled over 30 waterfront acres.
Combining old world glamour with a sparkling Cascade Bay backdrop, The Mansion Restaurant has always been stunner, but the food was "meh". The good news is that ever since Chef Raymond Southern took over the kitchen in 2016, the ohhs and ahhs, once reserved for the view, are now murmured while dining on his creative seasonal cooking.
Inside Tip: After dining head upstairs for a self-guided museum tour featuring original furnishings and fixtures and an extensive display of the ships built by the Moran Brothers Company in Seattle.
Buck Bay Shellfish –It's worth getting lost as you search out this hidden gem to dine on their locally harvested Buck Bay oysters, clams, and cooked Dungeness crab. BYO wine, cheese and crackers, fruit (which hopefully you picked up at Roses's like I told you to;) and grab a spot at one of the Shuck Shack's picnic tables overlooking the water, while the vivacious owner, Toni Hermansen, enthusiastically shows you the proper way to shuck these babies.
Inside tip: Their Buck Bay Getaway rental, a cozy 1 bedroom cabin right above the shoreline, has a fully stocked kitchen so you're staying here you could cook your own seafood dinner straight from the shellfish farm!
Drink here:
Island Hoppin' Brewery has become a second home to local craft beer enthusiasts. Visitors should start with a flight of their unique small batch beers before settling in with a pint (or growler) of their favorite brew from the constantly changing offerings. Perennial faves include their Elwah Rock IPA, which jump-started their business, to the milder K-Pod Kolsch or the dark and toasty Oatmeal Stout. Some are made with an appealing lower alcohol content so you can easily sip all afternoon here.
Doe Bay Wine Company, a most welcome newbie offers a superb selection of wine, beer and ciders housed in attractive bottleshop with a lovely back-story. Local home-schooled boy, Cole Sisson, leaves for greener pastures, falls in love with wine, travels, learns and tastes through Europe. He then works at Michael Mina's renown RN74 before moving to Vegas to become the wine director at the Michelin starred Bellagio in Vegas. During one of his business trips to Philadelphia he spies Stephanie (a Jersey native, then involved in wine sales) and was immediately smitten. She, not so much, however after much persistence she agrees to join him on a last minute trip to Oaxaca…and four day's later they were engaged. Go Cole! They marry, move back to Orcas into a (literally) tiny house and open Doe Bay Wine Company. These two simply radiate happiness, with each other and their new venture, so they are a delight to be around. During your visit make sure to taste their new 'The Orcas Project' wines -a collaboration between acclaimed Winemakers and Vineyards in the Pacific Northwest, featuring labels designed by Orcas Island Artists.
Inside Tip: Cole recently purchased a roomy Mercedes van for his new venture, Salish Sea Tour Co., your one stop choice for the island's best in Eating, Drinking and Exploring. Whether you're interested in historical narratives, learning about the coastal Salish tribes, finding the park's best photo ops, meeting local entrepreneurs behind the food scene, or arranging a hassle-free interisland adventure, Cole offers inside access to an authentic experience.
Sleep here:
SeaStar Lodging on Orcas Island– you cant get any closer to the water unless you're sleeping on a boat, and then you'd have to give up the roomy, stylish bedroom, cozy fireplace, fully equipped kitchen (there's even fresh cream for your coffee in the fridge) comfy queen bed with handmade quilts, private waterfront patio and the many other thoughtful conveniences the owners provide.
Head downstairs and you're right on Eastsound's main drag where you can shop the artsy boutiques, indie-stores and pick from the many eateries.
Inside tip: In the morning I just threw a coat over my jammies and ran across the street to Brown Bear Baking to bring back a sampling of their phenomenal pastries including an intense chocolate muffin, sticky buns and oozy Gorgonzola chive scone. Their quiche looked killer also.
Janice Nieder
Janice could be the love child of Indiana Jones and Julia Child. She was a specialty food consultant in NYC with a client list that included Tavern on the Green and Dean & Deluca. A culinary trendsetter, Janice has visited almost 100 countries searching out gastronomic adventures. She might be found sharing a smoked monkey dinner with Shuar Indians in the Amazon jungle or "running with the dogs" while truffle hunting in Marche, Italy.To keep things in balance, Janice also writes about her Girlfriend Getaways, including everything from luxurious city penthouses and Michelin starred meals to bespoke travel in remote destinations.You can follow her travels at www.janicenieder.com