Exploring the Sudtirol Wine Road – Cantina Tramin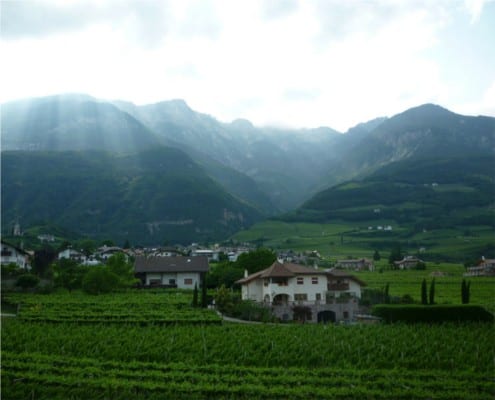 Kathy Bechtel explores the wines of Cantina Tramin on the Sudtirol Wine Road in Italy.
By Kathy Bechtel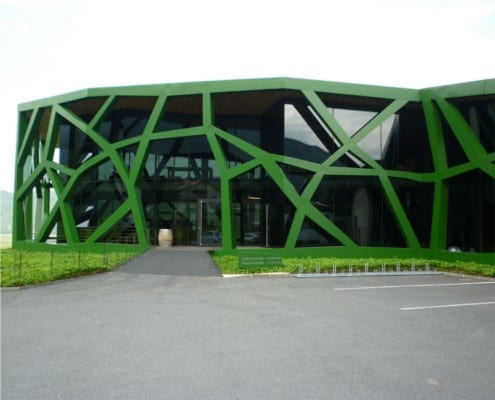 Last week brought me not one, but two opportunities to explore the wines of Cantina Tramin. Here in the US, I lead a cooking class event to benefit the Portland Symphony Orchestra, and the host of the event, a local wine distributor, selected the Tramin Pinot Noir as one of the wines for the evening. A few days later, I was exploring the Sudtirol Wine Road, a beautiful area perfect for our Italiaoutdoors Food and Wine Bike tours, and had the chance to visit the Cantina itself. Located in a spectacular setting in Alto Adige, it was a chance to enjoy their wines once again, while enjoying their splendid panoramic views of the surrounding vineyards.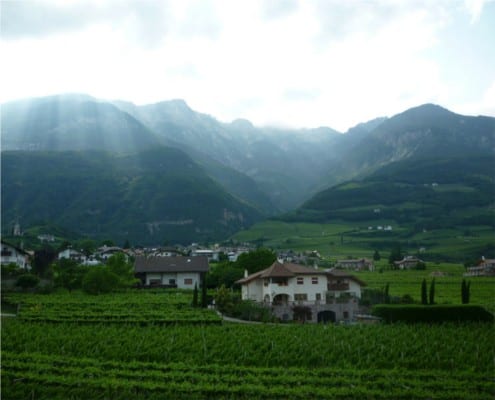 Cantina Tramin is located in the town of the same name, also known as Termeno (towns in Alto Adige have both German and Italian names). This region grows many types of wines, but it's favorite vine bears its name, Gewurztraminer, or "spicy" Traminer. Traminer is one of the oldest grapes in the world, and recent studies have demonstrated that it is the ancestor of some of the oldest grape varieties in the world, including Cabernet Sauvignon, Riesling, Pinot Bianco, Grigio and Noir. An intensely aromatic and elegant wine, its pink to reddish grapes are naturally sweet, and produce a white wine that is usually off-dry, with a strong scent of lychee.
Cantina Tramin was founded in 1889 by Christian Schrott, the rector of Termeno and a member of the Austrian Parliament – recall that this part of Italy was part of the Austro-Hungarian empire until after World War I. Cantina Tramin is among the oldest cooperatives in the region. Today, their wines are created from grapes grown by the 270 member growers. Their vineyards are located on slopes spread between the towns of Tramin, Neumarkt, Montagna and Ora, at an altitude between 250 and 850 m. above sea level. During the day, these hillside vineyards experience wonderful sun exposure and warm winds wafting up from Lake Garda just to the south, and become quite warm. As the sun sets, the temperature drops significantly as the colder air from the mountains drops down and cools the grapes. This contrast between warm days and cold nights creates very balanced, drinkable wines with a fresh minerality and elegance.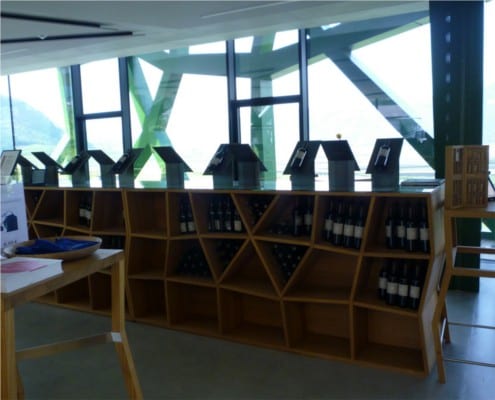 In addition to Gewurztraminer, the Cantina produces many other fine white, red and sweet wines, many from traditional grape varieties that thrive in this region. There is Lagrein, the native black grape of Südtirol – Alto Adige. Additional whites include Pinot Blanc, Chardonnay and Sauvignon, all grapes when grown in this environment display unforgettable aromatics and complexity.
Of course, when in Tramin, you must try Gewurztraminer. We enjoyed this as we watched the sun drop behind the mountains just outside, backlighting the picturesque peaks. This wine is 100% Gewurztraminer, grown in vineyards planted between 300 and 450 meters in calcareous clay and gravel in the areas of Tramin and Montagna.
The wine itself is a golden yellow, with hints of green and red. It exhibited intense aromas of rose, tropical fruits and lychee. Very fruits and intense, rich and silky, with some acidity to balance everything out. This wine pairs well with fish and white meats, and it slight sweetness is a great foil for spicy foods.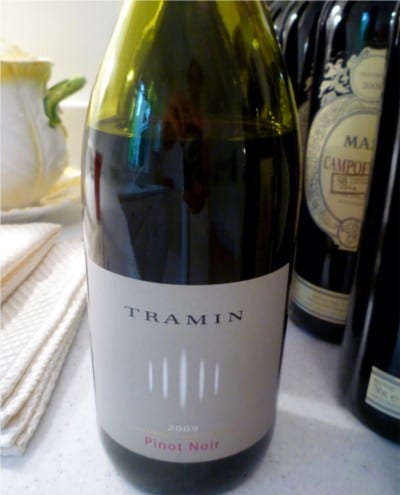 I have also enjoyed two of their red varietals. Their Pinot Nero/Blauburgunder (when sold here in the US, it is labeled Pinot Noir) again is 100% of the named varietal, with these grapes hailing from vineyards planted in gravel and calcareous clay soils between 350 and 450 meters near Mazzon and Montagna. The combination of soils and abundant sunshine give this wine a unique taste and detail. The wine is fermented and aged in a combination of French barriques, oak casks and stainless steel vats.
We very much enjoyed this Pinot Noir during our cooking class event; it is an elegant red that paired well with both the brick oven pizzas we made, as well as the grilled steak. Ruby in color with light garnet hues, it exhibits aromas of fresh berries. This is a well-balanced wine, with nice tannins and elegance.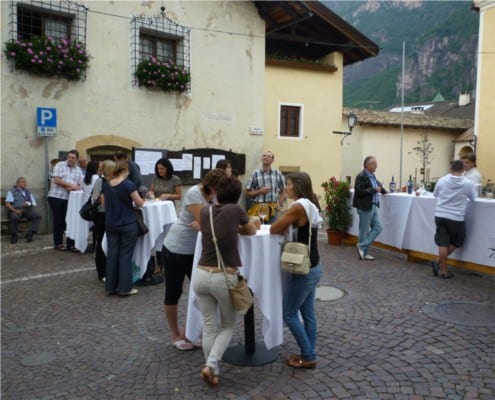 Finally, I got a chance to taste their Urban Lagrein that evening, at one of the events in the Sudtiroler WeinstrassenWochen/Vino in Festa, a month long festival in the area to celebrate the local wines. That night, we attended the Il Lagrein Al Passo Col Tempo festival in Ora, Italy. This was a chance to taste several of the local Lagreins, one of the areas most beloved indigenous grapes, along with a few of the local foods, including polenta, cheese, and salumi. The Cantina Tramin Urban Lagrein was included in the tasting line up. This is Cantina Tramin's highest quality Lagrein.
Made of 100% Lagrein, from vineyards planted in the clay, gravel and sandy soils common to the areas of Ora and Egna. It was a dark ruby red in color, with scents of dark berries with floral hints. Full-bodied and robust, with a characteristic tannic structure, it's strong acidity makes is the perfect pairing for the local salumi and aged cheeses, as well as roasts and braises.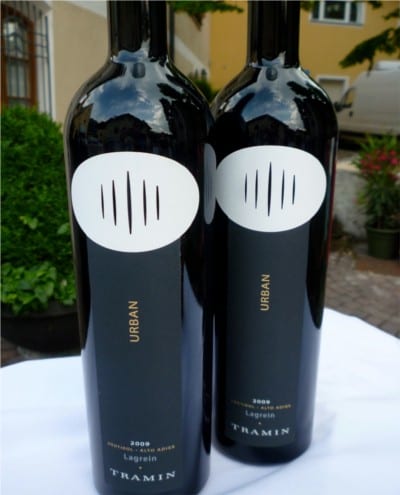 Kathy Bechtel
Kathy Bechtel's obsession with food and cooking began as a teenager. After years following a traditional career path as a telecommunications engineer, she left to attend culinary school and wine training, and is now combining her passions for food and wine, the outdoors, and travel as owner and Culinary Tour Director of Italiaoutdoors. In this role, Kathy leads small bicycle, skiing and walking tours that explore the authentic regional cuisines, local products and undiscovered wines of Northeastern Italy.