Exploring the flavors of Puerto Vallarta at CasaMagna Marriott Resort and Spa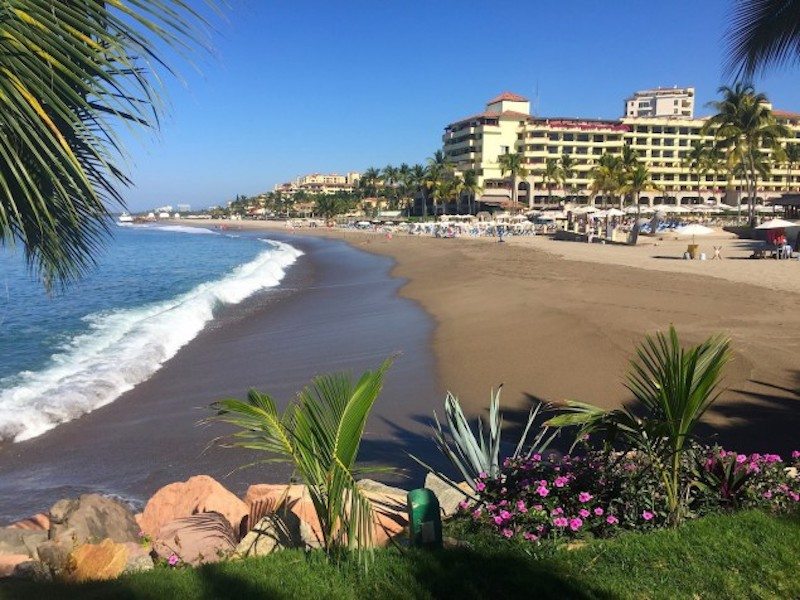 Head to Mexico's Pacific coast and explore the flavors of Puerto Vallarta at CasaMagna Marriott Resort and Spa.
Many visitors make the easy flight to Puerto Vallarta for its sprawling, uncrowded beaches, virtually guaranteed sunshine, fabulous snorkeling, jungle adventures, colorful festivals, and historic old town. As lowbrow as it is to admit, I was there strictly for the food-glorious food! The cuisine here is off the hook, be it a simple taco from a generations old food cart to an award-winning, haute cuisine dinner.
Home base for my culinary explorations was the delightfully understated, luxury hotel, CasaMagna Marriott Puerto Vallarta Resort & Spa. With its peachy secluded beachside location, just a mile from the airport, you can be sipping a passion fruit margarita while watching Benjamin's Sunset Guacamole Experience (offered Tues and Friday evening) just minutes after landing
Tip: When scooping out the avocado, guac expert Benjamin advises leaving the darker tip part so the guacomole won't discolor.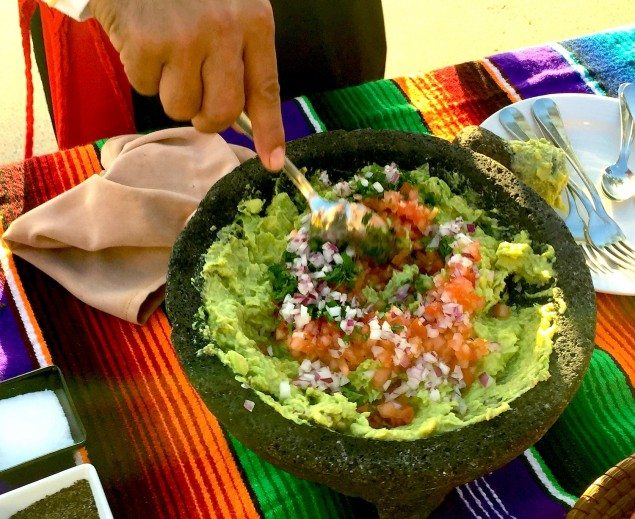 Here is a recap of my two perfect food days, an easy-peasy one where you never have to leave the hotel and one exploring further afield.
Stay In: CasaMagna Marriott Puerto Vallarta is ground zero for food lovers
First off, CasaMagna is not one of those all-inclusive, quantity over quality hotels. Instead the resort offers a handful of carefully curated restaurants which run the gamut from pristine ceviche and fresh-caught, grilled seafood (shout out for the lobster tacos) served at the romantic, beachfront Las Casitas, some excellent sushi, tempura or Teppan-Yaki at the sophisticated Mikado, or if your in the mood for something casual, head to the lively Champions sports bar to tackle a tower of sliders and wings. Jump start your day at La Estancia's bountiful brekkie buffet which features traditional Mexican favorites such as sun-dried beef, chilaquiles, steaming menudo and a array of homemade Mexican pastries. If you smile sweetly, the tortilla cook will pat you up a fresh pair filled with huitlacoche, a local delicacy aka "corn smut" or Mexican truffle.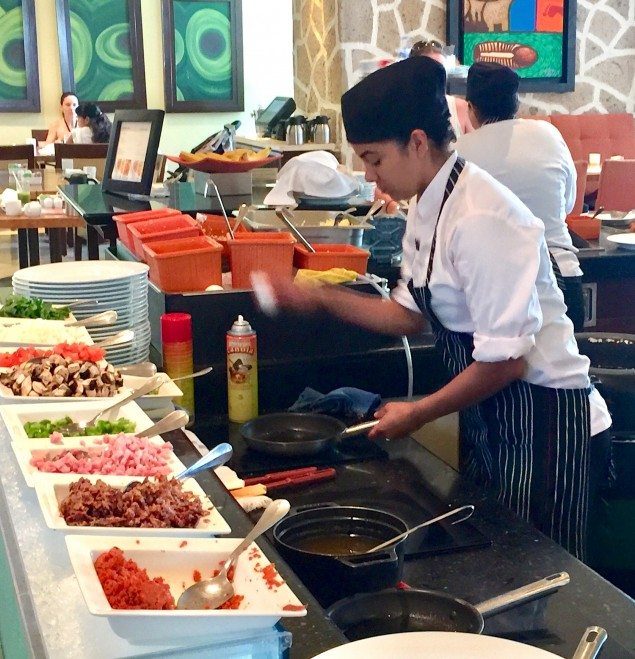 No matter which eatery you choose, you'll be served only the freshest, locally sourced ingredients with a large side of the friendliest service imaginable.
Case in point, at the breakfast buffet one morning I saw a guest call over Reyna, her server, to show her the latest photos of her new grandchild, and afterwards, they hugged like they were total besties. The next morning I sat in Reyna's station and I swear she took care of me like she was my long-lost Abuela (grandmother.) When I asked her if I could have milk instead of cream for my coffee, she brought me 3 mini-pitchers filled with low-fat milk, skim milk and even a lactose- intolerant choice.
If you enjoyed Benjamin's cooking demo, you're really going to love one of Chef Fred Ruiz's in-depth cooking classes, or at the very least, Chef Fred, a charming, handsome chef who started working for Marriott as a storeroom clerk at Rancho Las Palmas in 1981. His extraordinary culinary skills did not escape Marriott's notice and he quickly rose through the ranks, constantly searching for innovative ways (more about this later) to ensure that each guest has a memorable experience at the hotel. One of his many achievements is that he has cooked for Presidents Nixon, Ford and Regan. So far, not for President Trump!
Our al fresco cooking class started with a guided tour of the downstairs kitchen and storage areas. We eagerly sampled some piping hot cheesy croissant balls as we passed the bakery area. Loved that there was a classroom where English and computer skills were available for the employees. Back upstairs, they handed us professional Marriott black aprons, toques, our choice of margaritas, and printouts of the menu which included Hamashi & Coconut ceviche, an interesting vegetarian ceviche based on jicama cucumber and cauliflower, and Tuna Crusted with 5 Chilies. Chef Fred told us that when searing the tuna the skillet must be super hot before adding the fish, then you count to ten, flip it over for another ten count and it will be perfectly cooked.
And then the fun really kicked in. We broke up in 2 groups for an impromptu Iron Chef cook-off to see which team produced the best tasting and looking ceviche. Our team (The Bloods) called for another round of drinks before creating the winning dish, a gorgeous (if I do say so myself) red snapper, avocado and coconut ceviche garnished with caviar and plantain chips.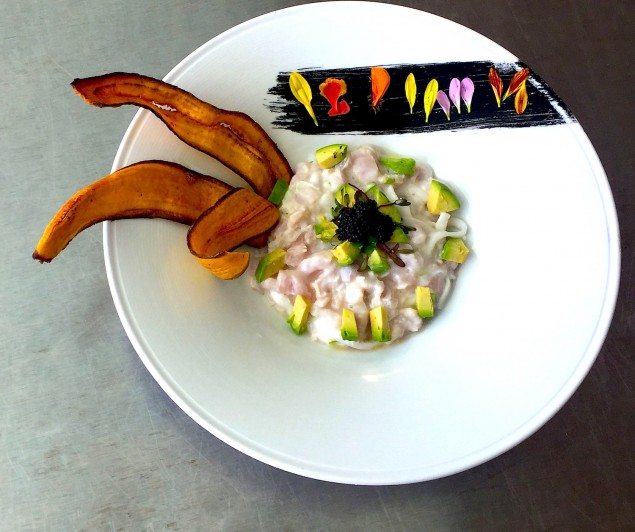 Celebratory drinks were in order so we traipsed over to the new Coconut Bar for one of their festive drinks served in a hollowed out coconut.
Time out for a visit to the gorgeous spa, which we sorely needed after our "rough" afternoon cooking. Like CasaMagna's cuisine many of the specialty treatments are based on fresh indigenous products such as a Blue Agave Syrup & Sea Salt scrub, a Honey Hibiscus Cocoon, or the Hydrating Tequila Coconut treatment.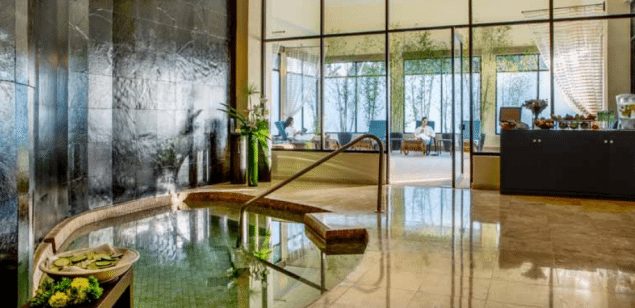 For dinner there are two unique foodie experiences that you'll want to try. During our upstairs/downstairs morning tour we saw a glassed- in room overlooking the bustling kitchen, which is available for a private chef's-table dinner. It seats six and looked like great fun.
We opted for a magical dinner served in their secreted Herb Garden, surrounded by the fragrance of "parsley, sage, rosemary and thyme".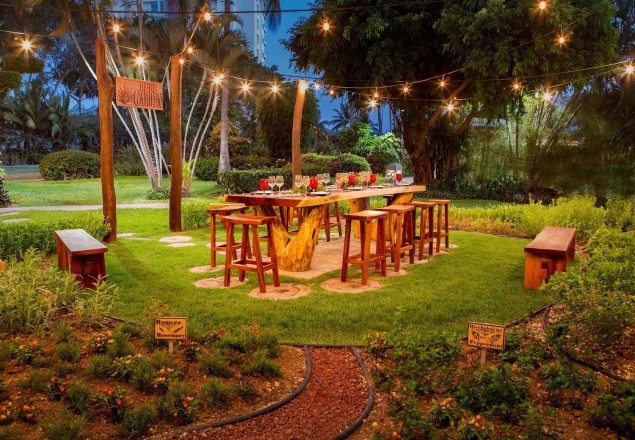 The resident tequila sommelier led us in an informative tasting highlighting the hotel's incredibly smooth signature brand, made with blue agave grown at the resort. Our six-course, "Dine Around Mexico" dinner was an imaginative, gastronomic trip through the different regions in Mexico. My favorite stops were the lime soup from the Yucatan, the Veracruz-style crab enchiladas, and the cornbread dessert accompanied by a Chiapas coffee sauce.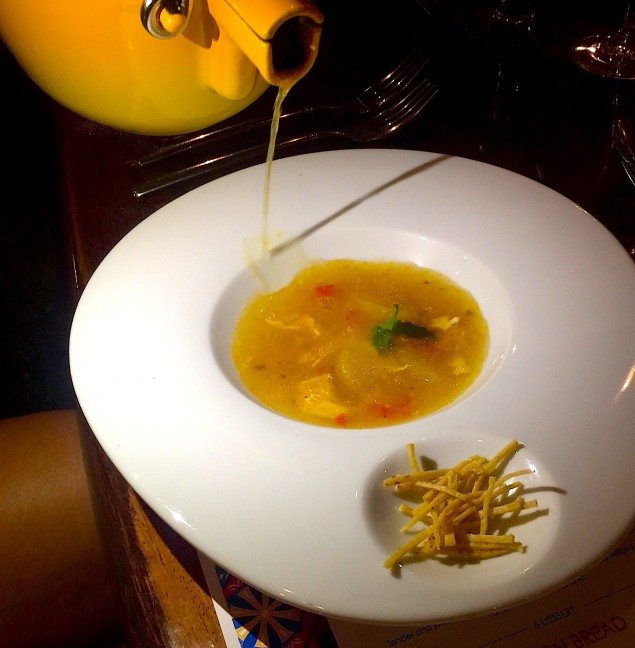 Happily sated and just a wee bit tipsy, I toddled off to my room, where my comfy signature Marriott "Revive" bed (complete with my name on the pillow to ensure I was in the right room) awaited me.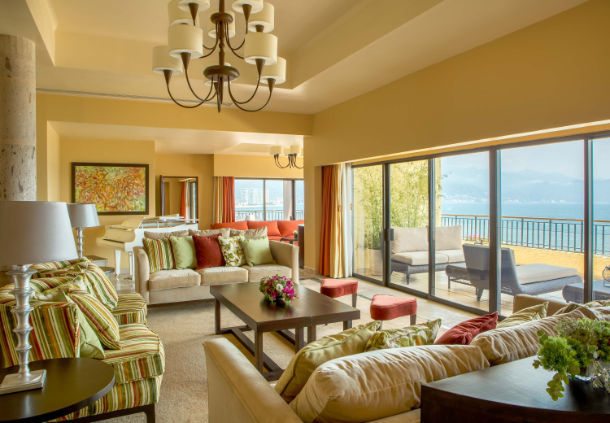 Off-premises foodie discoveries
I managed to show great restraint at the breakfast buffet this morning, choosing only a fluffy egg white, spinach and cheese omelet and some fruit juice since we were heading downtown for our 10:00 am Vallarta Food Tour, which covers the vibrant Old Town, the magnificent Guadalupe Church, and the Malecón, Vallarta's lively boardwalk.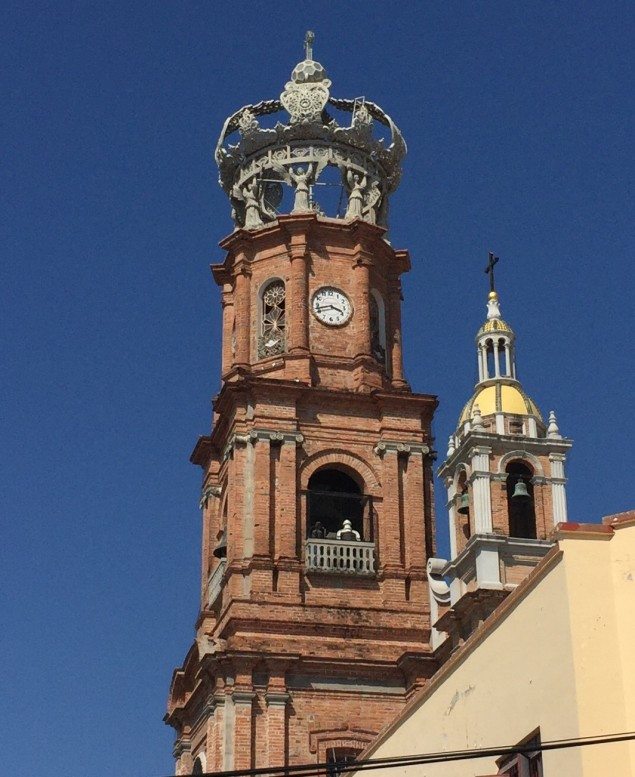 I cannot recommend this 3-½ hour tour (which somehow morphed into a 5 hour eating extravaganza) enough, particularly if you scored Anna Maria as your guide. There is little that she doesn't know, and enthusiastically shares, about the history, culture, and the local food scene in Puerto Vallarta. As we strolled from one food stop to the next she was greeted by locals at every turn, and hearing her back stories about the families who took such pride in their food, added greatly to our experience.
I was totally sold after my first sizzling bite of taco carne asada from the El Cuñado Taco Stand, run by the same family for over four generations. The tacos were handed to us on colorful plastic plates that were hygienically wrapped in a disposable plastic bag, ready to anoint from their selection of sauces, ranging from a chunky pineapple salsa to a tear-enducing chili peanut sauce. When I asked the vendor for a spoon for tasting the different sauces he winked at me as he handed me a hot tortilla and said, "Here's a Mexican spoon."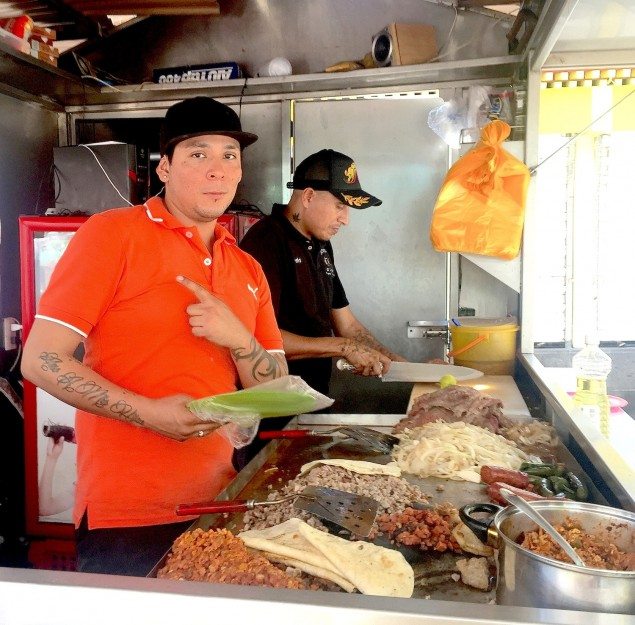 Subsequent stops included Cevicccheria el Guero, owned by a family of fishermen, renown for their Mahi-Mahi ceviche cured in lime with carrot, green pepper and green chili, as well as their amazing smoked marlin, a.k.a. "pork of the sea",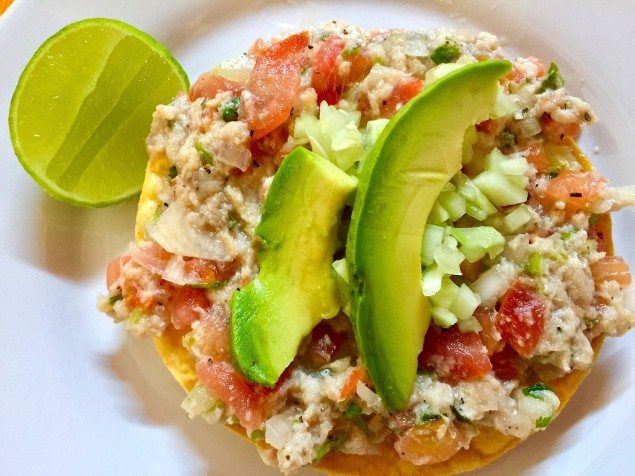 Vallarta Factory- an artisanal trifecta combining a chocolate shop, coffee roaster and hand rolled Cigars, and La Gloria Tortilla Factory, where Anna Maria introduced us to the "poor man's taco which is a piping hot corn tortilla sprinkled with sea salt from Colima, which A.M. informed us was the most flavorful.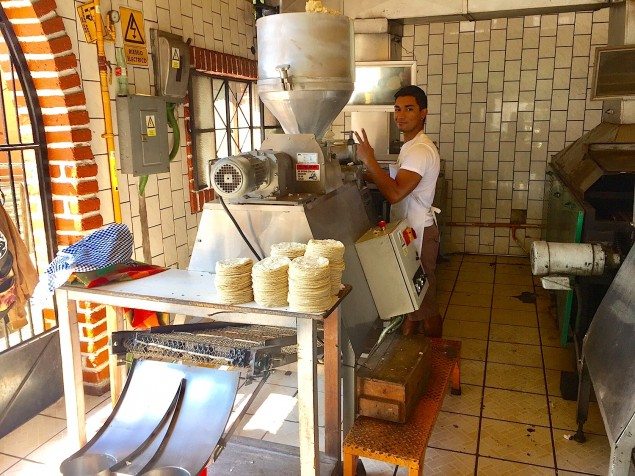 At Gaby´s Restaurant we learned the proper 3-step process for tasting tequila. First chug your lemon juice to line your stomach, next take a swig of tequila and while it is in your mouth take a breath in through the nose, swallow and then exhale, followed up with a shot of sangrita, a blend of tomato and orange juice, lime and chili pepper. It was the perfect accompaniment for their traditional green and chocolate moles.
No tour is complete without meeting the dapper Mr. Conception, Puerto Vallarta's answer to Mr. Clean, while tasting his refreshing Tuba drink-a secret concoction of coconut, apples, walnuts and???
A couple of tips: Not only should you come super hungry to Anna Maria's tour but be sure to bring a notepad to write down her nonstop barrage of helpful insider shopping/dining tips starting with from where we can buy her fashionable shoes, to telling us about The South Side Shuffle, a festive street party held every other Friday with special gallery openings, strolling mariachis and gratis cocktails. Appropriate attire is comfy shoes and uber-stretchy pants.
Waddling back to the hotel, I nabbed a beach hammock for a much-needed nap in the sun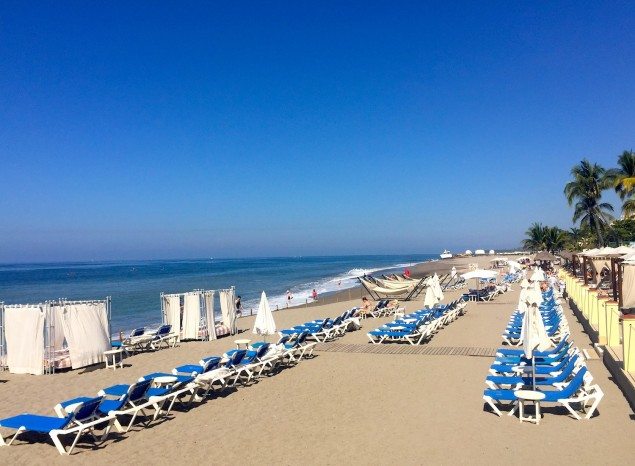 before heading out to dinner at El Arrayán which serves haute Mexican regional cuisine in a colorful courtyard setting. The Arrayán tree produces a small, simultaneously, sweet and tart fruit that that is usually found around the region of Jalisco, México. The delightful owners, Claudia and Carmen, managed to grow one in the back yard (hence the name) for their trademark Arrayán margaritas. While pursuing the menu we managed to polish off a basket of chips and all three of the delectable sauces that accompanied them. My favorite, the salsa negra, an addictive chipotle and garlic blend is sold in small jars– perfect prezzie to take-home. Everything here is homemade cleverly combining pre-Hispanic ingredients such as a chiles, corn, nopales, beans, and avocado with innovative, contemporary touches.
Trademark dishes include Roasted Crispy Cricket Tacos, Duck 'carnitas', Plantain Empanadas and Cochinita Pibil, Yucatán pulled pork. Finish off with the Pick 4- Ice Cream Sampler so you don't have to choose between the Organic vanilla, Coffee, Mexican Chocolate, Caramel+cookies flavors.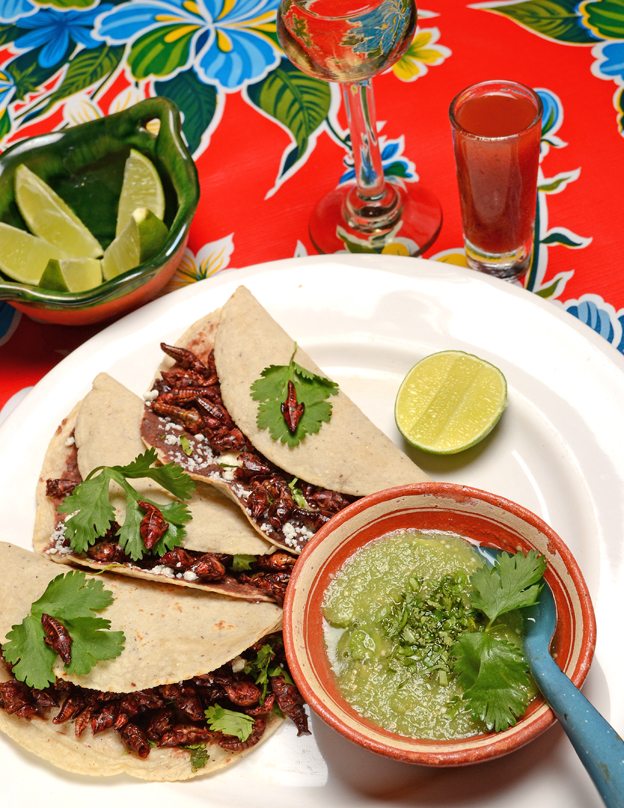 And thus ends two perfect days of eating. The only thing better would be to "Wash and Repeat."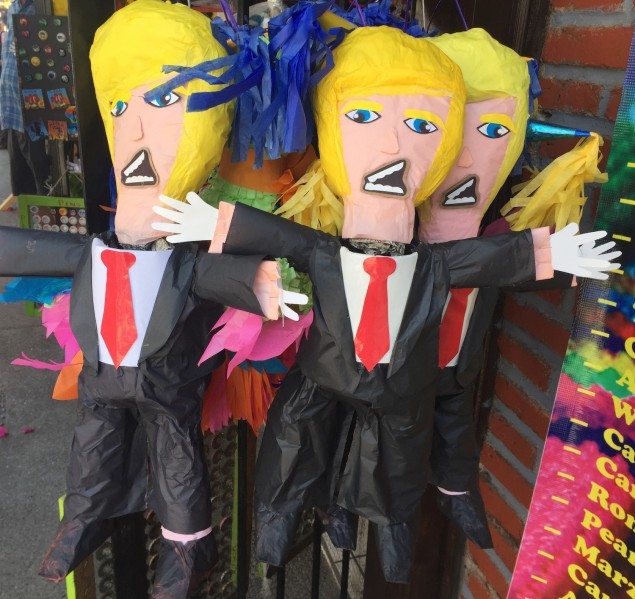 Details:
The CasaMagna Marriott Puerto Vallarta Resort & Spa is nestled between the Sierra Madre Mountains and Banderas Bay. This upscale, beachfront property features guestrooms decorated with a vibrant Mexican-inspired palette and patterns, floor-to-ceiling windows and sliding doors, luxurious bedding, contemporary marble and granite bathrooms, plush bathrobes and slippers, balcony/terrace, air-conditioning, flat-screen cable TV with premium channels, safe, daily newspaper, mini-bar, and coffee maker. The Ohtli Spa, one of the largest in Puerto Vallarta offers innovative treatments and therapies. There is also a well-equipped gym with indoor lap pool. The hotel has 433 rooms including 29 suites, which are well worth a surprisingly small splurge. That famous Marriott hospitality is complimentary throughout your stay!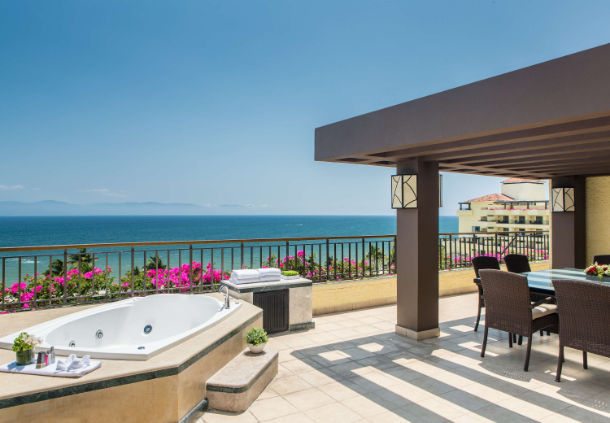 Janice Nieder
Janice could be the love child of Indiana Jones and Julia Child. She was a specialty food consultant in NYC with a client list that included Tavern on the Green and Dean & Deluca. A culinary trendsetter, Janice has visited almost 100 countries searching out gastronomic adventures. She might be found sharing a smoked monkey dinner with Shuar Indians in the Amazon jungle or "running with the dogs" while truffle hunting in Marche, Italy.To keep things in balance, Janice also writes about her Girlfriend Getaways, including everything from luxurious city penthouses and Michelin starred meals to bespoke travel in remote destinations.You can follow her travels at www.janicenieder.com