Jessie Chien explores what her neighborhood Chinese Market has to offer, and finds a new favorite in the lesser-known Chrysanthemum Green.
By Jessie Chien
There's a lot of things I won't bring home from Chinese markets- meat that I don't know how to cook, weird crustaceans with a few too many legs for me to count, fermented soy blocks floating in seemingly opalescent brine. Even growing up and eating pigs feet, shrimp heads, and fermented goodies, I figure I'm better off eating such delicacies at restaurants rather than tackling the ingredients in my own kitchen.
But when it comes to the produce aisles of Chinese markets, my prejudices disappear and it's no holds barred.  I'm an ambitious vegetable purchaser, which works well to satiate my curious (and vigorous) omnivorous diet. Regardless of where my travels take me, I'm always game to try the smelliest fruits and the most foreign-looking vegetables without much hesitation.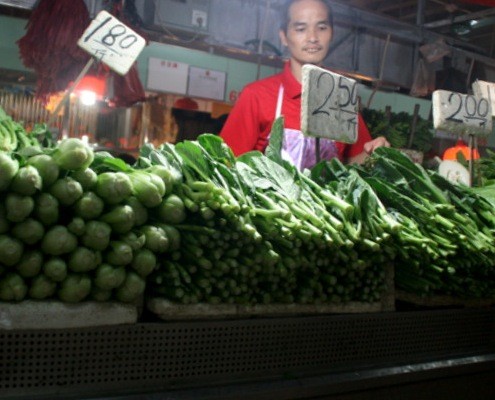 Living in China has forced me to explore my vegetable options, much to my delight. I've gone far past the daikon and watercress and bean sprouts that I've seen at every Whole Foods Market in the States. Here in China, there are also rows of celtuce, lotus root, tiny spicy peppers, hollow-heart greens, baby ginger, seven varieties of scallions from each vendor, and many vegetables that I can't even name. And then, of course, there is the Chrysanthemum Green.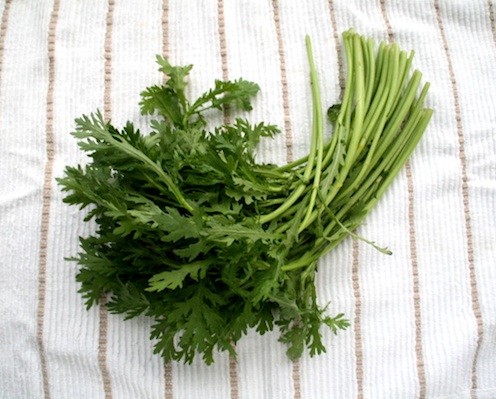 As the name suggests, the green comes from the same family as the flower of the tea of the same name. I have always loved chrysanthemum flower tea, and finding out that a green was edible from the same family truly excited me. Like, finding out I could eat zucchini flowers for the first time, or those delicate hibiscus petals in my drink were (gasp) edible!
A staple in many Asian homes, the Chrysanthemum Green hasn't traveled very far West yet, although it has been making a slow but steady incline in the London area vegetable market due to an expanding Vietnamese community. The Chrysanthemum Green goes by many other names, including Tong Hao or Tung Ho (depending where you are in China), Shingiku (in Japanese), Tan O (Vietnamese), Chop Suey Greens, Edible Chrysanthemum, and more. It's a flat leaf green with a long and slightly fibrous stem, and much like a tamer dandelion in shape and color. The leaf grows in slightly cooler climates, similar to other Chinese greens is harvested young, for the leaves become more pungent and bitter as the plant ages.
See Also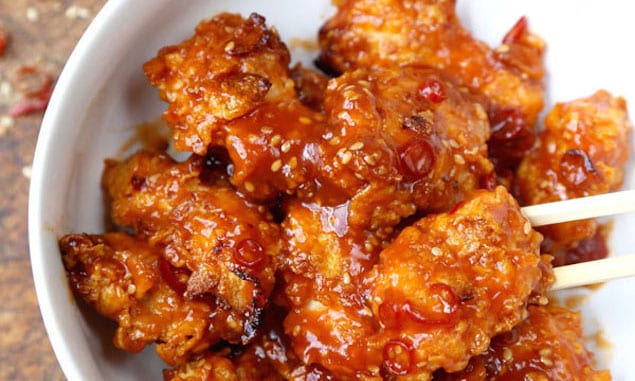 The greens are often thrown into Chinese hot pots or stews, medicinal soups, and sometimes used in various stir frys. When I asked my 'greens lady' at the market how to cook these ordinary-looking greens, she advised me to create a simple sauté with some garlic- stems, leaves, and all. I have branched out past Chinese cuisine, however, and found they are just as delightful in various other preparations. The greens can also be used, raw, in hearty winter salads, much like kale or dandelion or other sturdier salad greens, or slightly wilted with a warm vinaigrette and toasted walnuts on top. I imagine with fall fruits abundant, persimmons and plums would pair exceptionally well with the grassier flavor of the greens. (Don't be alarmed, though, its grassy flavor is herbal without being as pungent as the shiso leaf.)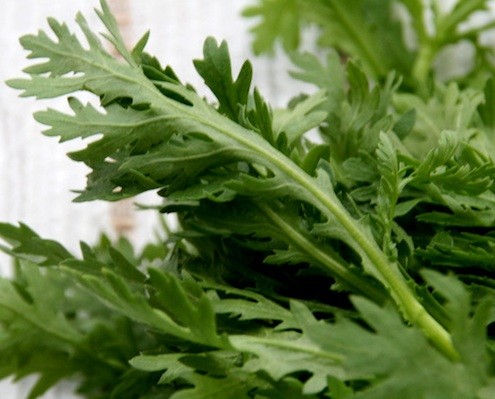 These days, I've been bringing a handful of Chrysanthemum Greens home from every trip to the market.  A quick sauté with a generous squeeze of roasted lemon, much like how I prepare my spinach, has made its appearance alongside servings of fish or chicken on many a night. Most recently I've been discarding the stems and using just the leaves in quinoa and lentil dishes. The green begs for wonderfully earthy complements like legumes and barleys, chanterelles, fatty sausages or lardon, preserved lemons, shallots, onions, and garlic, and any nuts- pinenuts, as I'm imagining just now.  I can't stop thinking of the possibilities, and guarantee that you won't either once you dare to bring home this under-appreciated vegetable.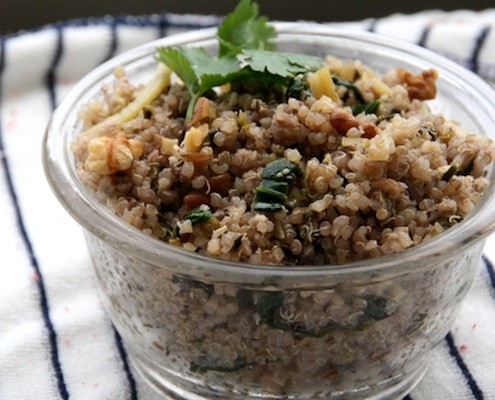 Print
Quinoa with Chrysanthemum Greens, Preserved Lemons, and Toasted Walnuts
---
Author:

Jessie Chien

Total Time:

35 minutes

Yield:

2

-3

1

x
Description
An ordinary Quinoa is elevated with the addition of herbaceous Chrysanthemum Greens, piquant Preserved Lemons, and earthy Toasted Walnuts. Served hot, warm, or cold- a versatile and deceptively easy side dish.
---
1 cup

(250mL) Quinoa

2 cups

(

16oz

.) chicken broth

2 Tbsp

. extra virgin olive oil

1/2

red onion, finely diced

2

shallots, finely chopped

2 cups

(

475

mL) Hen of the Woods mushrooms (loosely packed), coarsely chopped

2

preserved lemon quarters, thinly sliced into slivers (or, substitue the zest and juice of

one

lemon)

1/2 cup

(120mL) cilantro, loosely packed, chopped

1

large bunch Chrysanthemum Greens, leaves only (10-1

5oz

)

1/4 cup

(60mL) roasted walnuts
Salt and Pepper, to taste
---
Instructions
Cook the quinoa in chicken broth according to the instructions on the package (1 cup of quinoa will usually need to cook for 20-30 minutes)
Roast walnuts for 15 minutes at 300F, checking every 5 minutes to make sure they don't burn.
In the meantime, chop and prep your vegetables. Heat up the olive oil in a large nonstick skillet on high heat. Saute shallots and onions until browned, 5-7 minutes. Turn down heat to medium high.
Add mushrooms, preserved lemons, and cilantro, stirring for another 2-3 minutes. Add salt and pepper to taste.
Add the Chrysanthemum greens and saute until wilted, about 4-5 more minutes. Turn off the heat.
Take Quinoa off the range, testing for doneness. Fluff quinoa with a wooden spoon and transfer to the skillet. Add roasted walnuts. Toss, finishing with salt and pepper, if necessary.
Serve hot, or set aside and serve at room temperature.
Prep Time:

20 mins

Cook Time:

15 mins
Jessie Chien Bryson
Jessie Chien Bryson grew up spending sunny California Thanksgivings eating 20lb. free-range turkeys along with sides of Chow Mein, which is what she thinks cemented her insatiable interest of food cultures and sustainable methods as an adult. She recently spent two years in Guangzhou, China, where the locals were said to eat anything with four legs but a table and anything that flies but a plane. She's now on the other side of the world in Dar es Salaam, Tanzania, where she keeps a diary of food, travel, and expat adventures at www.jessbopeep.com