Espresso Chocolate Eclairs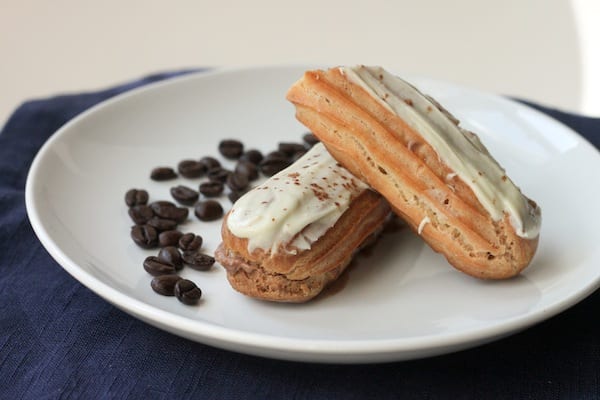 Amrita Rawat serves up some absolutely gorgeous espresso chocolate eclairs for the Holidays.
By Amrita Rawat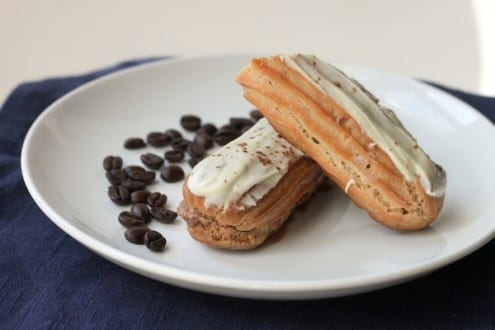 These are incredibly easy to put together, and very addictive. You can use pretty much any choux puff dough recipe for the eclairs, but I really think the star of the show is the chocolate-espresso filling combined with the cinnamon-white chocolate topping. I can't wait to make these again!
Espresso Chocolate Eclairs
Check out these absolutely gorgeous espresso chocolate eclairs.
Author:
Amrita Rawat, Adapted from Bouchon Bakery
Ingredients
Eclairs
1¼ (175g) cups all-purpose flour
2 tablespoons + 2 teaspoons (33g) granulated sugar
4.2 (120g) ounces butter, room temperature
1 cup water
¾ tsp salt
1 cup (250 grams) eggs
Chocolate-Espresso Mascarpone Filling
⅓ cup natural, unsweetened cocoa powder
1 Tablespoon espresso powder
1½ cups chilled heavy whipping cream
1⅓ cups granulated sugar
2 8-ounce containers of chilled mascarpone cheese
White Chocolate Topping
3 ounces white chocolate (use the good stuff that has cocoa butter in the first 3 ingredients)
1 tsp corn syrup
1 tsp butter
Instructions
Eclairs
Combine the flour and sugar in a small bowl.
Heat the butter, water, and salt in a saucepan until simmering and until the butter has melted.
Remove from heat and whisk in the flour and sugar--whisk constantly until it comes together in a cohesive batter.
Add in the eggs, a little at a time and whisk constantly until mixed.
Store in the fridge until cold.
Preheat oven to 375 degrees F.
Line a baking sheet with parchment paper.
Transfer the dough to a pastry bag with a star tip.
Pipe out about 6 inches of batter and leave the edge in a curl at the end of the eclair
Wet your finger and press down the curled tip at the end of each eclair so that it doesn't stick out.
Place the sheet pan in the oven and lower the temperature to 350 degrees F.
Bake for about 40 minutes, rotating the pan halfway through.
Lower the temperature to 325 degrees F and bake for about 20 minutes, until golden brown.
Lower to 300 degrees F and bake for 10 more minutes or until the eclairs feel light.
(You may break one open and check the inside--it should be completely cooked).
Let cool completely before filling or freezing.
Chocolate-Espresso Mascarpone Filling
Add the espresso powder and the sugar to the cocoa powder in a bowl. Bring the heavy cream to a boil and then slowly pour the cream over the cocoa mixture, and whisk until the cocoa and espresso is dissolved.
Chill until completely cold.
Beat with an electric beater until it firms up a bit.
Add in the mascarpone and beat until it's thick and forms firm peaks.
Try not to overbeat as the mascarpone can curdle.
White Chocolate Topping
Melt butter in a heatproof bowl in the microwave or over the stove (do NOT let it burn!)
Use a spoon to spread some on top of each filled eclair.
Sprinkle some of your best cinnamon on top.
Store in the fridge; eat chilled or at room temp.
Best eaten the same day it's made.
Assembly
Fill a piping bag with a round tip with the chocolate-espresso cream.
Poke a hole on the bottom of each eclair (or really, anywhere you see an opening) and fill with the cream until the eclair feels heavier or until the cream starts to spill out.
Use a spoon or dip the tops of each eclair into the white chocolate topping.
Let dry in the fridge or on parchment paper on the countertop and then enjoy.
Amrita Song
Amrita Rawat is the author of the blog Chai and Dumplings. Born in India and a lifelong resident of Atlanta, she recently moved to Saint Louis. Her love for food stems in part from its ability to bring cultures together and in part from how darn good it feels to eat a delicious meal. She loves traveling and has eaten her way through cities like Hong Kong, Paris, Budapest, Mumbai, and Shangri-la. Amrita is also a contributor to Sauce Magazine in St Louis.