English Sticky Toffee Pudding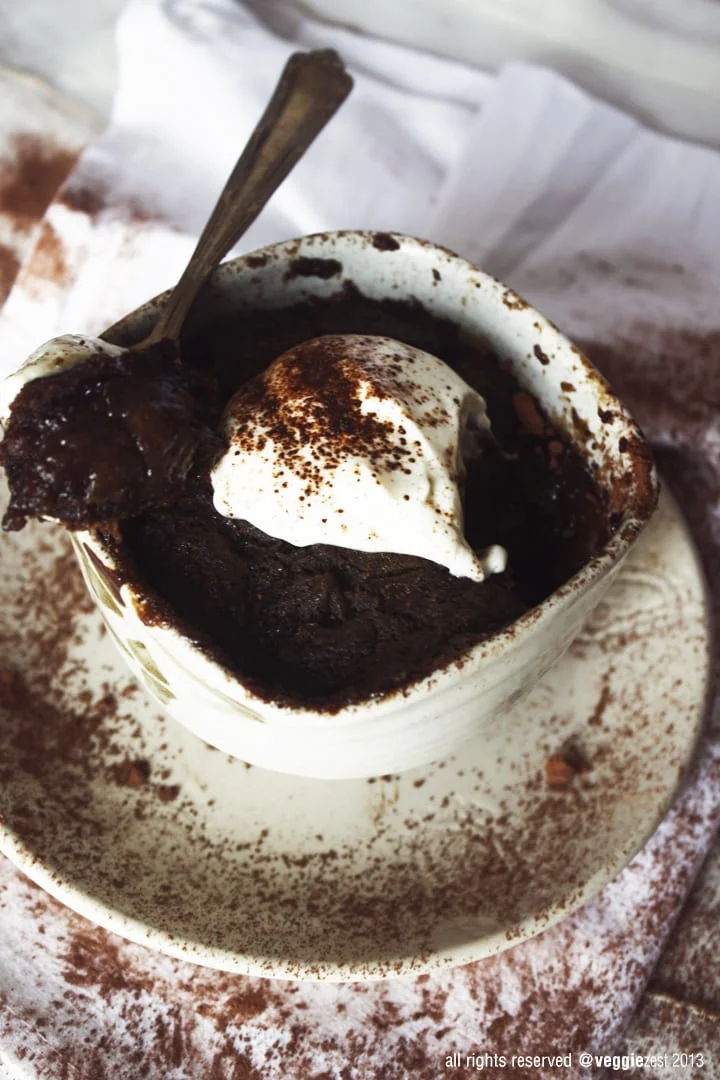 The addition of unsweetened cocoa powder and a sauce that is baked in instead of poured on top keeps this take on the traditional English dessert from being cloyingly sweet.
By Pallavi Gupta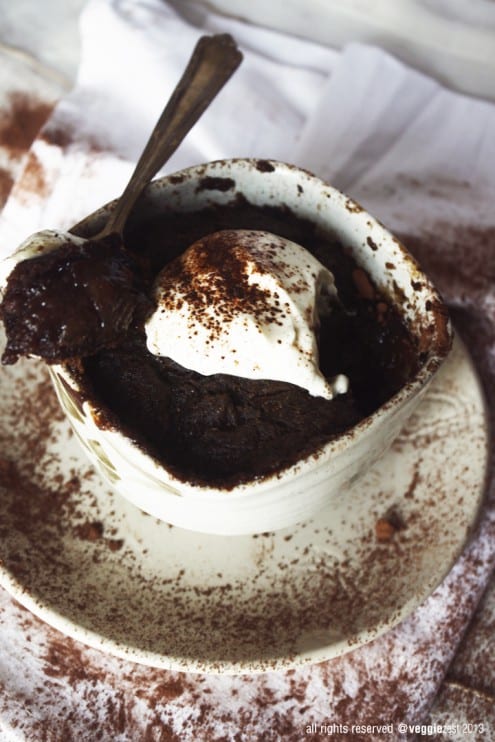 Its funny how food sometimes connect you with people. A week ago I was browsing for some dried herbs in the spice section of my supermarket and there was this person who was looking for paprika. He asked me if he could find it there ad I told him that I haven't seen any Paprika in Pondy so far and that I always ask my parents to get it for me from Kuwait. We got onto chatting about how he and his wife are travelling for past 14 months and all the lovely places that they have been to. I finally offered him to take some paprika from me and that made us meet for a dinner. We had a lovely time with them and bonded over food. He had so many stories about food and other wise from all the different parts of world. Since they were away from home (England) for sometime now, Mike mentioned how there were specific dishes that he was missing from back home. One of them were the sticky toffee pudding, and since I had never made one before – I took it upon myself to make it and feed them the pudding.
They came over for coffee and desserts and got so happy and excited to see the pudding (it was a surprise). They loved it and I was very happy.
This recipe however is the second batch I made on a different day – and this is a self saucing pudding. I felt that the pudding I made for the first time was a bit too sweet for my palette – it gets a lot of sweetness from the dates, the sugar and the toffee sauce that is poured over it right before serving. I do prefer this to the original/classic recipe that I had made because this version is more moist, gooey and has the sauce inside so that it doesn't taste super duper sweet. Just to cut down on the sweetness a bit I also added some unsweetened cocoa powder in the pudding batter. It did the trick and kind of balanced out the sweetness a bit. I also loved how it came out bubbling from the oven with the pudding in the center and the sauce all around, it was a very pretty sight. Serve this delicious pudding warm with some unsweetened whipped cream. Hope you like my take on this classic English dessert!
English Sticky Toffee Pudding
The addition of unsweetened cocoa powder and a sauce that is baked in instead of poured on top keeps this take on the traditional English dessert from being cloyingly sweet.
Serves:
5 large or 8 medium ramekins
Ingredients
1 cup black tea, warm not boiling
1 cup seedless dates (200 grams)
½ cup butter
½ tsp baking soda
¾ cup flour
2 tbsp unsweetened cocoa powder
½ cup brown sugar
½ cup regular granulated sugar
2 eggs
Vanilla
For the sticky toffee sauce
½ cup Brown sugar
1 cup boiling water
2 tbsp butter
2 tsp cornstarch
Vanilla
Instructions
Preheat the oven at 350 F and grease 4 to 5 ramekins.
Soak the dates in tea for 10 minutes. Cook over medium low till the mixture starts to simmer. Turn the heat off and mix in the baking soda. Keep aside, let cool. Once it's cooled, pour it into a blender and pulse to form a chunky puree. Keep aside.
In a large bowl cream butter and both the sugars together till the mixture turns pale and fluffy (a few minutes).
Add eggs one by one and continue to mix.
Sift in the flour and mix to form a lump free mixture – do not over mix, stop as soon as all the flour is mixed in.
Fold in the date puree.
Divide the mixture in ramekins. Keep aside.
In another bowl add sugar, butter, corn starch and vanilla – mix roughly.
Add the boiling water and mix to form a smooth sauce.
Pour the sauce over the pudding batter (divided equally between the ramekins).
Bake for 30 to 40 minutes or until a skewer comes out clean upon inserting in the center of the ramekin.
Serve warm with unsweetened whipped cream.
Pallavi Gupta
Pallavi is a vegetarian globetrotter, who currently lives in the southern part of India. Past ten years of her life includes living in six cities in three different countries. It has added to her vast exposure of cuisines from different parts of the world which is now reflected in her cooking. She shares her knowledge of vegetarian and vegan recipe from around the world via her blog Veggie Zest. When not cooking or photographing, she does graphic design.