After a week of these vibrant green drinks for breakfast, Carly DeFilippo can attest that they're energy in a cup.
By Carly DeFilippo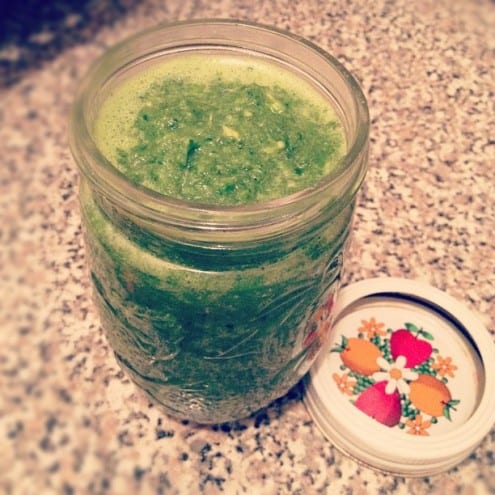 Energy in a Cup: All Green Smoothie
The hype around health smoothies always made me suspicious, but after a week of these vibrant green drinks for breakfast, I can honestly attest that they're energy in a cup!
Ingredients
½ cup water
2 celery stalks
½ cucumber
3 romaine leaves
5 kale leaves (de-stemmed)
1 ripe avocado
1 tbsp minced ginger
¼ cup chopped basil
¼ cup chopped mint
Lemon juice/lime juice/unfiltered apple cider vinegar
Instructions
Pour water into your blender.
Finely chop and add to blender (one vegetable at a time) celery, cucumber, romaine, kale, avocado.
Scoop out ripe avocado, blend into mixture.
Add minced/chopped ginger and herbs to mixture.
When you are ready to serve, add acidity to taste: either a healthy squeeze of lemon/lime juice, or - for an extra-healthy boost - a splash of raw, unfiltered apple cider vinegar.
Notes
Unless you have a very high-powered blender, like a Vitamix, make sure each vegetable is thoroughly blended into the water before adding the next. You can use a wooden spoon to pre-mix the rougher vegetables into pre-existing liquid in order to ease the process. You can vary the amount of water you use to fit your texture preferences - and/or you can make thicker smoothies for easier conservation, then add a bit of water and stir when you're ready to drink.
Carly DeFilippo
Carly is a Contributing Writer at Honest Cooking. Though the first line of her college application essay was "I love tunafish," it wasn't until she pursued graduate studies in Paris that she ever considered a future in food. Based in Manhattan, Carly is a freelance writer and the co-founder of Cognoscenti Creative, a boutique branding agency dedicated to establishing artisans as influencers.