A chilled glass of rose wine, a crisp salad of just picked greens, and a simple savory tart make a near perfect summer lunch.
By Judith Klinger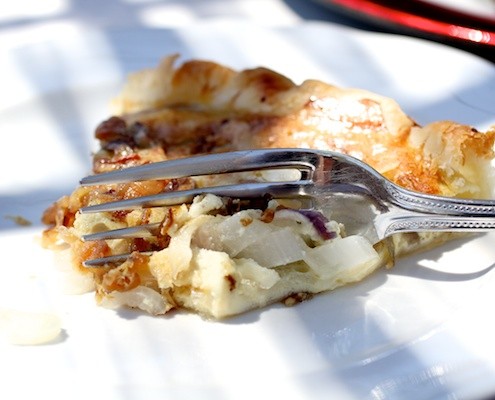 It would be a completely perfect lunch if the peaches were in season so dessert could be a peach, bursting with sweet, sticky juice.
Savory tarts are like pulling a culinary rabbit out of the hat. Throw bits of this and that together, along with some eggs and cream and you have a meal. When the tomatoes start producing and there are more cherry tomatoes than you can possibly handle, what could be better than a warm roasted cherry tomato tart served with a cool whipped ricotta and basil accompaniment? Or when there is an abundance of red onions, why not pair their sweetness with the tang of blue cheese?
The tart's tricky part is the crust. A French tart uses a 'pate brisee', an Italian torta uses 'pasta sfoglia' and in English, it's a pie dough. The name isn't important because the essentials are the same: flour, fat, water and salt.
The ratios change depending on the cook: equal parts flour to fat, or 2 parts flour to one part fat, but the technique remains constant. Flour and fat are combined or 'rubbed' together as quickly as possible, moistened with just enough water to hold the dough together, and a pinch of salt for flavor.  For a good discussion of a basic tart dough, click here (omit the sugar when making a savory tart).   The fat can be butter, shortening or lard, depending on what you have on hand.
The little lumps of fat in the crust, melt in the oven during baking, creating little steam pockets. The steam creates the layers and the flakiness of the crust, so when making the dough, it's more important to work quickly and without heat,  than it is to get a perfectly smooth dough.
Everyone has their own version and I use 3 parts flour to 2 parts fat to 1-2 parts cold water, with a good pinch of salt. Combine the ingredients, wrap tightly in plastic wrap for 15-30 minutes, and then roll it out.
Once you've mastered the crust part, the sky is the limit for the variations on a tart. It's a great way to use up little odds and ends of vegetables or left overs.  Serve a salad on the side, and you have a summer feast.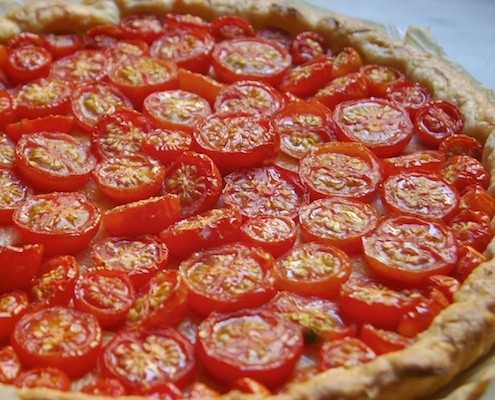 Print
Summer Tarts: Blue Cheese & Red Onion, Roasted Tomato
Tart crust, pate brise, pie dough, pasta sfoglia, here are the elements of a simple crust
Author:

Judith Klinger

Prep Time:

30 mins

Cook Time:

35 mins

Total Time:

1 hour 5 minutes

Yield:

2

-4

1

x
Tart Crust
18 oz

/ 500 g flour

9 oz

/ 250 g butter

3.5 oz

/ 125 g water
Pinch of salt
Blue Cheese & Red Onion Tart
6 oz

/ 170 g Soft Blue Cheese, like Gorgonzola Dolce

4

small eggs

1

sweet red onion, thinly sliced

6 oz

/ 170 g heavy cream

1 oz

/ 28 g pancetta or bacon (optional)
Roasted Tomato Tart with Ricotta Basil Sauce
15

–

25

cherry tomatoes (depending on their size)
Salt, pepper, olive oil

6 oz

/ 170 g fresh ricotta cheese

20

–

30

basil leaves

1

small clove of garlic, peeled
Instructions
Tart Crust
Cut the butter up into small pea sized bits and place back in the fridge to chill. If you are using a food processor, you can freeze the butter before use. Food processors will cut through the frozen butter and it mitigates the heating effect that occurs from mechanical processing.
Quickly combine the flour, and salt with the butter, literally rubbing it together with your hands until it is crumbly. Or pulse lightly in a food processor.
Add a bit of the water, you want just enough to hold the dough together, add more as needed. Gather the dough into a ball, wrap tightly with plastic wrap, and let it rest in a cool place for 15-30 minutes. When you are ready to make the tart, roll out the dough.
For easier removal from the tart pan, use a sheet of parchment paper to line the pan, then lay the dough on top.
Blue Cheese & Red Onion Tart
Preheat the oven to 350F/ 150C.
Cut the pancetta into matchsticks and fry until crispy. Drain and reserve.
Using a blender, combine the blue cheese, eggs and heavy cream. Whip until frothy.
Line a 10" tart pan with parchment paper and then lay in the tart crust.
Arrange the sliced red onions and crispy pancetta in the pan and pour the cheese cream mixture over the onions. You should have enough to cover the onions completely.
Bake for 35-45 minutes until the tart has set and the top is bubbly brown.
Roasted Tomato Tart with Ricotta Basil Sauce
Preheat the oven to 350f/ 150C.
Line the tart pan with parchment paper and the tart dough.
Slice the tomatoes in half and arrange on the tart dough. There should be enough tomatoes to completely cover the dough. Sprinkle with salt and a few twists of pepper, lightly drizzle with the olive oil.
Bake until the tomatoes are collapsing and the crust is browned, about 30 minutes.
In a blender, combine the ricotta, basil leaves and garlic. Whip until smooth. Check the seasoning and add salt if necessary.
Serve this ricotta basil sauce alongside a slice of the warm tomato tart and you'll have the essence of summer on your plate.
Judith Klinger
Judith Klinger is a culinary events producer, former Director of Operations for the International Association of Culinary Professionals. Judith and her husband, Jeff Albucher are the creators of Aroma Cucina, an Italian lifestyle blog. She is the author of Cooking Simply The Italian Way.