Brady Evans doesn't live anywhere close to a place that serves a decent enchilada with pumpkin sauce, so she takes matters into her own hands.
By Brady Evans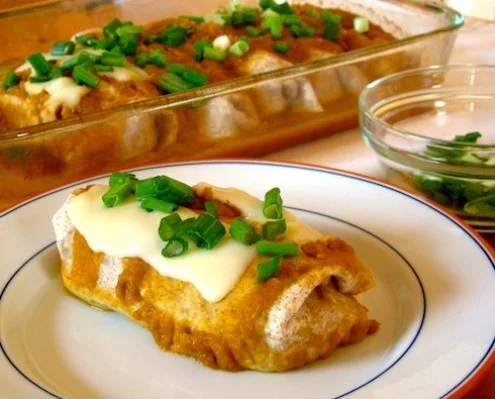 If you're like me, and you don't live in a city known for its food, then you're surround by restaurants like mine.  They serve good food, have respectable service, and offer and welcome night of from cooking.
But they don't take risks.
Taking risks in the kitchen is probably one of the main reasons I enjoy cooking at home so much.  The power and control is all mine.  Sure, the blame is all mine, too, if the meal is horrendous, but so are the accolades if the dinner is a home run.
For instance, I dare you to find a Mexican restaurant serving enchiladas in a pumpkin sauce.  I don't think I've even seen a restaurant around here serving pumpkin in anything other than pie.  My goal?  To turn that canned pumpkin into something so much more than commonplace baked goods.  To take a risk.  Accept defeat (if it happens) and marvel at success.
My husband despises pumpkin.  And that's why he'd never order this in a restaurant.  And that's why a restaurant probably would never even offer this meal on its menu.  But guess what.  I took the risk and I served it to my husband and he (and I) adored this meal.  We couldn't wait for leftovers.  Seconds were a must.
Bean and Spinach Enchiladas in Pumpkin Sauce
(enchilada sauce from Martha, seen on FakeGinger)
8 whole wheat enchilada sized tortillas
cheese
scallions
For the filling
See Also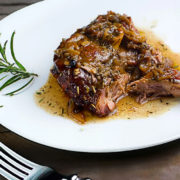 4 cups (1l) cooked and drained beans, black or pinto (or 2 15 oz cans of beans)
1 onion, diced
1 clove garlic, minced
2 cups (5dl) spinach leaves, washed, destemmed, chopped
For the sauce
2 cups (5dl) canned pumpkin puree
1 jalapeno
1 tsp chili powder
3 cloves garlic
salt and pepper
5  slices white American cheese (optional)
1. In a food processor, combine all ingredient for a sauce and puree for 30 seconds.
2. Spray a medium skillet with cooking spray and heat to medium heat.  Add diced onion and cook 3-4 minutes, until soft.  Add minced garlic.  Remove from heat and stir thoroughly.  Fold in chopped spinach and allow to wilt.  Combine with beans.
3. Place 1 cup of sauce in the bottom of a 9×13″ glass baking dish.  Preheat oven to 350°F (175°C).  If desired, microwave each tortilla 10 seconds to make pliable.  Add 2/3 cup (1,6dl) of bean mixture to center of tortilla.  Roll to form enchilada.  Place seam side down in baking dish.  Repeat with remaining ingredients.  Pour remaining sauce over prepared enchiladas.  Bake for 25 minutes.  Remove from oven, top with slices of cheese, and return to oven.  Bake 5 minutes.  Remove from oven, let stand for five minutes.  Garnish with sliced scallions, if desired.  Serve.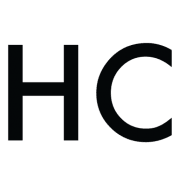 Brady Evans
Brady Evans is a cook who specializes in stretching cooking boundaries towards a more healthy lifestyle. She loves making recipes with unexpected ingredients and share her passion for cooking through her very successful and mostly-vegetarian blog, Branny Boils Over.