New York – Magic at Eleven Madison Park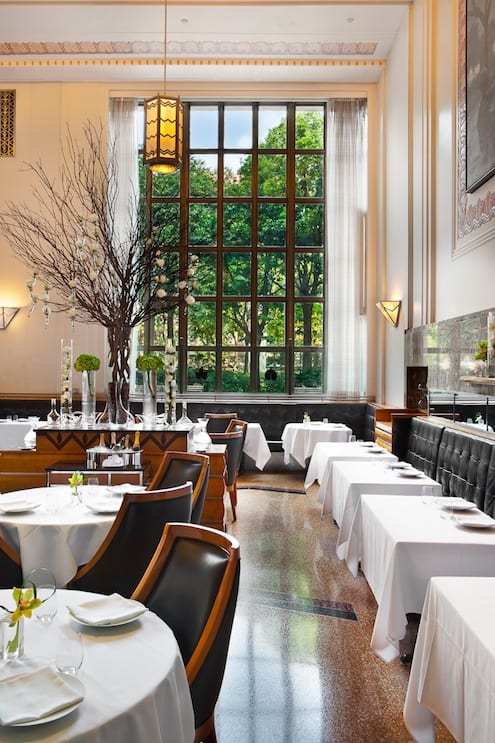 Eleven Madison Park continues to be a beacon of excellent gastronomy in New York City, and it is completely free of any other culinary direction than the city it lives, breathes and operates in.
By Kalle Bergman – Photo by Francesco Tonelli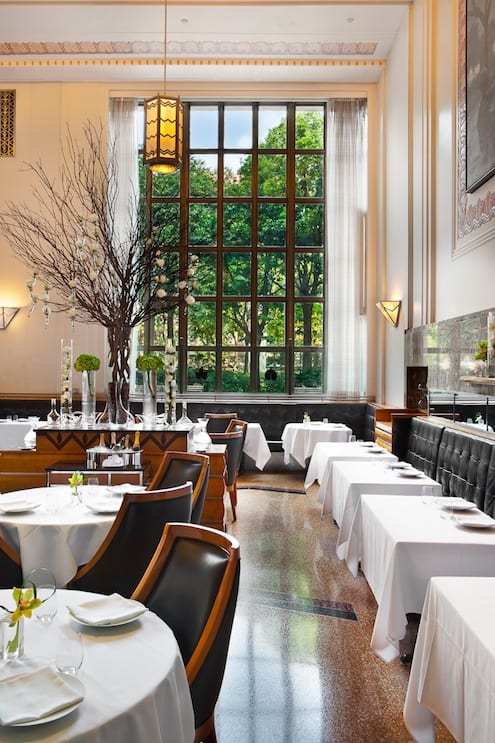 Eleven Madison Park sits on the corner of a landmark building on the east side of Madison Square Park. Entering the restaurant is like stepping back in time and finding yourself in New York, circa 1933. A beautiful old bank, art deco galore, with a bar to the right where diners can hang out and have cocktails before and after their dinner, something that adds ambience and life to a restaurant that otherwise very easily could feel intimidating. The gastronomy ranges from iconic New York food items to contemporary creations from the surrounding areas. To some extent, it is nostalgic, and the imposing room certainly adds to that vibe. But at the same time, it is very 2012. Or maybe even 2013.
At Eleven Madison Park, much of your dinner will be a surprise. You choose four dishes, or rather four ingredients, from a list of 16, and Chef Daniel Humm will add 10 additional dishes to that. Exactly what he will add, remains a secret until the dishes are actually served. Wine pairings are based not only on the menu, but also on your personal preferences. If you have a particular style of wine that you'd like to stay clear of, no problemo, just tell your waiter and you will be heard. There is no non-alcoholic beverage pairing, but again, if you want one, they will create it for you. Ask, and you shall receive.
The first snack to arrive to the table, is a take on New York Black and White cookies. But these are savory versions of the iconic cookie, topped with black truffels and parmesan, and they work perfectly with the Marie Noelle Ledru Cuvée du Goulté champagne I have in my glass. A sea urchin custart with baby squid, manilla clam and apple follows. A mild whiff of the ocean, salty, but with a nice balance from the sweet apple.
The sturgeon sabayon with chive oil is absolute decadence. Served in a faux egg shell, it's one of those dishes that you want to never end, even if deep down, you know it is perfectly dimensioned. It is so rich, so velvety and so deep. More would have been too much, and less would have been way too little. The second part of this dish, a sturgeon fillet, smoked in a glass bowl tableside, served together with caviar and bagel crumble. The sturgeon has a deep foresty flavor from the smoking process, but shoots off delicate river notes that match the caviar perfectly. How lovely. In my glass, a Do Ferriero Albariño works its magic and gives the smoky fish a delicious fresh resistance.
The eel, roasted with foie gras and swiss chard, is a snack sized bite, that fills your mouth with a perfect balance between soil and sea. Minerals and fat. Crispy and soft. The carrot tartare, ground tableside by one of the cooks, and then combined by yourself (you add the condiments), is not only a fun gimmick, but a dish that plays with both mind and tastebuds. The Chehalem Pinot Gris from Oregon does a great job of balancing both the sweetness of the carrot, and the many spices and condiments that bounce around on your toungue. In general, the wine pairings are very successful, creative without being in your face special. The sweetbreads are less of a success. There's nothing wrong with the flavor, but they are a little too sticky from the hazelnut glaze, making a toothpick necessary to prepare for the following course.
I won't bore you with an endless description of all the dishes served at Eleven Madison, or how they are served (after all, it is supposed to be a surprise), but I will tell you this. A meal at Eleven Madison Park is more than the sum of the individual dishes. And eating at Eleven Madison Park is eating New York City. The restaurant is completely free of any other culinary direction than that of the city it lives, breathes and operates in. It is not French, Italian or Modern American. It is New York. Then, now and tomorrow.
Eleven Madison Park will certainly continue to be a beacon of excellent gastronomy in New York City, and my guess is that its influence will be part of what we will define as classic New York cuisine 30 years from now.
---
---

ELEVEN MADISON PARK
11 Madison Avenue
New York, NY 10010
Phone (212) 889 0905
Website
---
---
The Honest Cooking Rating System
****** Six stars – Cooking on the highest international level. Service is impeccable and beverages are perfectly paired with the food. A world class dining experience.
***** Five stars – Represents cooking on an international level. Dishes look and taste great and display a personal touch. Service is highly professional making it a dining destination that is really worth a detour.
**** Four stars – This represents very good cooking with ambitions. Solid preparation of all dishes, only very few flaws. A restaurant that Honest Cooking recommends a visit to.
*** Three stars – Represents good cooking, and an above average restaurant, but without the more personal touches and craftsmanship that is demanded of higher ratings.
** Two stars – Represents average cooking. The restaurant doesn't reach a level where the food stands out as anything special, and service / ambience has flaws.
* One star – Represents sub-par cooking and service. A restaurant to stay away from.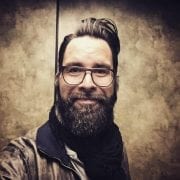 Kalle Bergman
Kalle Bergman is a food writer and media entrepreneur who is the founder of Honest Cooking. As a food writer, his writing has been regularly featured in publications like Gourmet, Los Angeles Times, Huffington Post and Serious Eats. He is obsessed with simple food, more often than not from his native Scandinavia.