Elegant Pear and Almond Tart
With three components, poached pears, almond frangipane, and a crust, this tart can be assembled in parts in advance and baked into an elegant presentation at the last moment.
By Maria Vee
Every year, around this time, I look at my pear tree in the backyard and I think to myself, I have to make Agostino's almond pear tart. Well, I am happy to say that I can finally did it!
Here is this amazing dessert in three easy components. What's even more convenient about this recipe is that you can make the separate ingredients up to 2 days before you need it.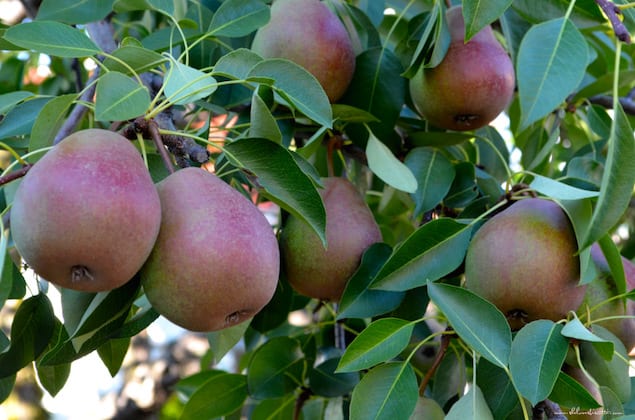 The almond cream in this tart can sometimes be referred to as frangipane. With help of a food processor, the whole process of making this almond filling takes just a few minutes. Grind the almonds with the flour in the food processor. Mix in the icing sugar, followed by the butter, and the egg. Transfer in a bowl, cover and refrigerate for at least 3 hours or up to 2 days.
Agostino was my brother-in-law, and passed away almost fifteen years ago. He was a person who truly appreciated good company, good food and good wine, and was passionate about so many things, cooking among them; when he retired, in fact, he went back to school to become a professional chef just for fun!

Elegant Pear and Almond Tart
With three components, poached pears, almond frangipane, and a crust, this tart can be assembled in parts in advance and baked into an elegant presentation.
Author:
Agostino (my brother-in-law)
Recipe Type:
Dessert, Tart, Baking
Ingredients
The Crust
50 grams icing sugar (1/3 cup + 1 tablespoon)
pinch salt
50 grams unsalted butter (3 tablespoons)
1 egg
125 grams all purpose flour (1 cup)
The poach
5 cups water
1 cup sugar
2 tablespoons freshly squeezed lemon juice
3 medium sized pears, peeled
The almond cream
50 grams unsalted butter, softened (3 tablespoons)
50 grams ground almonds (1/2 cup)
50 grams icing sugar (1/3 cup + 1 tablespoon)
10 grams all purpose flour (1 tablespoon)
¾ teaspoon vanilla extract
¼ teaspoon rhum extract
Instructions
The crust
In a food processor, pulse together the icing sugar, salt and the butter until smooth. Make sure to scrape down the sides of the bowl.
Add the egg and pulse until combined.
Add the flour and pulse until combined.
Gather dough and form into a disc.
Wrap in plastic wrap and refrigerate for at least 3 hours or up to 2 days.
The poach
Combine water, sugar and lemon juice in a medium sized saucepan and bring to a boil.
Once the sugar has dissolved, reduce heat to medium.
Add the pears and simmer for approximately 20 minutes.
Occasionally, turn the pears around in order for them to cook evenly on all sides.
Remove from heat and let cool in the syrup until ready to use. (If not planning to use right away, can be covered and refrigerated for up to 2 days).
The almond cream
Using a food processor, simply combine the ingredients, one by one until a smooth consistency is obtained.
If not planning to use right away, can be covered and refrigerated for up to 2 days,
The tart
When ready to assemble, place rack in the center of the oven and preheat to 375 F.
Between 2 sheets of parchment paper, roll out dough to fit a 9-inch tart pan with a removable bottom. (I sprayed my pan with a non-stick spray).
Pierce entire crust with a fork.
Freeze for about 10 minutes.
Fill pie with pie weights or dry beans and bake for about 20 minutes.
Remove weights or beans and bake for another 10 minutes or so. (You can place a piece of foil over the top if you find the crust getting too dark).
Remove from oven and let cool for about 15 minutes.
While the pie shell is cooling, prepare your pears. Stem and scoop out the center of each pear. Cut into thin slices.
Reduce temperature of oven to 350 F.
Spread almond filling over crust with the help of a spatula.
Arrange thin slices of pears over the almond filling.
Bake for about 60 minutes.
Cool tart in pan.
Tart can be served at room temperature.
Maria Vee
Hello! My name is Maria, Canadian-born and Italian-raised. By day, I work in a health institution, but by night, I cook, bake, and blog. I guess I get it from my mom, who I truly believe spent most of her adult life in the kitchen (and loved every second of it)! Recently it became important to me to fix up, document, and post some of her treasured recipes; I wanted my own kids to get a taste for the legacy she left behind and to continue to honour the traditions she set up when she was alive. I crave the simple things in life, most of all enjoying some good food with my beloved family and friends.