A crispy spiced aubergine that holds itself well when paired with a ginger-mustard mayo.
By Sarah Khanna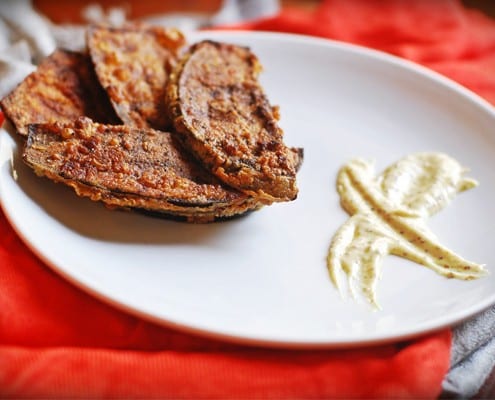 A common ingredient often used in Egyptian cooking is the aubergine with its mighty purple skin, tight against fat flesh resting until its turn comes to play hopscotch in a scorching pan of vegetable oil. On the streets of Cairo, aubergines are encountered daily – on corners at little shops and greasy carts selling breakfast to the masses; in the homes of mothers layering moussakas as their children head home from school; through a scent that creeps in from your kitchen window of your neighbors preparing a hefty dinner including many, many fried aubergine rounds.
Yes, we eat this hot and fried in the morning along with a few fried green chili peppers to go along with our plate of fool, our traditional Egyptian breakfast of fava beans, and a few loose pieces of ta'amiya, the Egyptian version of falafel, also made with those plump favas.
See Also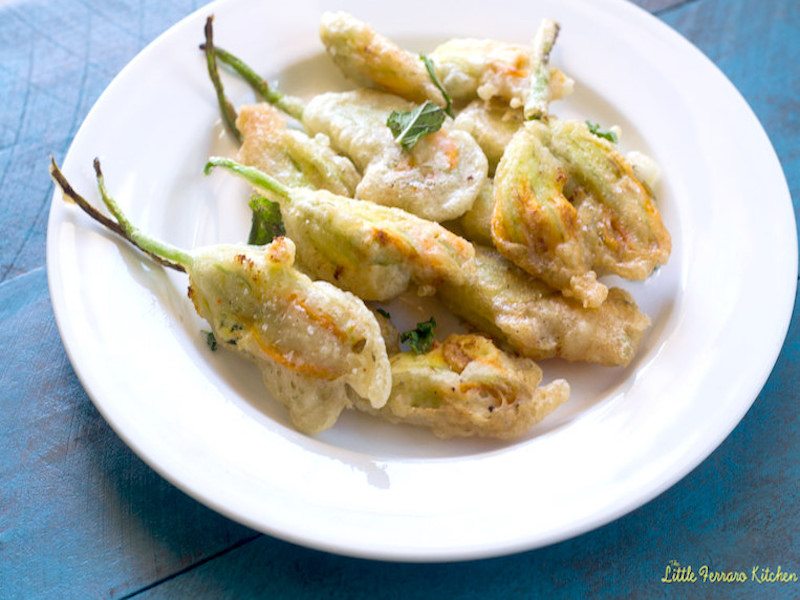 Luckily, I have inherited this love for aubergines from my Egyptian mother and her special recipes that continue to fill our family lunches with excitement and from my Indian grandmother who works wonders with brinjals. This recipe uses cornstarch to crisp up this spiced aubergine and allows it to hold up its dip and remain crunchy for a few hours; ideal for party snacks.

Pan-fried aubergines with a ginger-mustard mayo
A crispy spiced aubergine that holds itself well when paired with a ginger-mustard mayo.
Ingredients
For the aubergine, you'll need:
2 medium aubergines, sliced lengthwise 6.5 mm thick
2 large eggs, beaten
½ cup of all-purpose flour
¼ tablespoons of cornstarch
1½ teaspoons of garlic powder
1 teaspoon of cumin powder
1 teaspoon of chili powder
1½ teaspoons of salt
¾ cup of olive oil
For the mayonnaise, you'll need:
½ cup of mayonnaise
½ teaspoon of yellow mustard
½ teaspoon of whole-grain mustard
½ teaspoon of minced garlic
⅛ teaspoon of ginger powder
Instructions
Measure out the mayonnaise and place it in a small bowl.
Add the garlic and ginger powder then the yellow and whole-grain mustard and stir until completely incorporated.
If you're making this ahead of time, refrigerate.
In a separate bowl, whisk together the flour, cornstarch, salt, garlic, cumin and chili powders. Set aside.
Dip each aubergine slice into the beaten egg then dust with your flour mixture.
Gently tap off any excess flour to avoid clumping and place each prepared slice on a clean baking sheet lined with parchment paper.
In a large pan, heat 2 tablespoons of olive oil at a time over medium-high heat.
Dip a few aubergine slices at a time until golden brown on both sides. This should take around 2-3 minutes on each side.
Continue to add two tablespoons of olive oil to the pan before adding each batch.
Prepare the rest of the aubergine in the same fashion and place on a clean plate.
Serve with the ginger-mustard mayonnaise.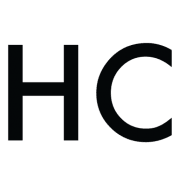 Sarah Khanna
Sarah Khanna is the half-Egyptian, half-Indian author behind Buttered-up.com who quit her Cairene career in advertising to become a full time cook, writer and photographer in Kuala Lumpur. She is also a weekly food columnist for the Daily News Egypt where she critiques Arab food culture. Raised as a hotel brat, Sarah has moved frequently but considers Egypt to be her real home. She loves butter and knives and shudders at the sight of canned tuna.