A novel take on the Italian style dish Eggs in Purgatory.
By Olivia Caminiti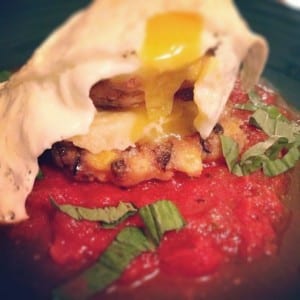 My take on the Italian style dish 'Eggs in Purgatory' has the hell-red tomato sauce on the bottom of the plate and heavenly white eggs over-easy on top but instead of polenta as a pillow for the eggs, I use Johnny cakes. These salty sweet cakes add a more solid texture to the dish and can be used as scarpetta, bread used for scooping up remaining sauce.
When naming the dish I represented the fusion of Italian with Southern style cooking. Changing Johnny cakes to Giovanni cakes, the Italian name for John. The last player in this collaboration of food cultures is, as you would think, Californian. The freshness of a basil garnish as well as the fresh corn in the cakes up lifts the flavors and textures that cooked ingredients cannot give.
California Love- Giovanni in Purgatory
A play on the Italian dish Eggs in Purgatory except Giovanni cakes are the ones between things now.
Ingredients
1 cup (8.3 oz) cornmeal
1 cup (8.3 oz) hot water
¼ tsp. (1.23 grams) salt
⅛ tsp. (.6 grams) fresh cracked black pepper
¼ cup (2 oz) corn kernels, defrosted or fresh
¼ cup (2 oz) Moroccan black Beldi oil cured olives, chopped
3 Tbls. (1.6 oz) vegetable oil, for pan frying
1 cup (8.3 oz) tomato sauce
4 eggs, fried over easy
½ cup (4 oz) fresh basil, chiffonade
Instructions
Preheat oven to 200*F (93*C). Put a heat proof dish in to keep cakes warm once pan fried.
Mix cornmeal, salt, pepper and hot water together; add in corn and olives after.
Heat oil in large nonstick skillet over medium heat. Drop heaping tablespoons of cornmeal batter into hot oil to form a 3" (7.6 cm) cake; about 4 cakes per batch.
Flip once small bubbles start releasing on top of the batter and underside is golden browned; about 90 seconds.
When the flipped side is golden, remove cake to warm oven dish. Repeat last two steps till all batter is used; total of about 8 cakes
Meanwhile, heat tomato sauce in a small sauce pan over low heat.
Plate each plate with ¼ of the warmed tomato sauce on the bottom, two cakes on top of the sauce, and then fry eggs with a pinch of salt and pepper to top each dish.
Finish plate with basil ribbons and serve immediately.
Enjoy & repeat.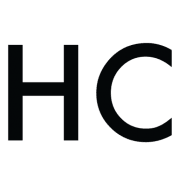 Olivia Caminiti
Olivia's passion for food is rooted in California's Bay Area though now regrowing in Austin, Texas. She mixes with her travel experience, eye for beautiful food and intuition to find the next ingredient to keep a balance in life. See what she incorporates next and check-out her website at oliviacaminiti.com